The Ajinomoto vegetable yakisoba noodles from Costco are a tasty and very convienient lunch or light dinner.
One of the Costco fan favorite meals from the freezer section is the Costco yakisoba- ready in as little as 3 minutes they're perfect for days where you need to get something on the table or in your belly fast. They're also a reasonably healthy meal that feature a variety of vegetables, certainly more than most frozen foods! These are a great go-to when the kids just want pb&j and you don't, or for a quick refueling meal between zoom meetings. It's also easy to bulk up a bit for dinner by adding a bit of every Costco members favorite buy- rotisserie chicken.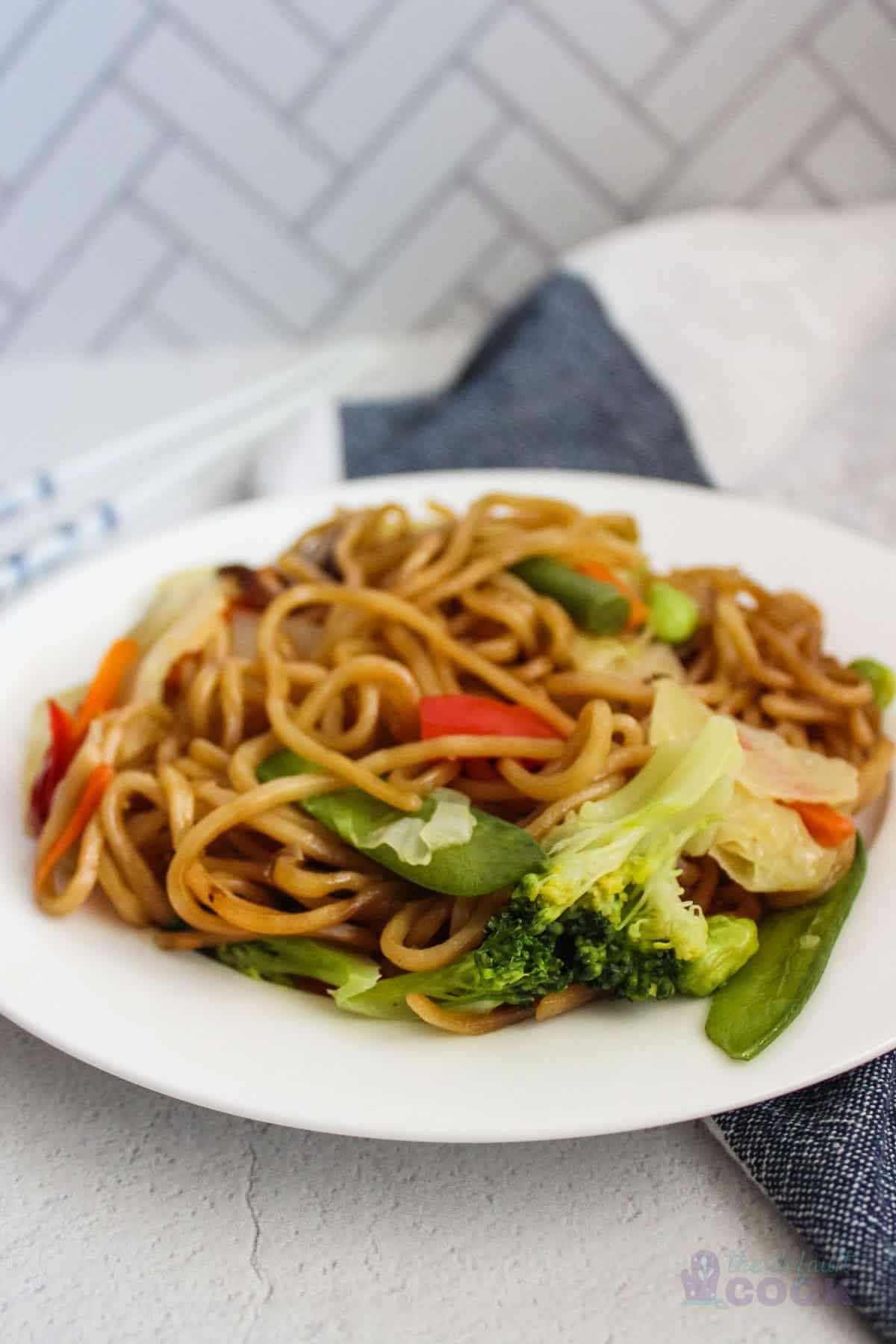 This post contains affiliate links, which means I receive a small commission, at no additional cost to you, if you make a purchase using this link.
Why You'll Love These Frozen Yakisoba Noodles:
Fast & Easy- Got a microwave, microwave-safe plate, and a fork? You can be eating in less than 5 minutes!
Vegetables- most frozen meals have a few veggies at best, while this one contains red bell peppers, shiitake mushrooms, water chestnuts, edamame soybeans, and snap peas.
Flexible- it's easy to add rotisserie chicken or other leftover meat to give this dish some extra protein and staying power.
Let's get started! Here's what you'll need: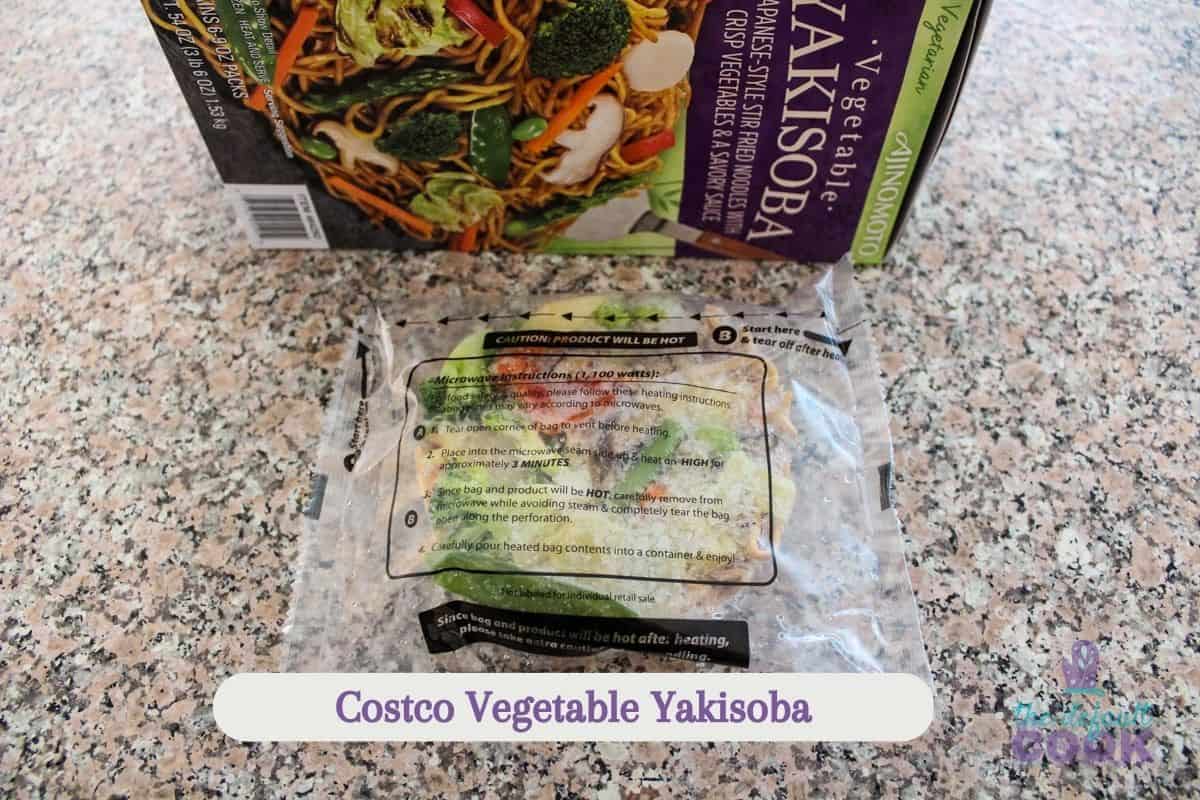 Ingredients:
The only thing we need here is the frozen noodes. However, while this isn't a full blown review, I do find the sauce flavor is a bit mild. Depending on personal taste you might want to add a bit of oyster sauce, sesame oil, or chili garlic sauce after cooking.
Equipment:
Depending on your preferred cooking method, you'll either need a microwave-safe plate and a fork or chop sticks to stir with, or a saute pan and tongs or spatula.
How to Make your Noodles in the Microwave (recommended method):
The microwave is the preferred method both on the box, and by me. That doesn't happen often, but for this dish the microwave result really is just as good.
Step 1: Prepare
Tear off the corner of the bag (corner "A") and place the package on a microwave safe plate.
Step 2: Cook
Cook on HIGH for 3 minutes. Let rest for 1 minute before opening the microwave.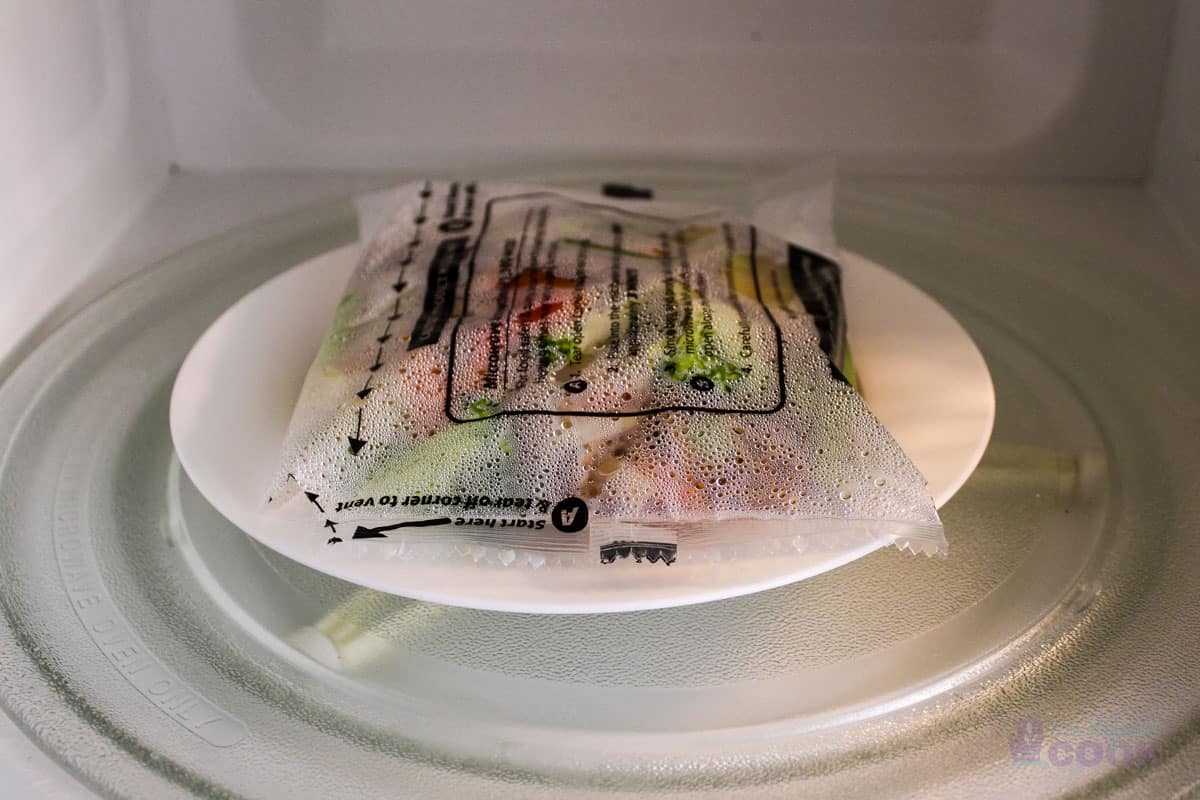 Step 3: Serve
Tear the top of the bag off (starting at corner "B") and pour onto your plate. Time for lunch!
How to Make your Noodles on the Stovetop:
The advantage here, besides not needing a microwave, is it's easier to add things to the dish. You're already stirring, so stirring in some extra sauce, chicken, or extra vegetables is easiest to do on the stovetop.
Step 1: Prepare
Pour 1 cup of water into a skillet and turn onto medium-high heat. Once it starts to boil, tear open your package (starting at corner "B").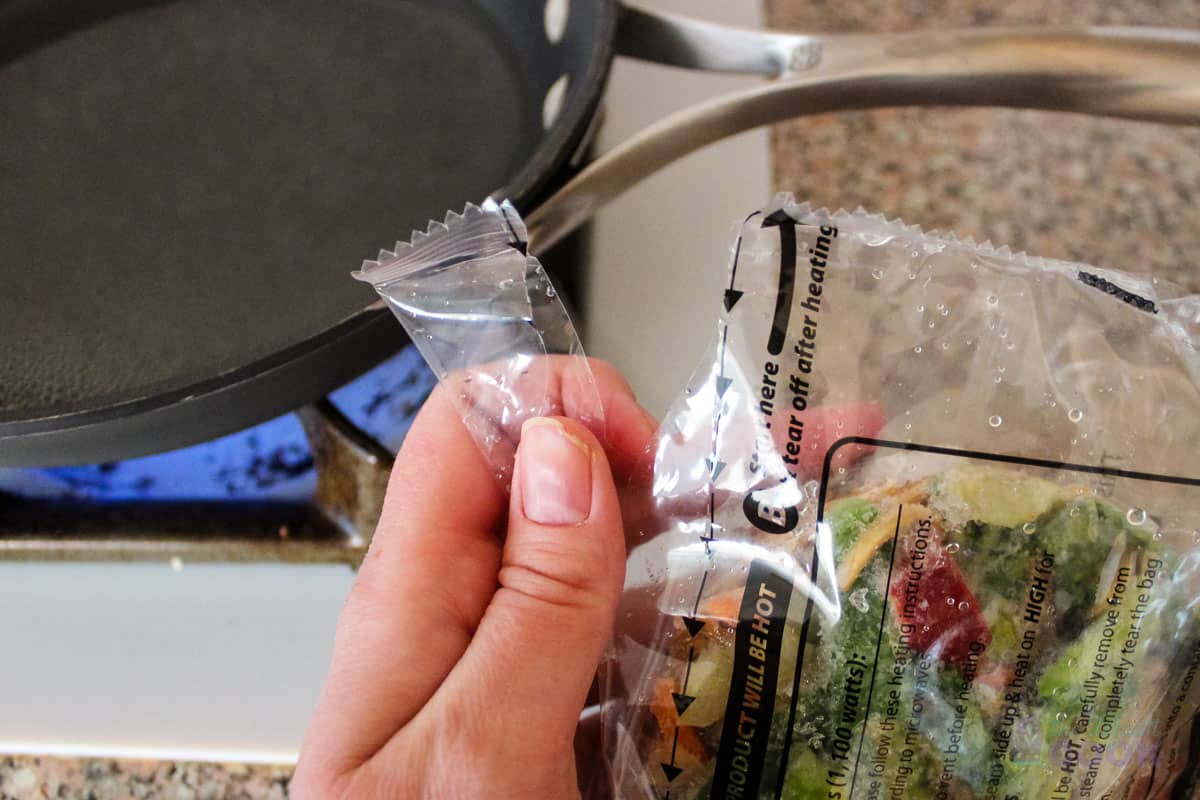 Step 2: Add and stir
Carefully add the noodle ring to the pan, vegetable side down. If you want to add additional frozen vegetables go ahead and do that now. Occasionally stir until the water is mostly gone, about 6 minutes.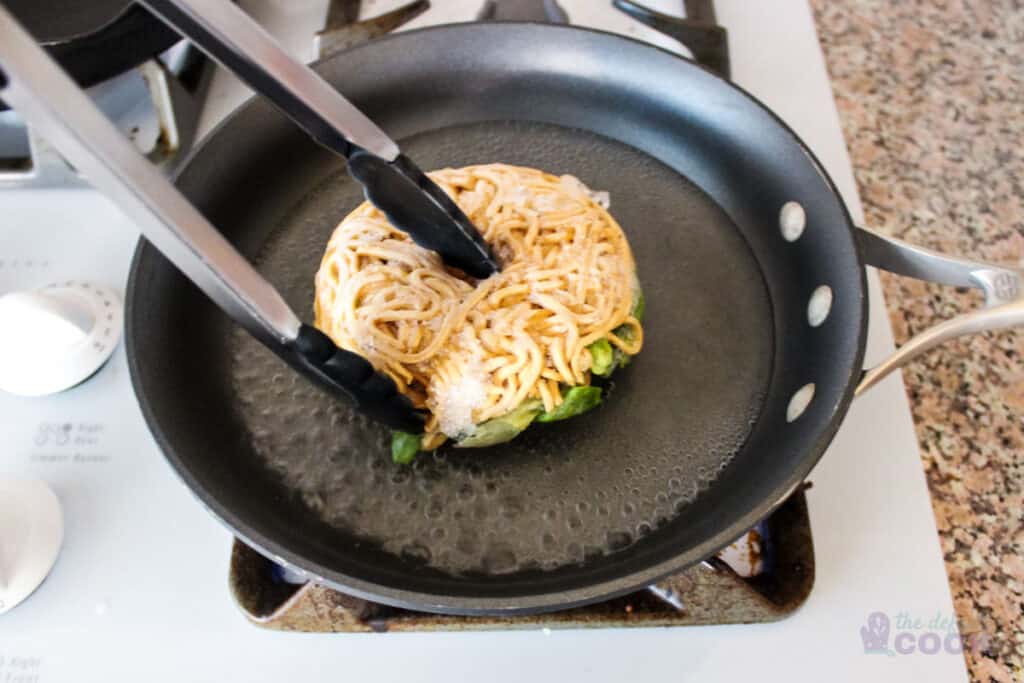 Step 3: Flip and finish
Flip the noodles over and stir as needed to finish cooking. You may need to add another ¼ cup of water to finish heating the dish through- this is also the time to add any leftover rotisserie chicken or additional sauce. After about 3 minutes on this side the stir fried noodles should be fully warmed and ready to eat.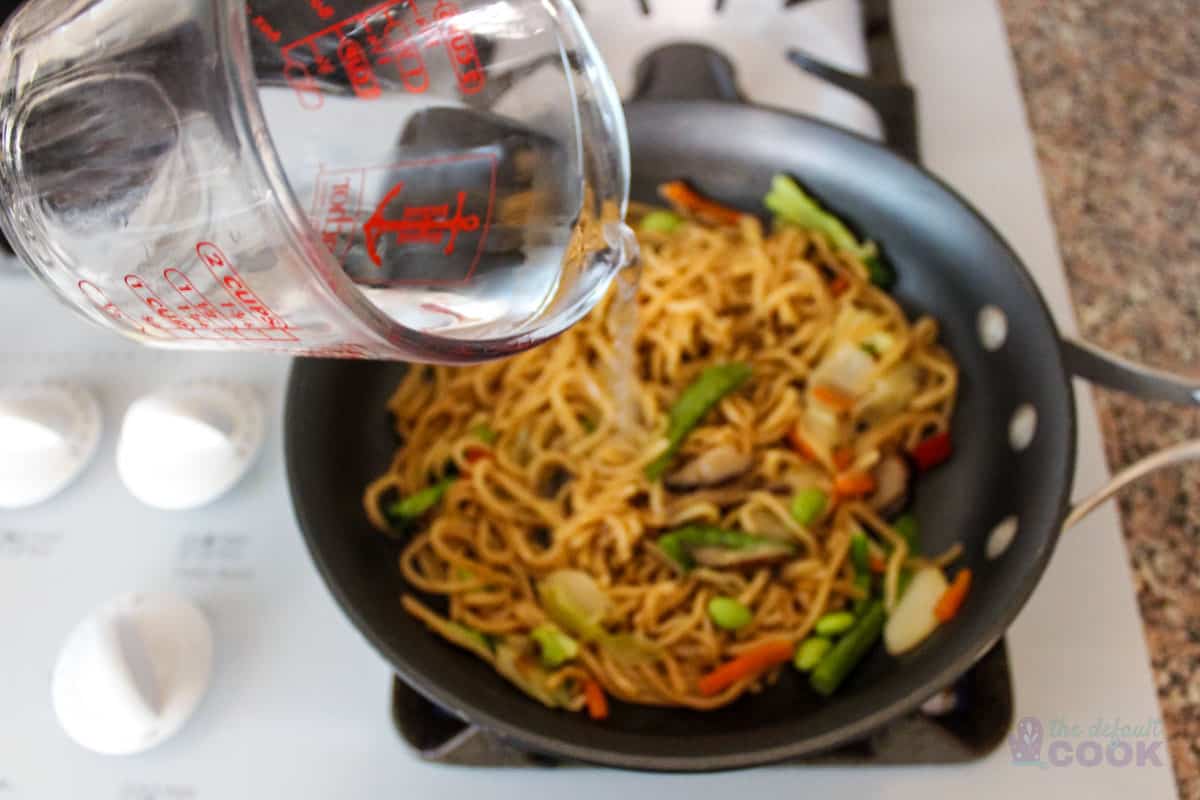 FAQs
Is this the same as the yakisoba stir fry kit?
No. The yakisoba stir fry is a refrigerated item in the deli section like the take and bake stuffed salmon and salmon milano. That Costco item comes with noodles, vegetables, chicken pieces, and yakisoba sauce, and is meant to be combined in a skillet or wok at home when you're ready to eat it.
How much salt is in this?
Like many frozen foods, there is a lot of sodium in this dish, so it may not be the best choice if you're watching your sodium intake. The nutrition facts list it as 1160 mg.
What are all the ingredients?
The allergens listed are wheat and soy. Directly from the package, this item contains: Cooked yakisoba noodles, cabbage, soy sauce, soybean oil, carrots, broccoli, chinese pea pods, sugar, water chestnuts, edamame soybeans, shiitake mushrooms, asparagus, red bell peppers, water, corn starch, salt, sesame oil, garlic puree, and black pepper.
More Costco foods you may like:
If you have more freezer space, the kirkland signature shrimp tempura go great with these delicious noodles!
I'm also a fan of their French onion soup, and their frozen beef and sausage lasagna.
Looking for a take and bake dish to make at the end of a busy day with a Costco run? My favorite is the stuffed salmon, but when they're out I sometimes grab the Salmon Milano instead.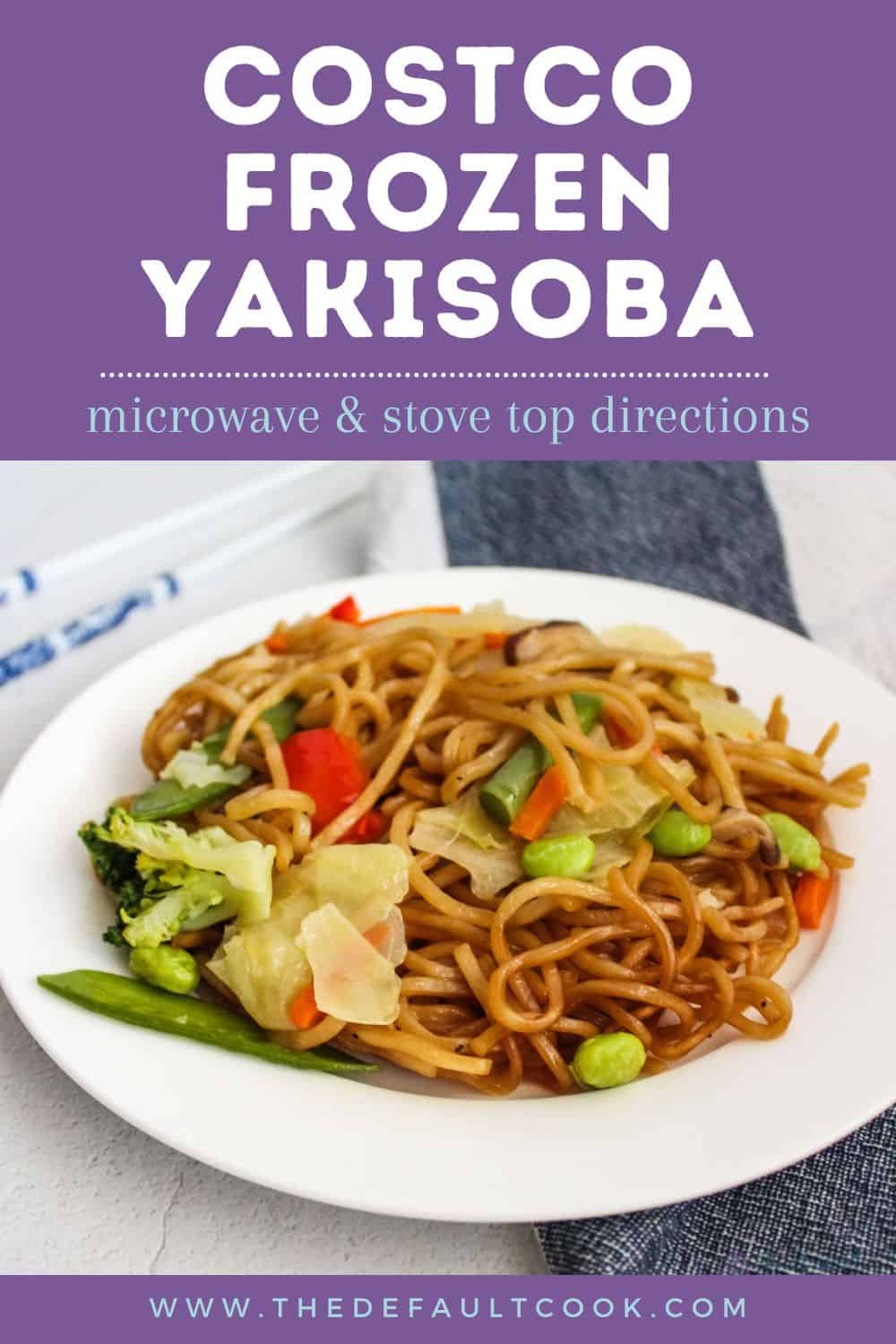 Enjoy!
📖 Recipe
How to Cook Frozen Costco Yakisoba
This quick and easy lunch is just a few minutes on the microwave, or make it on the stovetop and easily add extra sauce or protein into the dish for dinner!
Instructions
Microwave Directions
Tear off tab "A" and place noodle pack down on a microwave safe plate.

Microwave on HIGH for 3 minutes.

Allow to rest for 1 minute. Tear off tab "B" and pour noodles onto plate. Enjoy!
Stove Top Directions
Add 1 cup water to skillet and bring to a boil.

Tear off tab "B" to open package and add to water vegetable side down. Cook approximately 6 minutes, stirring occasionally, then flip noodles.

Cook an additional 3-4 minutes, adding an additional ¼ cup water if needed to get the center-most noodles warmed through. Serve and enjoy.
Notes
If desired, you can add rotisserie chicken, sauce, or vegetables to the dish. For the microwave heat chicken or vegetables separately. For stove top you can add vegetables when you first add the noodles to the skillet, to add leftover meat or sauce add when you flip the noodles.
Nutrition
Serving:
255
g
Calories:
410
kcal
Carbohydrates:
69
g
Protein:
11
g
Fat:
10
g
Saturated Fat:
2
g
Polyunsaturated Fat:
5
g
Monounsaturated Fat:
3
g
Sodium:
1160
mg
Potassium:
260
mg
Fiber:
7
g
Sugar:
9
g
Calcium:
30
mg
Iron:
1.9
mg
Nutrition information is provided as a courtesy and is an estimate. It is recommended to use your preferred calculator with the actual ingredients you use for optimal accuracy.