These roast tomatoes make a great healthy side dish, or you can use them in pasta dishes, on pizzas, or add them to a soup or stew. They also make a delicious base for a homemade tomato soup or pasta sauce.
Roasting tomatoes in the air fryer is a quick and easy way to enhance their flavor and bring out their natural sweetness. It's also a great way to use up tomatoes that are still good but a bit past their prime. I can't be the only one who buys some for a salad and then never makes the salad!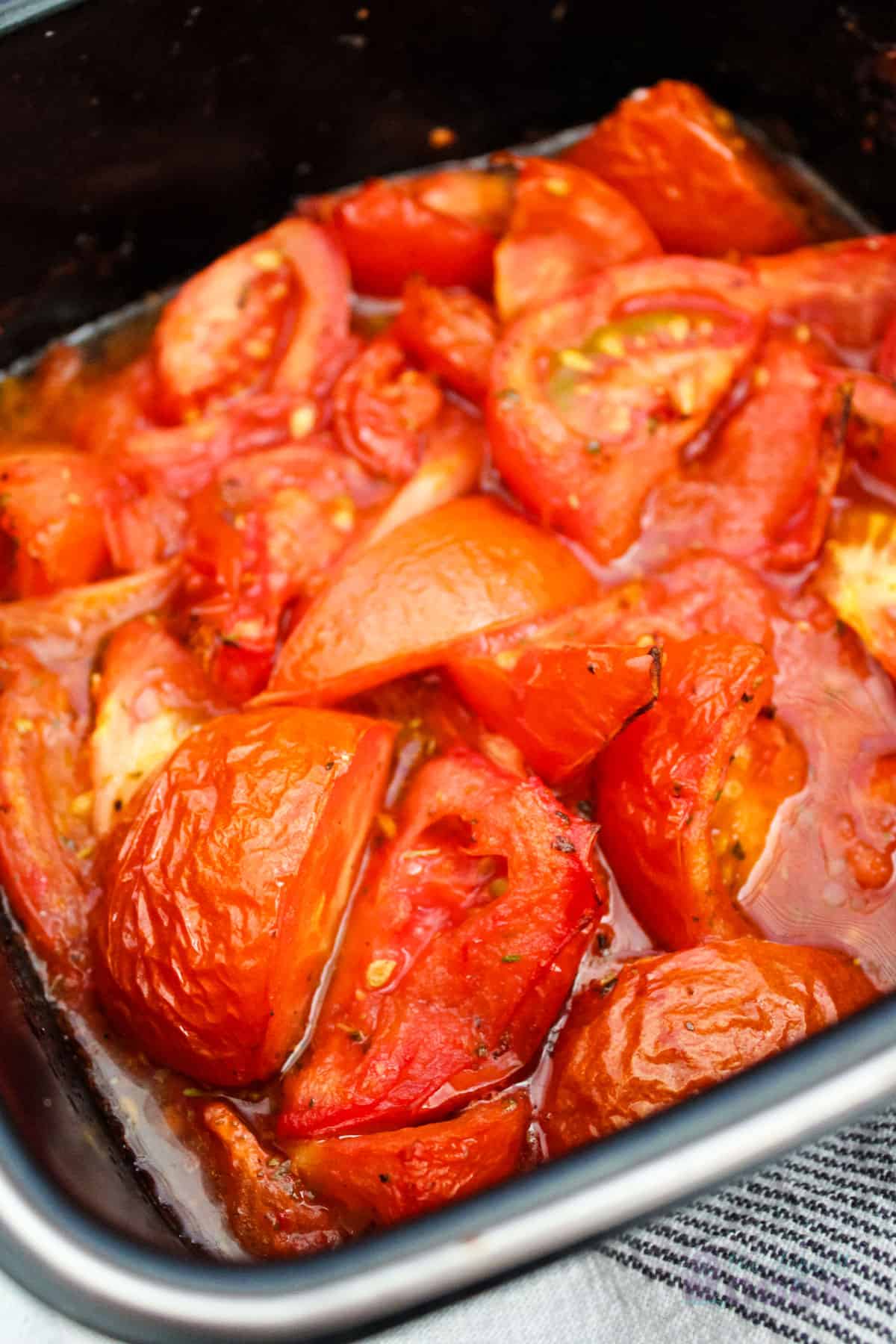 This post contains affiliate links, which means I receive a small commission, at no additional cost to you, if you make a purchase using this link.
Why you'll love these air fryer roast tomatoes:
One pot side dish- these roast in a baking pan, so the air fryer basket stays clean
Simple ingredients- just some fresh tomatoes, spices, and oil
Easy- these prep in 5 minutes or less, and cook pretty quickly too
Avoids waste- this recipes is a great choice for those tomatoes that aren't molding but are starting to wrinkle. You might even find them in the discount produce bin at your grocery store!
Let's get started! Here's what you'll need: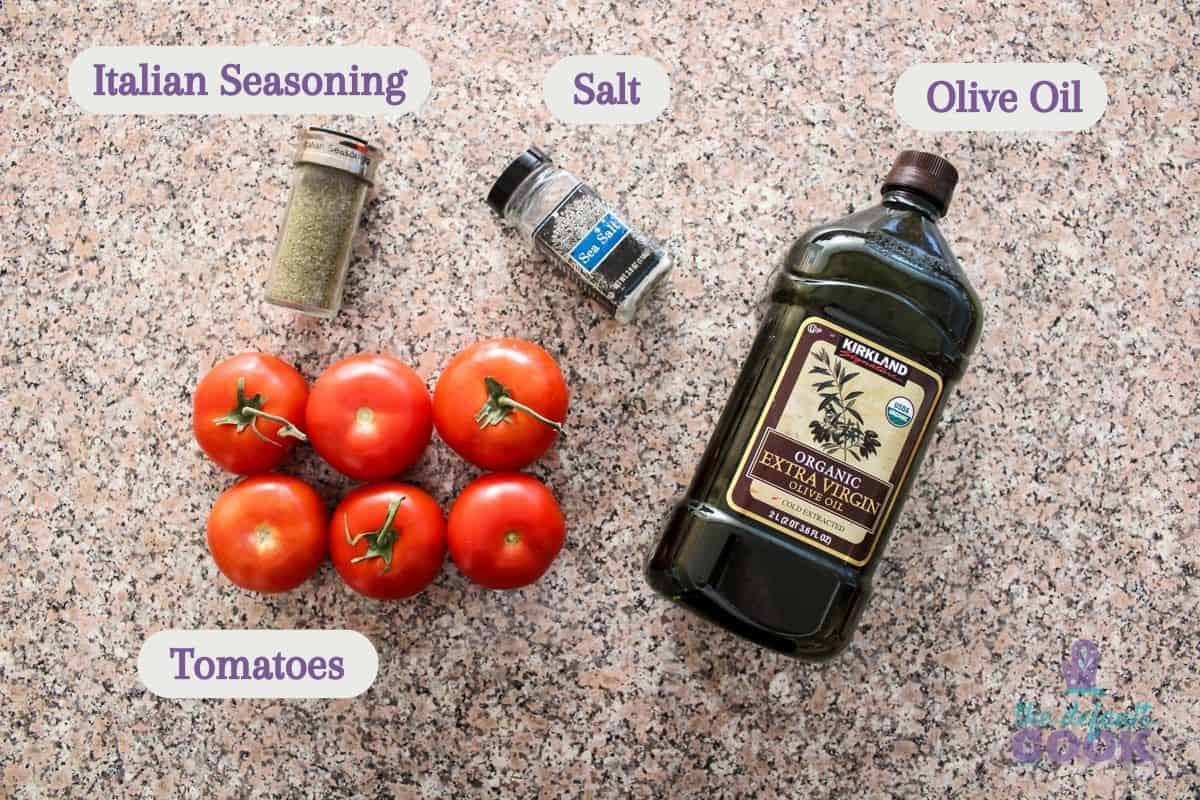 Ingredients:
Ripe tomatoes: Any kind you have will work, from roma tomatoes to little baby grape tomatoes to big beefsteak tomatoes.
Italian Seasoning: This is what gives it the "Italian" in the name, but if you prefer another seasoning blend you can always substittue to your personal preference. Garlic powder is another great choice, and you can always add fresh herbs like fresh basil or fresh oregano near the end.
Salt: A little salt really enhances the natural flavor of tomatoes, and you can use any kind you like. I'm using sea salt, but kosher salt or table salt are fine too.
Oil: Olive oil or avocado oil are ideal in this recipe since they have such mild flavors, but a vegetable oil or canola oil will work if that's what you have.
Equipment:
What we need here is our handy dandy air fryer, a baking dish that fits in that air fryer, and a spatula to stir with. You'll also probably need a knife and cutting board, unless you're roasting cherry tomatoes.
How to make air fryer roasted tomatoes:
Step 1: Prepare tomatoes
Rinse or wash your tomatoes, and cut them into segments about an inch thick at the widest part (they might be longer than an inch, that's fine!) and toss them in your baking dish. Smaller plum tomatoes may only need cut in half, most campari tomatoes I find quartering is perfect, and for larger tomatoes you may want to halve the quarters. Larger pieces will just take longer to roast, as long as your pieces are similar sizes it'll be fine.
Step 2: Season tomatoes
Add the oil, salt, and italian seasoning to your tomatoes. Give it a good stir to coat the tomatoes evenly.
Step 3: Roast tomatoes
Set your air fryer to 350 for 18-20 minutes and put your baking dish in the bottom of the air fryer basket. You don't need to preheat the air fryer ahead of time, but you will want to pause the fryer halfway through and stir the tomatoes- about the 10 minute mark.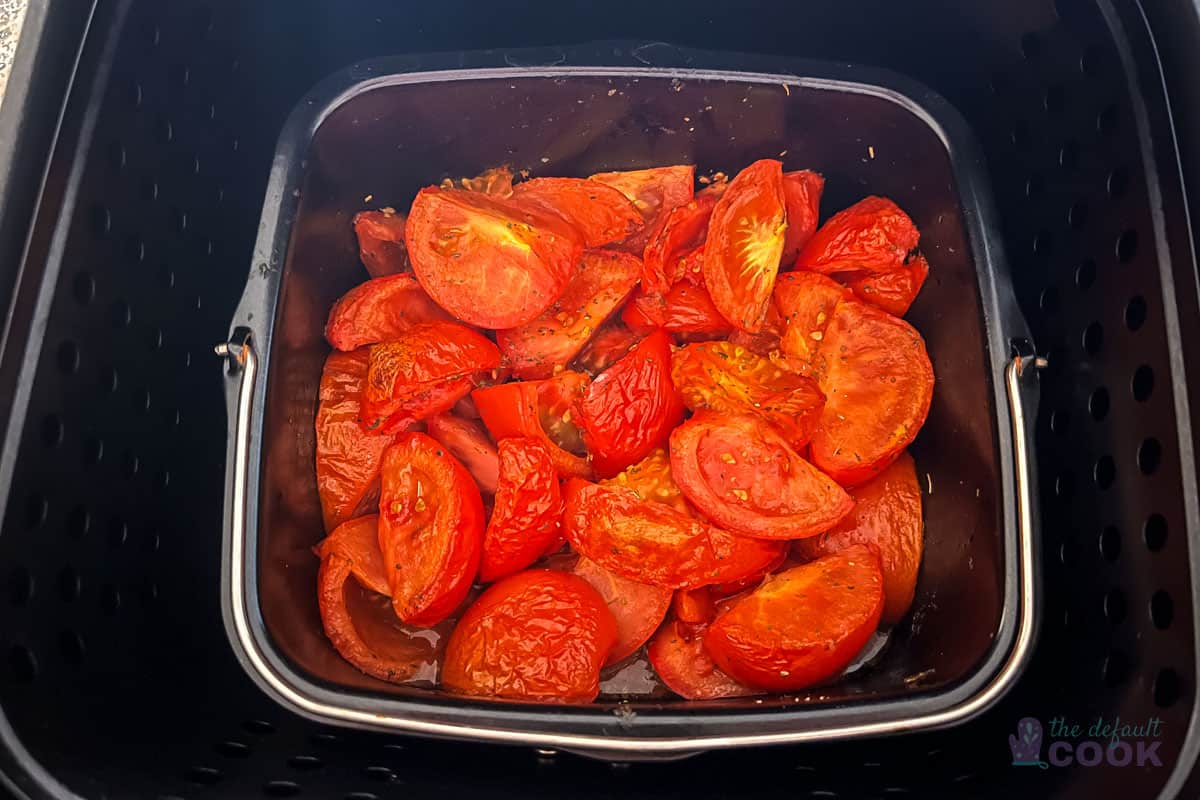 Enjoy! You can serve them right away with bread and cheese for a delicious appetizer, or alone as a side dish. If you have leftovers or plan to cook with them later, just store in an airtight container in the fridge. You can also freeze them for longer, just be sure to leave a bit of head space since they'll expand a bit when frozen.
FAQ
Can I make these in a regular oven?
Absolutely! The cooking time will be 10-20 minutes longer, but if you have a big batch or don't have a baking dish that fits in your air fryer it's a great option.
What else can I add to this dish?
Whatever flavors you like that pair well with tomatoes can be added to this simple recipe. A teaspoon of balsamic vinegar would be lovely, as well as almost any savory spices or fresh herbs you like.
Why are they liquidy?
Tomatoes have a high water content, and we're not going for a sun-dried tomatoes style in this recipe. If you'd like to you can place tomato slices in a single layer and roast them for a longer time frame which will dehydrate them more than this style, but the oven tends to be better suited for that because of space constraints.
What can I use these tomatoes in?
Mashed up a bit more you could use them as a chunky pizza sauce, like in this bruschetta pizza, or in place of the raw tomatoes in this caprese ravioli. You can also just add it to plain spaghetti for a super simple, easy meal. They also go great on some bread with balsamic glaze and mozzarella!
Looking for more air fryer recipes?
If you have more vegetables you need to use up, try roasting red peppers or zucchini and squash! Adding a cheese sauce to broccoli helps it from overcrisping, and makes it more kid-friendly too.
Need a main dish? There are air fryer instructions for this pesto butter salmon, paired with a veggie it's one of my favorite summer recipes.
I hope you love these, if you do be sure to come back and leave a star rating!
📖 Recipe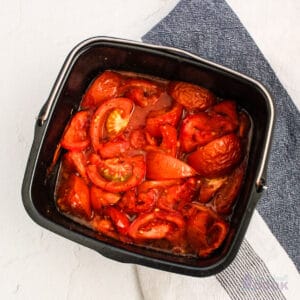 Air Fryer Roasted Tomatoes
When your tomatoes are starting to look sad and wrinkled, roast them! Roasting in your air fryer enhances their flavor and brings out their natural sweetness.
Ingredients
2

lb

tomatoes

1

tablespoon

olive oil

1

teaspoon

italian seasoning

½

teaspoon

salt
Instructions
Wash and cut your tomatoes. Aim for sections about an inch thick, the number of cuts will depend on the size of your tomatoes.

Add tomatoes and spices into an oven-safe dish that fits in your air fryer, and stir together.

Cook at 350 for 18-20 minutes, stirring midway. There is no need to preheat the air fryer.
Podcast
Notes
The tomatoes will release liquid, so they are best paired with a dish that can treat like a sauce such as a pasta.
Nutrition
Calories:
73
kcal
Carbohydrates:
9
g
Protein:
2
g
Fat:
4
g
Saturated Fat:
1
g
Polyunsaturated Fat:
1
g
Monounsaturated Fat:
3
g
Sodium:
302
mg
Potassium:
544
mg
Fiber:
3
g
Sugar:
6
g
Vitamin A:
1898
IU
Vitamin C:
31
mg
Calcium:
31
mg
Iron:
1
mg
Nutrition information is provided as a courtesy and is an estimate. It is recommended to use your preferred calculator with the actual ingredients you use for optimal accuracy.