Delicious and quick, this Salmon Caesar Salad Wrap is the perfect way to use up leftover salmon in a fresh and satisfying way.
If you've ever found yourself with some extra salmon from last night's dinner, you've got the beginnings of these tasty salmon wraps. This easy Salmon Caesar Salad Wrap recipe is a quick and satisfying meal that transforms leftovers into a delicious new dish. With minimal prep and simple ingredients, it's the perfect easy lunch for busy days.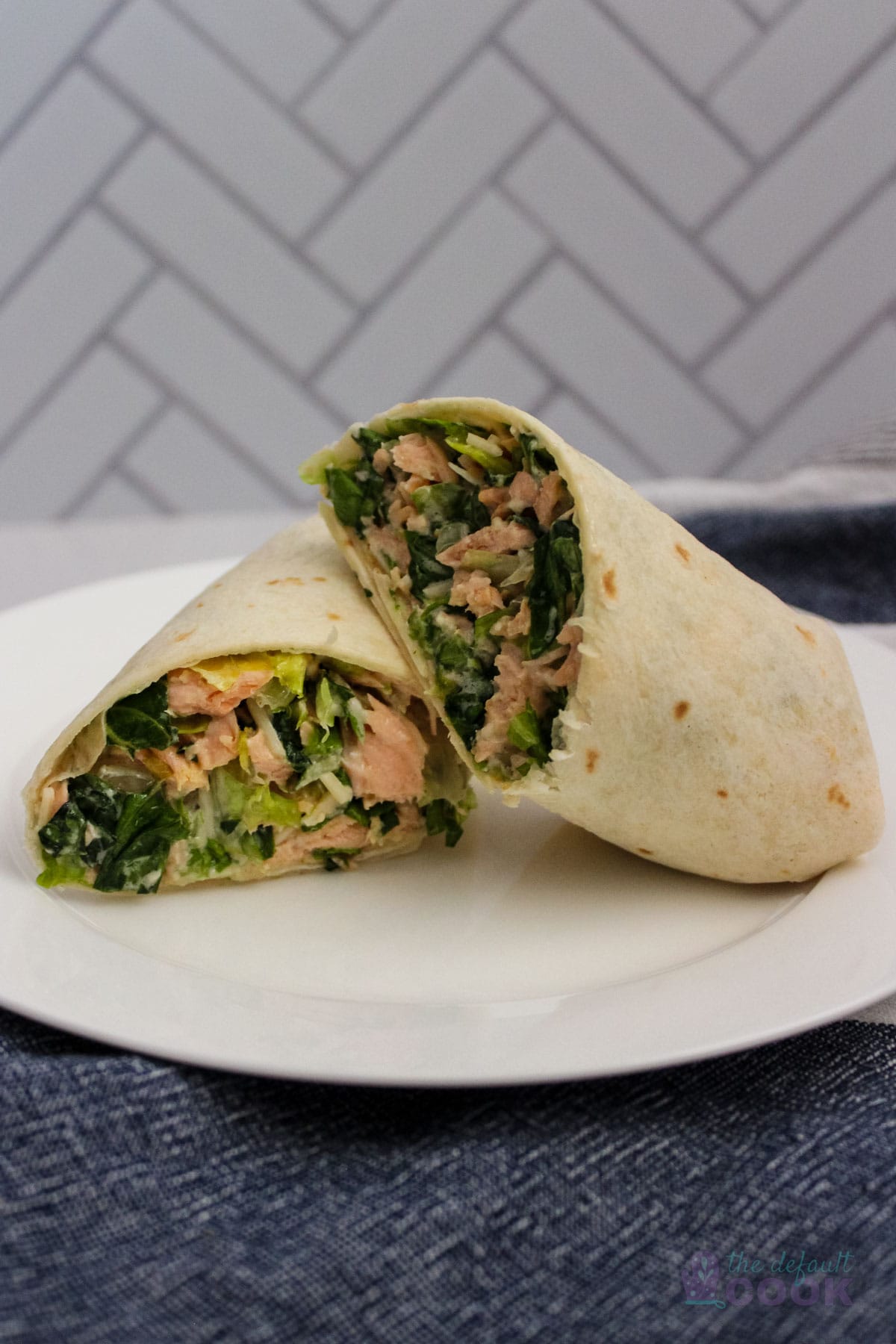 Affiliate disclaimer: This post may contain affiliate links, which means I receive a small commission, at no additional cost to you, if you make a purchase using this link.
Why You'll Love This Recipe:
Easy: You won't believe how simple this is to throw together.
Low Prep: Minimal effort required – perfect for busy days.
Simple Ingredients: Just a handful of items from your fridge and pantry.
Clear out the Fridge: It's a fantastic way to make use of leftover salmon.
Let's Get Started! Here's What You'll Need: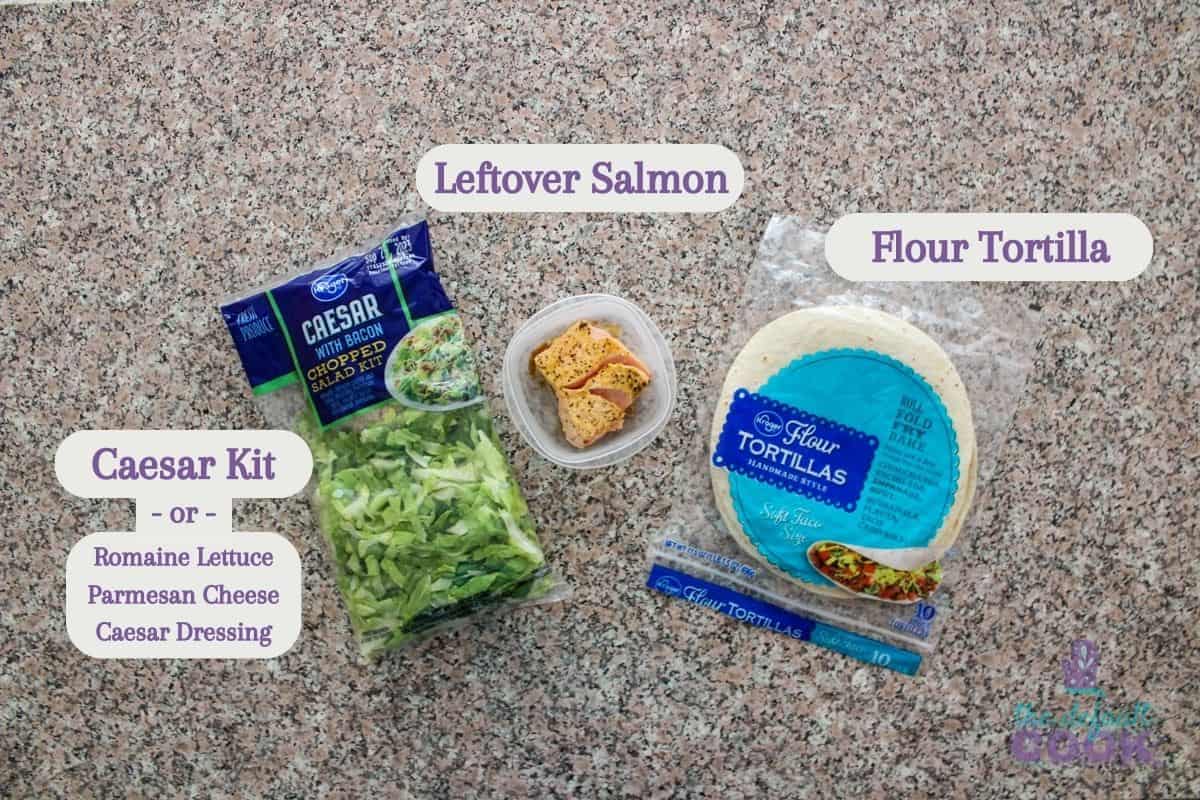 Ingredients:
Leftover Salmon- This might require a touch of planning ahead, in that you don't want a flavor that really fights the Caesar components like say, a bbq sauce covered salmon. I'm using lemon pepper salmon here, but a dijon mustard salmon or blackened salmon would work really well too.
Flour Tortilla- Taco size flour tortillas are pictured here and make regular size wraps. You can use burrito size if you want to make a larger wrap with more filling. I'm using regular flour, but you can substitute whole wheat tortillas if you prefer a whole wheat wrap.
Salad Kit- despite the kit in my photo having bacon in it, we're just using the chopped romaine lettuce, shredded parmesan cheese, and Caesar dressing, so you can buy those individually if you prefer. Don't worry, the bacon bits got used as a chowder topping.
Equipment:
You'll need a small mixing bowl- or a large bowl if you're making a few- to combine the filling, along with a measuring spoon. You also probably need a knife and cutting board, especially if your romaine isn't already chopped- if it is you don't have to cut your wrap if you don't want to. It is your kitchen, after all.
How to Make These Salmon Caesar Wraps:
Step 1: Mix Salmon & Salad
If you're using a food scale, this is 3 oz salmon and 2 oz of chopped romaine, which is essentially a large handful of lettuce. I make this all the time by eyeballing the ratios, but I used a food scale here to make sure I'm giving you accurate measurements. Add the dressing and parmesan, then mix until everything is well coated.  You don't have to chop the romaine if it didn't come that way- I like buying the chopped kit to skip that- but I do find it makes for more even bites when big chunks of lettuce aren't randomly trying to come out.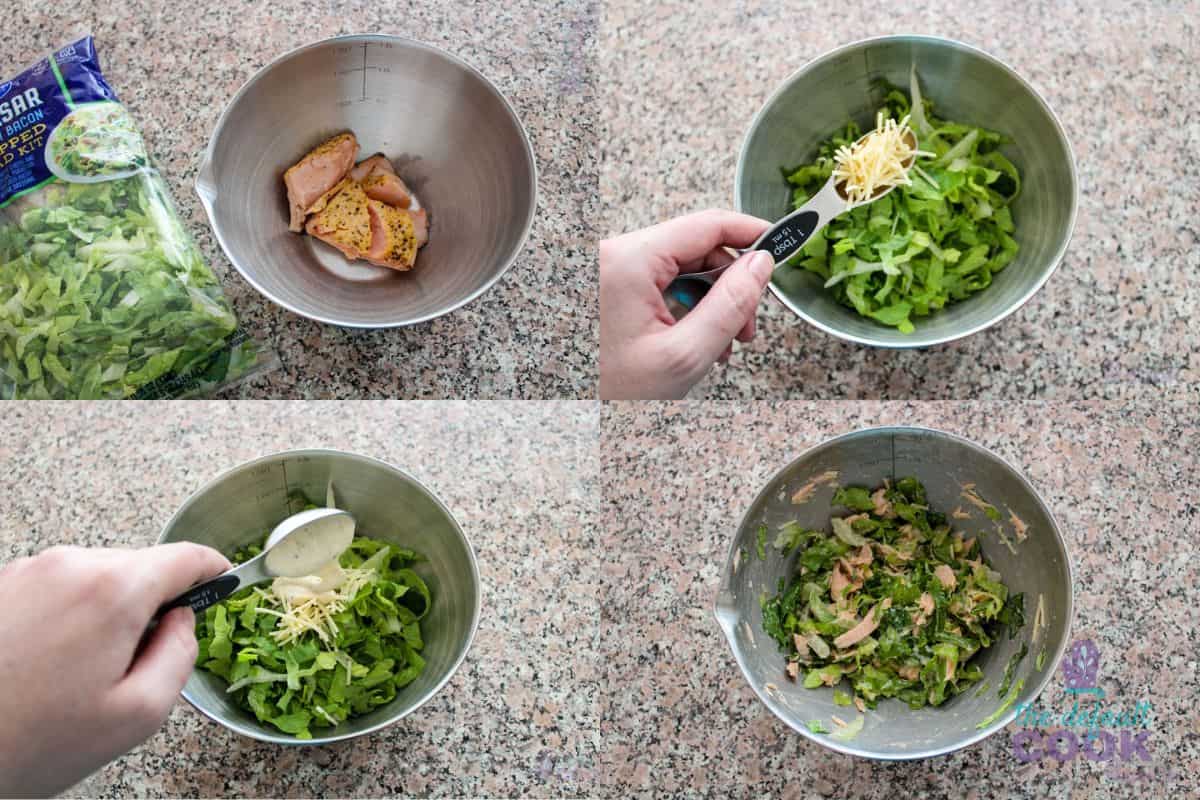 Step 2: Wrap the Tortilla
Place the mixture on the bottom third of the tortilla so you have some room to work folding it up. If you're packing it for lunch, consider wrapping it in parchment paper for easy handling. To fold, pinch in the sides and then roll from the bottom as tightly as you can, ending with the seam on the bottom so the weight of the wrap can help keep it together. Unfortunately I can't take a picture and fold with both hands at the same time, so you'll have to imagine here that my left hand is doing the same thing as my right below to start the wrapping.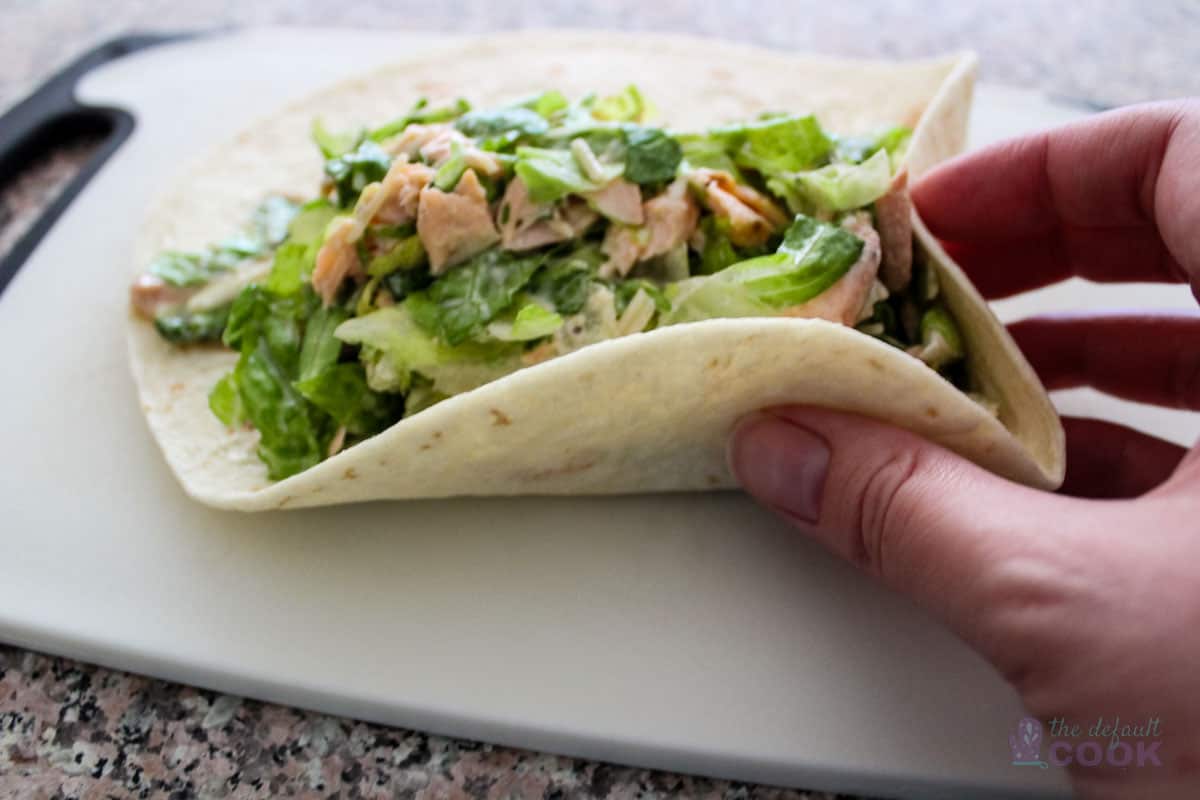 Step 3: Serve & Enjoy
Cut on a diagonal for a pretty presentation, or just dive into it whole—I assure you I've done both. If you have leftovers, store them in an airtight container and eat within a day. The longer it sits, the more of the dressing will absorb into the tortilla and start to get soggy.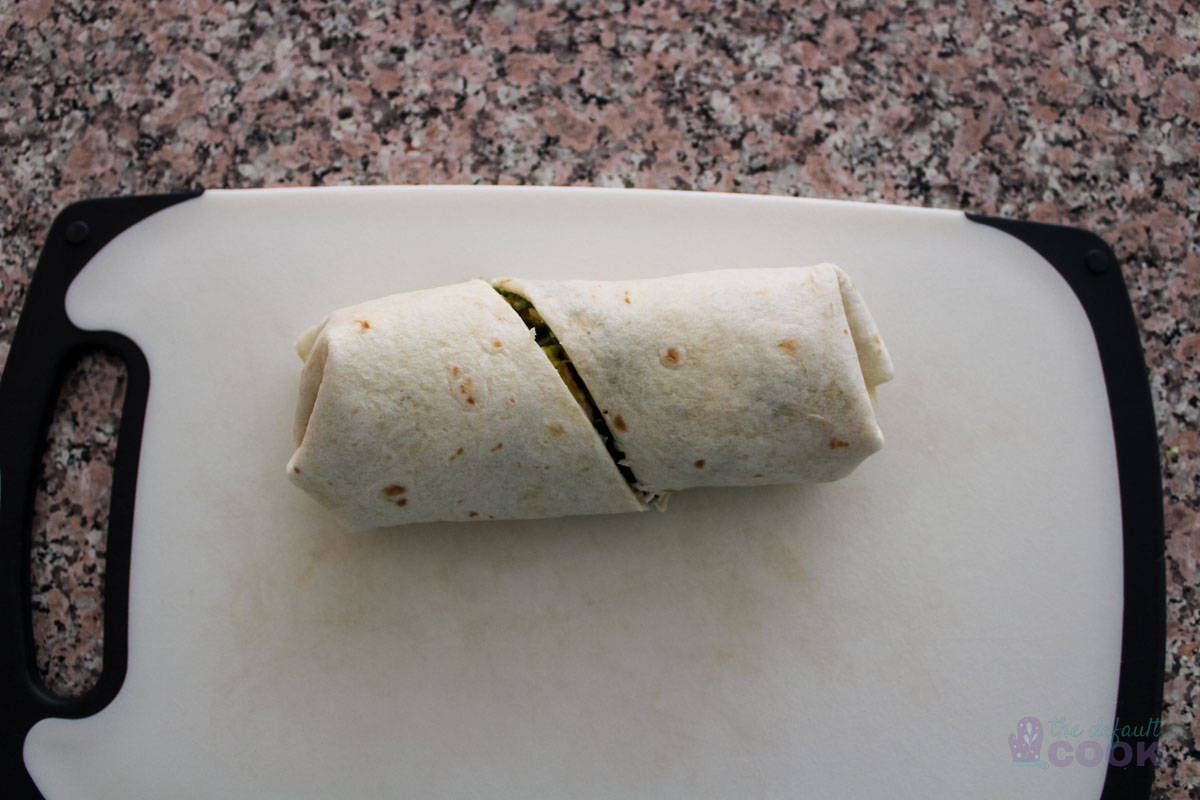 FAQs
Can I heat this up?
Absolutely, once assembled, you can toast it if you prefer a warm wrap. Pop it in a 300 degree oven for 6-8 minutes or an air fryer for 3-5 minutes.
Can I substitute chicken or another meat?
Yes, almost any protein goes well in a Caesar wrap, just be mindful of the flavors. BBQ might not be the best choice.
Are these wraps good for meal prep?
Kind of. The USDA recommends consuming fish within 3 to 4 days from cooking, and I personally aim for the three day rule with fish. When I think of all things meal prep I think of the same lunch for 5 days, and I would not recommend doing that with the same batch of salmon. But cooking dinner and then making your lunch the night before? Sure thing. Just don't go too heavy on the dressing, as you don't want that to absorb into the tortilla.
I don't have leftover salmon, can I make it quickly?
Sure thing! I just add a bit of olive oil and lemon pepper to my salmon fillets and cook the seasoned fish on a foil lined pan at 400 for 15 minutes in a conventional oven, or 10 minutes in an air fryer. Just double check that the internal temperature gets to 145 F.  You can also use smoked salmon or canned salmon and skip the cooking step.
Can I use corn tortillas?
Maybe. Flour tortillas are typically used for wraps and burritos because they're stronger and can handle more weight. Since this isn't a very heavy wrap it may hold up, but you might need to serve them taco style instead.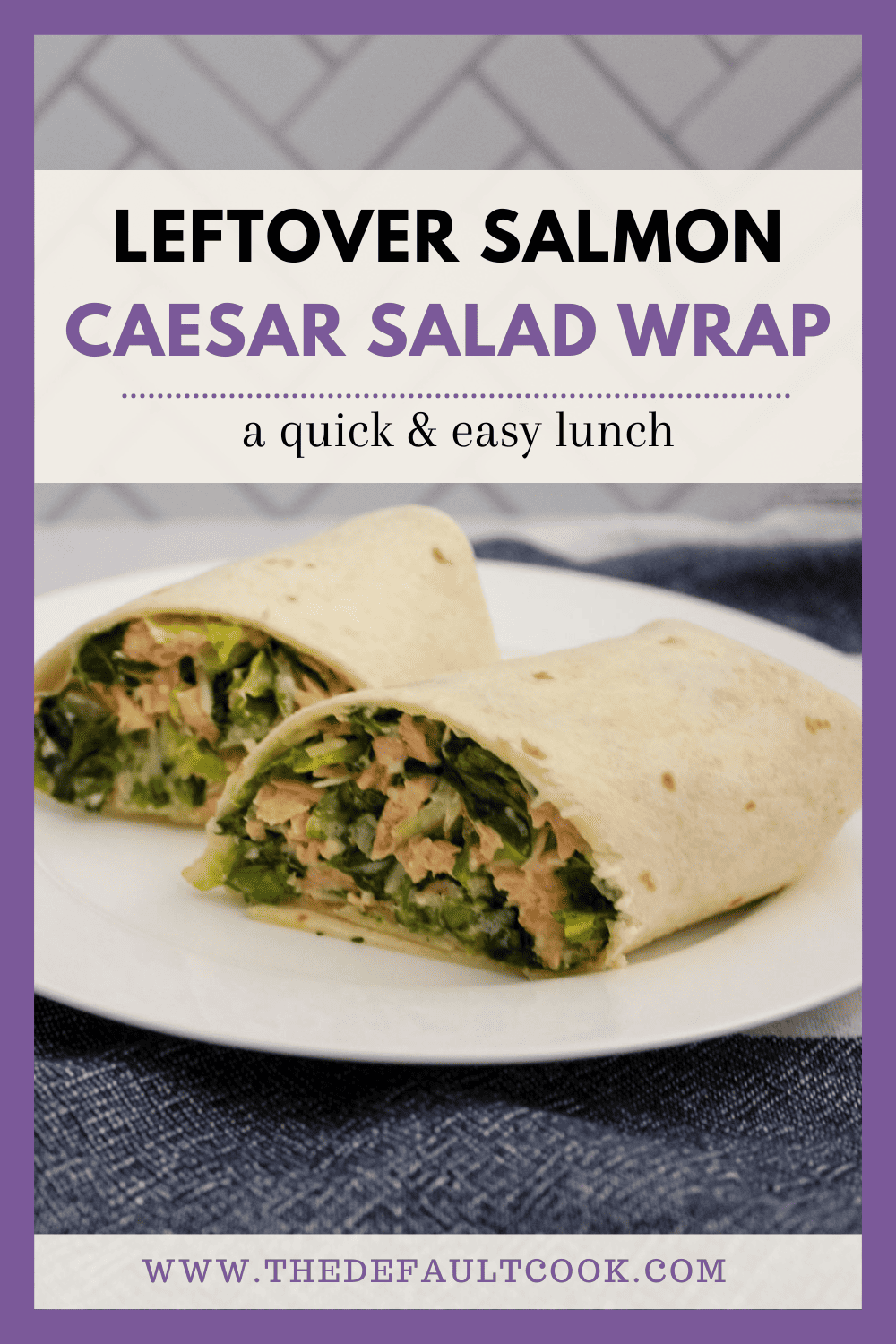 More Easy Meals You Might Like:
Seafood makes for some delicious and nutritious meals, give this 4 ingredient pesto butter salmon a try.
Or maybe you need more leftover using ideas to minimize food waste in your kitchen. These quesadillas use leftover pot roast, and this wrap uses leftover chicken. Pulled pork freezes great, and when you're ready for leftovers they turn into taco meat in no time.
Enjoy!
This Salmon Caesar Salad Wrap is a versatile and tasty way to make the most of your leftover salmon. Give it a try and be sure to come back and leave a star review. I hope this becomes a new family favorite!
📖 Recipe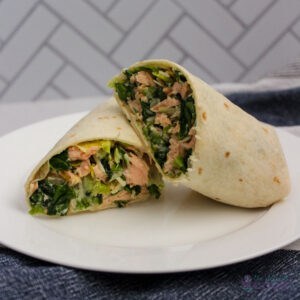 Salmon Caesar Salad Wrap (with Leftover Salmon)
Wrap that leftover salmon up with chopped romaine, parmesan, and creamy caesar dressing for a 5 minute lunch that tastes like a whole new meal.
Ingredients
3

oz

salmon

cooked

2

oz

romaine lettuce

chopped

1

ea

flour tortilla

taco size

1

tablespoon

parmesan cheese

1.5

tablespoon

caesar dressing

creamy dressing
Instructions
Toss lettuce, fish pieces, parmesan, and caesar dressing together in a small bowl.

Add caesar salad mix to tortilla and wrap tightly. Wrap with parchment if packing for later.
Podcast
Notes
You can swap a whole wheat tortilla if you prefer. The leftover salmon should be plain or have a flavor profile that pairs well with the salad- i.e. lemon pepper, dijon, or blackened salmon.
Nutrition
Calories:
421
kcal
Carbohydrates:
28
g
Protein:
23
g
Fat:
24
g
Saturated Fat:
6
g
Polyunsaturated Fat:
10
g
Monounsaturated Fat:
5
g
Cholesterol:
60
mg
Sodium:
756
mg
Potassium:
622
mg
Fiber:
2
g
Sugar:
2
g
Vitamin A:
5023
IU
Vitamin C:
2
mg
Calcium:
134
mg
Iron:
3
mg
Nutrition information is provided as a courtesy and is an estimate. It is recommended to use your preferred calculator with the actual ingredients you use for optimal accuracy.