Cooking tri tip in a cast iron skillet is a wonderful way to enjoy a flavorful and juicy steak in the comfort of your own kitchen.
We'll talk through the process of preparing and cooking tri tip steak to perfection so that you end up with a tender, juicy steak on your dinner table. Whether you are a seasoned cook or a beginner, this method is a simple and delicious way to prepare this flavorful cut of meat.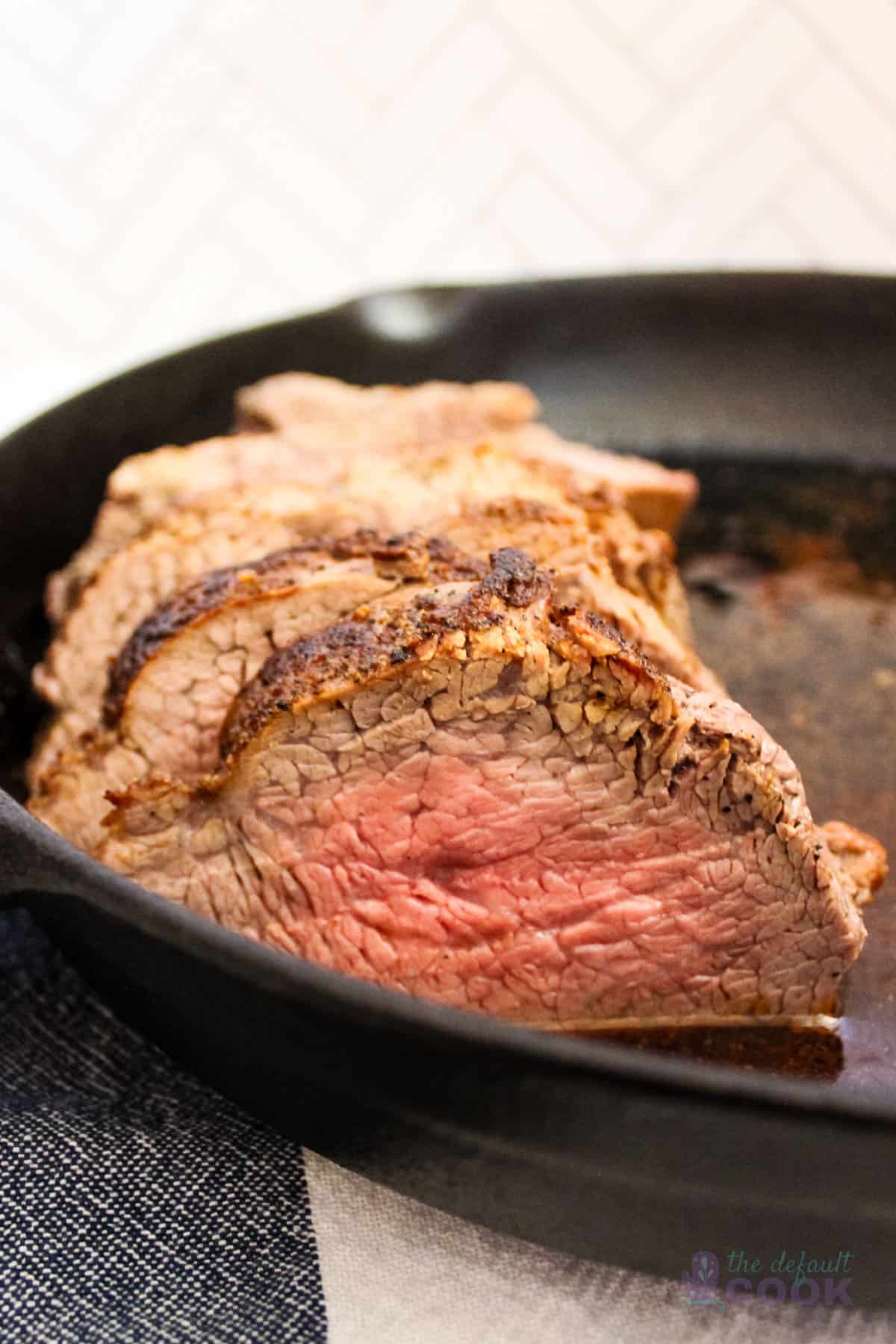 This post may contain affiliate links, which means I receive a small commission, at no additional cost to you, if you make a purchase using this link.
Why Tri-Tip?
Tri-tip steak is a triangular cut of beef that's incredibly flavorful and tender. It's sometimes also called a Santa Maria steak or California cut. The triangle roast is known for its rich marbling and beefy taste. The unique size of tri tip makes it perfect for cooking on a gas grill, cooking sous vide, or, in our case, cooking in a cast iron skillet. When you're at the grocery store, look for one that is well-marbled and has a nice, even thickness. If you don't see it in your local store ask the butcher- some stores still cut this into stew meat or grind it to save on display space.
Why You'll Love The Cast Iron Method
While there are a number of ways to cook a tri-tip, from sous-vide to treating it as a roast in the slow cooker, the cast iron cooking method has a few perks:
Fast: While it's ideal to let the spices sit on the meat for a bit before searing, this meal can be made in about half an hour if need be.
Simple Equipment: A cast iron pan or skillet is an affordable kitchen staple that most people have.
Different levels of doneness: Because the middle will be the widest, thickest part, it will also be the most rare. So if you have family members that prefer it a little more well done, they'll be happy with the ends.
Let's Get Started! Here's What You'll Need: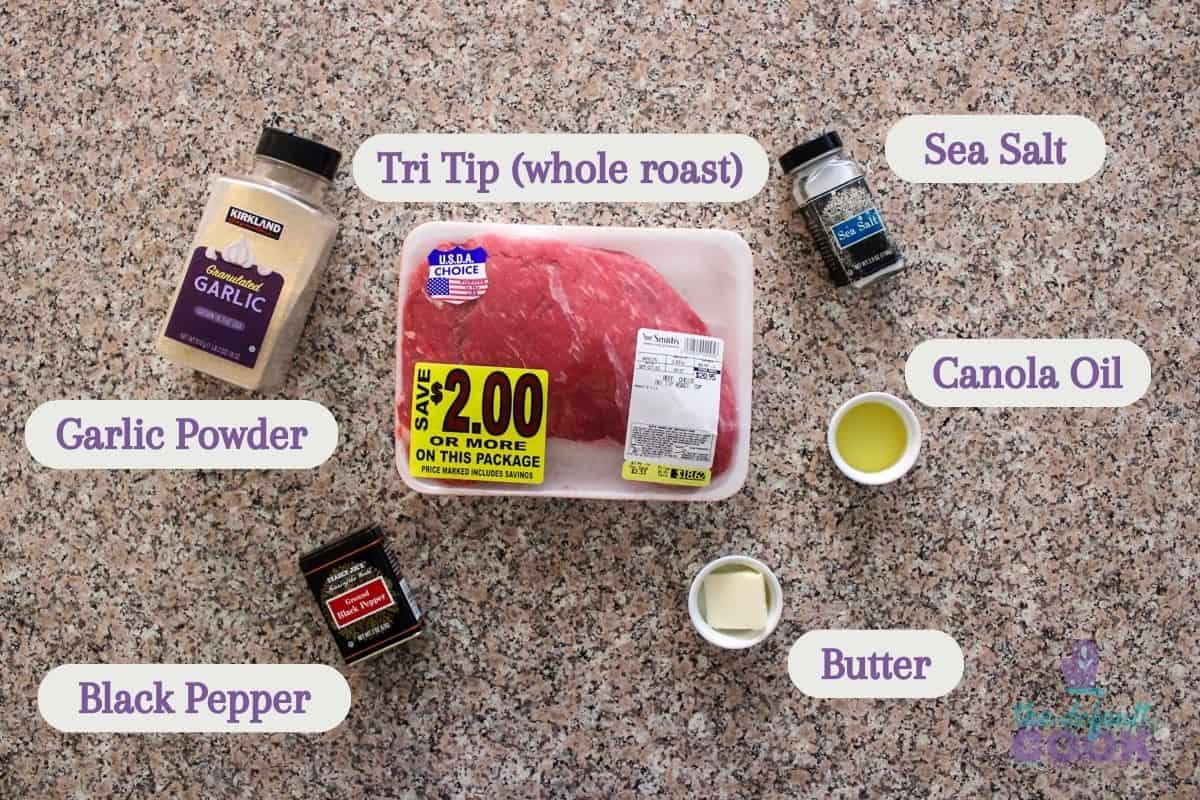 Ingredients:
Whole Tri-Tip Roast: Some stores do sell pre-sliced tri tip steaks, but we're looking for the whole muscle, which is generally around two pounds.
Sea Salt and Black Pepper: Season to taste with salt and pepper, being generous with the sea salt.
Garlic Powder: Using garlic powder with your salt and pepper keeps it simple and focuses on the meat's natural flavor, but you can use your favorite dry rub if you prefer.
Oil and Butter: These are optional, but help give a great sear. Since a Tri-tip isn't a uniform thickness not every part of it touches the pan. The oil helps make contact with more of the steak when you're searing, and the butter helps with browning. For oil you want something that can handle high heat like canola or avocado oil, I don't recommend olive oil for this dish.
Equipment:
You'll need your trusty large cast iron skillet, along with tongs, and a knife. You might want measuring spoons, but measuring with your heart is perfectly ok. You'll also need a cutting board for slicing, and some aluminum foil to tent the meat while it rests.
How To Make This Simple Tri Tip Recipe:
Trim the Steak
Before seasoning, take a moment to trim the tri tip. Remove any silver skin membrane, which can be tough when cooked. You can also trim some of the fat cap if desired, but leaving a thin layer can add flavor and moisture to the steak. Here's a photo of the membrane if you're not sure what it looks like.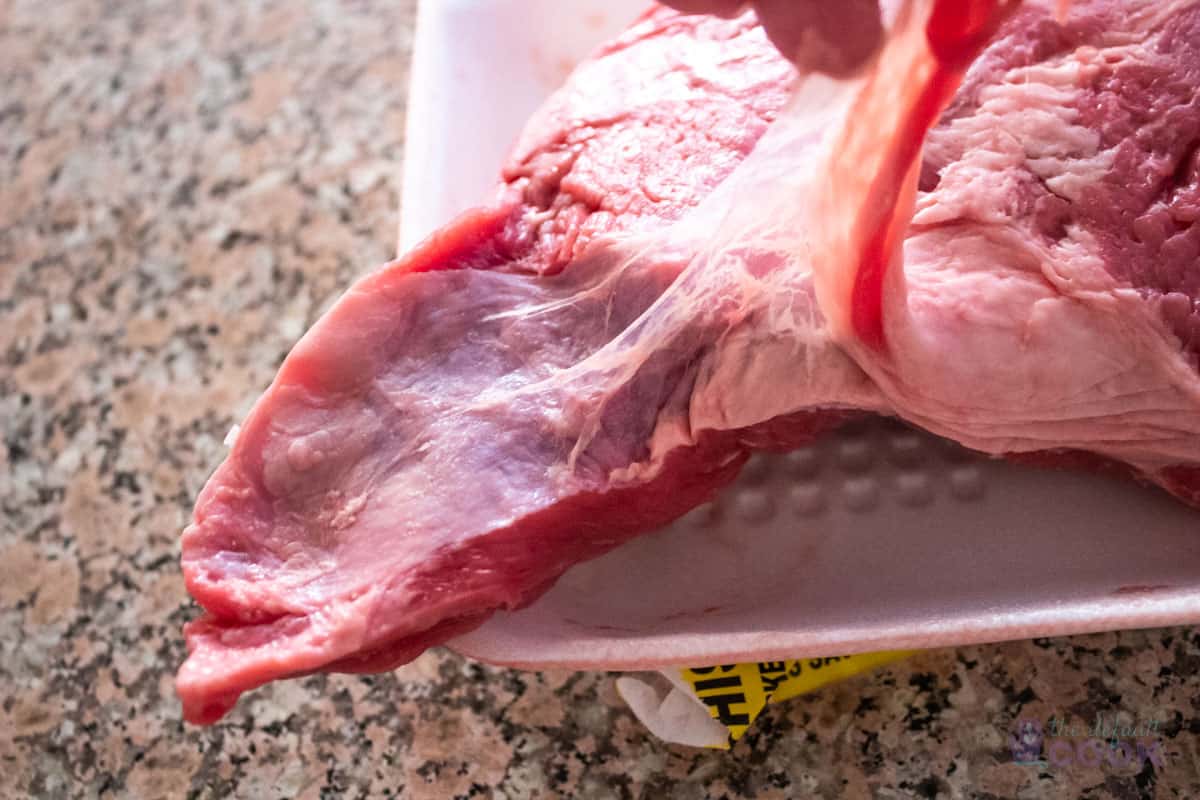 Season the Tri Tip
To enhance the flavor of your steak, generously season it with salt, pepper, and garlic powder. You can also create a custom spice rub to suit your taste.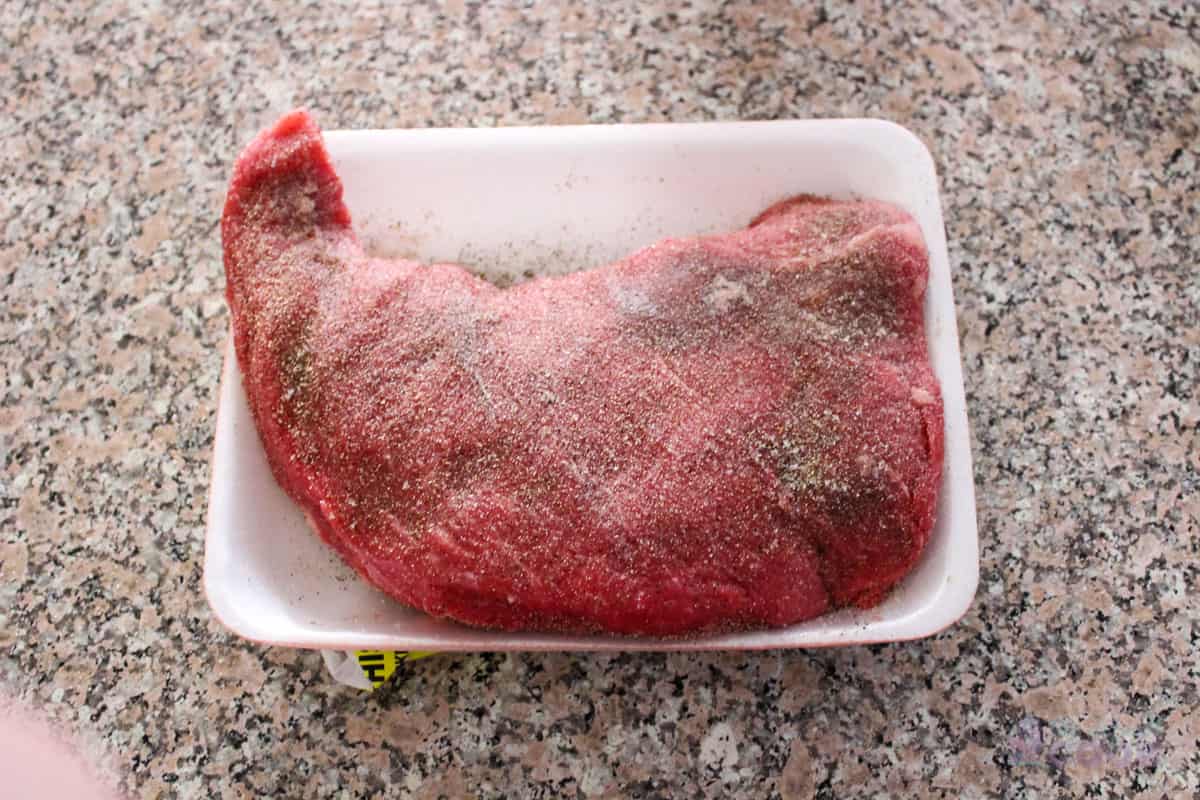 Let It Rest & Preheat the Oven
Preheat your oven to 425 degrees F. Optionally, after seasoning, let the steak sit at room temperature for about 30 minutes. This will allow it to absorb the flavors and make the most of your spices.
Sear the Tri Tip
Heat your cast-iron skillet on the stovetop over medium-high heat. It's essential to get the heavy skillet hot before adding the steak. Add your oil and carefully place the seasoned tri tip in the pan fat side down. If both sides are well trimmed then either side can go first. Allow the steak to sear for about 2 minutes, add the butter to the pan and flip the steak.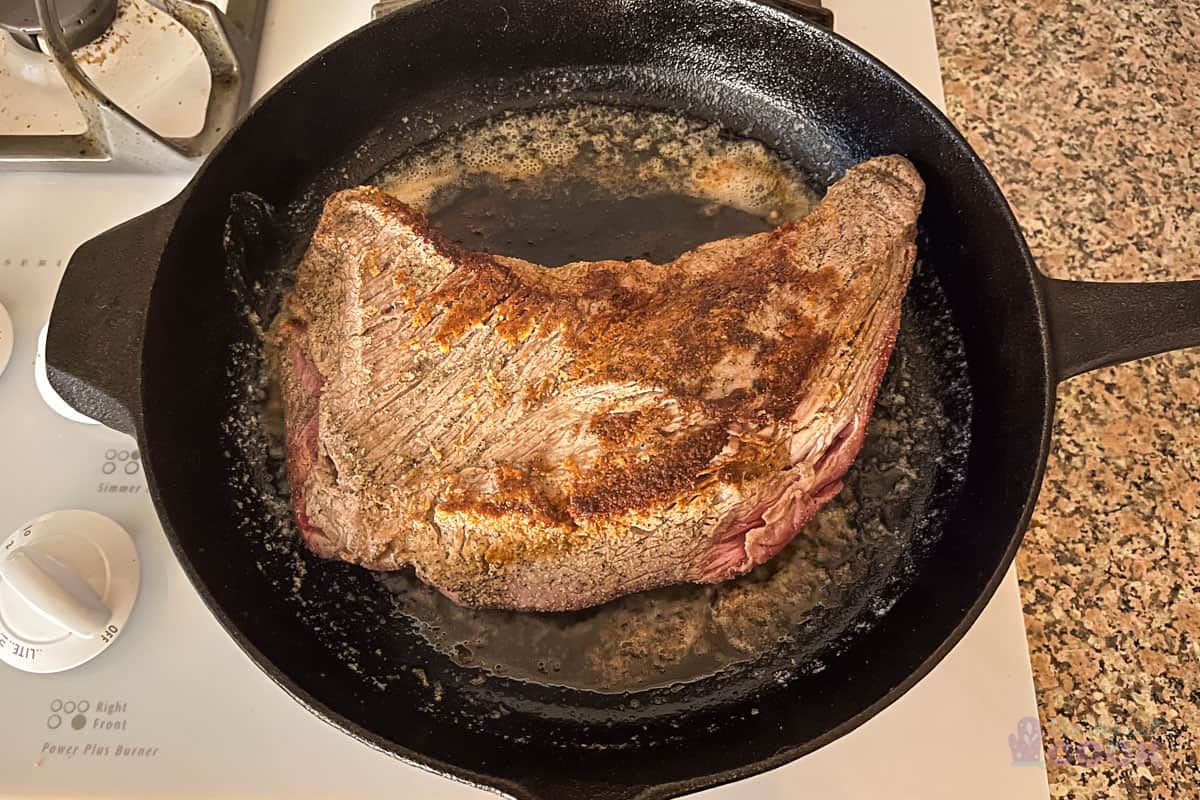 Roast the Steak
After flipping the steak, move the cast-iron skillet to your preheated oven, and cook for about 20 minutes, or until it reaches your desired level of doneness. A good rule of thumb is to start with 10 minutes per pound, then check your internal temperature. For medium-rare steak, you're looking for about 130 in the center with an instant-read thermometer, as the temperature will climb a bit during the rest.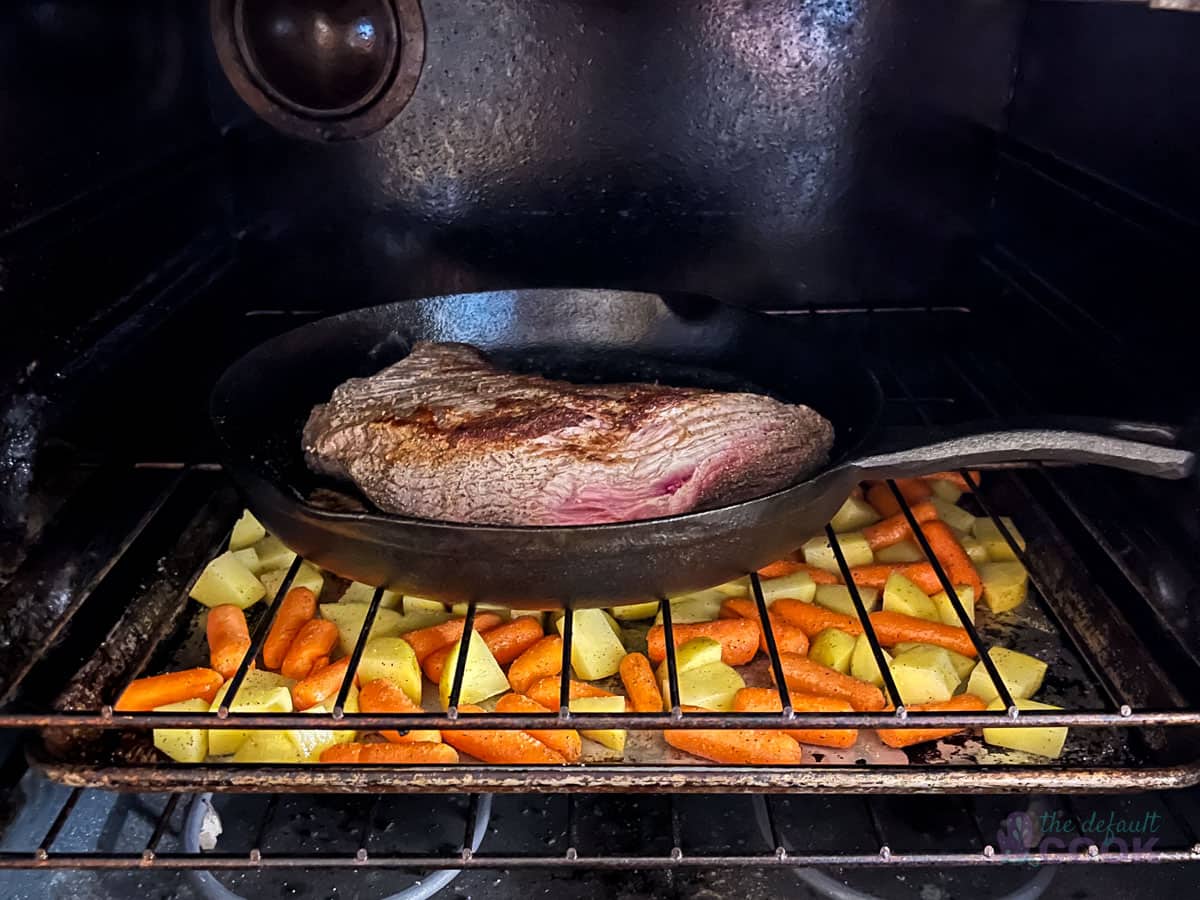 You may notice here I have vegetables on the lower rack- they take about the same amount of time, and if they're not quite done when the steak is they can keep cooking while the steak rests.
Rest and Slice
Remove the tri tip from the hot skillet and let the meat rest on a plate or cutting board for at least 5-10 minutes. Resting allows the juices to redistribute, if you start slicing right away you'll lose a ton of them.
Slice the tri tip against the grain to ensure tenderness. The grain actually changes and goes in different directions on each end, so you'll need to rotate your slice as you go.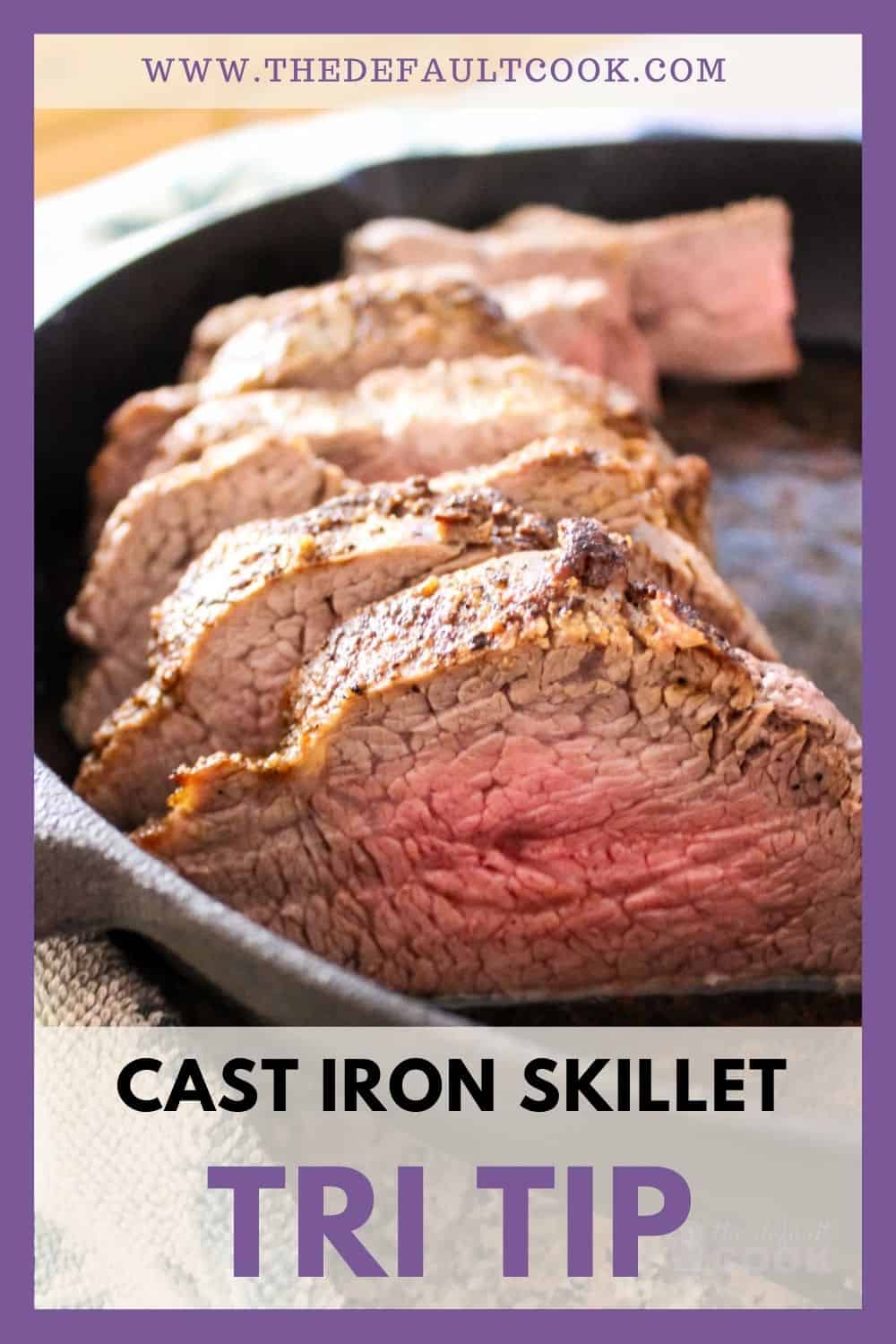 If you have any leftovers, store them in an airtight container in the fridge. Thin slices are great for sandwiches, but there's lots of things you can do with tri tip leftovers.
Frequently Asked Questions (FAQs)
Can I use a different cut of steak for this method?
Yes, this simple recipe will work for any steak cut, but the amount of oven time will vary depending on the size. I definitely recommend using a meat thermometer to ensure juicy steaks.
What seasonings work best for tri tip?
Seasonings like garlic powder, paprika, and rosemary complement tri tip's flavor well.
Can I cook tri tip in a regular pan if I don't have a cast iron skillet?
Yes, you can use a regular pan, but a cast iron skillet is ideal for a good sear.
Can I marinate the tri tip before cooking?
Yes, if you prefer a marinade to a dry rub, that's totally fine. You'll just want to pat it dry before searing, otherwise you'll end up steaming the outside instead of searing it.
More Delicious Recipes
Looking for sides for your tender steak? My go to sides are roasting potatoes and carrots alongside the roast on a lower rack. For more ideas here's a list of tri-tip sides that is sure to include a few you'll enjoy.
​Have leftover tri tip and wondering what to make? They're great in a tri tip sandwich, tri tip pasta, or as tacos.
Enjoy!
Enjoy your homemade cast iron-cooked tri tip steak and impress your friends and family with your culinary skills!
📖 Recipe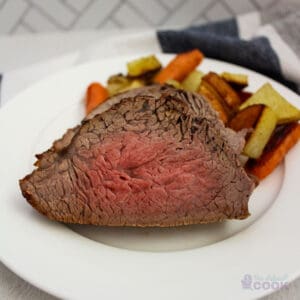 Cast Iron Tri Tip Steak Recipe
Making Tri Tip in your skillet is a fast and easy way to a delicious steak perfect for family dinner or a small dinner party.
Ingredients
2

lb

tri tip roast

1

tablespoon

sea salt

2

teaspoon

black pepper

2

teaspoon

garlic powder

2

tablespoon

oil

for searing

1

tablespoon

butter

for searing
Instructions
Trim and season tri tip with the salt, peper, and garlic powder. Optionally allow to rest 30 minutes after seasoning.

Preheat oven to 425 and heat skillet over medium-high heat with oil. Once hot, sear tri tip fat side down for 2 minutes. Add butter, flip, and transfer to preheated oven.

Roast for 20 minutes and check doneness with a meat thermometer. Once at your desired temperature remove and rest covered for 10 minutes.

Slice against the grain and serve.
Notes
Oven cook time will vary based on thickness of your tri tip and desired doneness. For medium rare in the center remove from the oven at 130 degrees- ends will be more done than the center due to the triangular shape.
Keep in mind when slicing that the grain shifts on this cut, so your slices will need to as well.
Nutrition
Calories:
300
kcal
Carbohydrates:
1
g
Protein:
31
g
Fat:
18
g
Saturated Fat:
6
g
Polyunsaturated Fat:
2
g
Monounsaturated Fat:
9
g
Trans Fat:
0.1
g
Cholesterol:
103
mg
Sodium:
1259
mg
Potassium:
507
mg
Fiber:
0.3
g
Sugar:
0.03
g
Vitamin A:
62
IU
Vitamin C:
0.01
mg
Calcium:
41
mg
Iron:
2
mg
Nutrition information is provided as a courtesy and is an estimate. It is recommended to use your preferred calculator with the actual ingredients you use for optimal accuracy.