Tri tip, named that because it is a triangular cut of meat, is a delicious cut of beef that is tender and flavorful. At about half the cost of filet mignon, it is a great main dish for both special occasions and weeknight dinners. But what happens when you find yourself with leftover tri tip and want to enjoy it again without compromising its taste and texture? In this guide, we'll explore seven different methods to reheat your tri-tip roast.  There is no one best method for every meal. The best way for you will depend on how you want to serve it, what equipment you have, and how much time you have.
We'll start with the fastest method and work up to the longest. Keep in mind if you're making a salad or tri-tip sandwich you might not want to reheat it all! I'm assuming about ½" thick slices, so if you have thin slices they may need less time, and a whole tri tip roast or will take longer.
No time to read now? Pin it for later!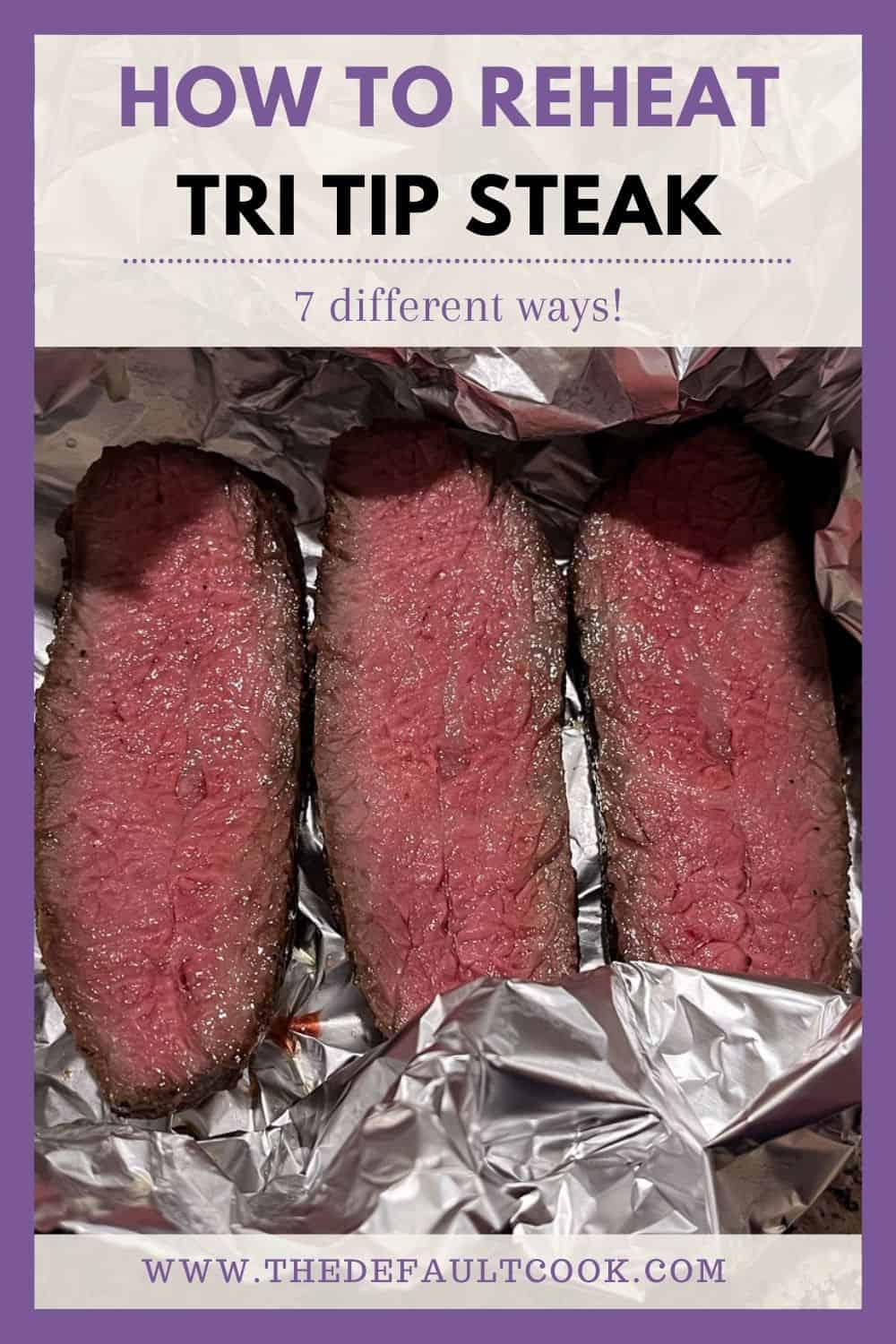 Microwave Reheating
While not my favorite method, the microwave is certainly the fastest. It is a convenient option for quickly reheating tri tip, but requires careful attention to prevent overcooking or uneven heating. To reheat in the microwave:
Place the leftover tri tip in a microwave-safe dish.
Cover the dish with a damp paper towel to maintain moisture and prevent the meat from drying out.
Microwave the tri tip in short 10-15 second bursts, using medium power, to avoid overcooking.
Check the temperature using an instant-read thermometer, aiming for around 130°F (54°C), or use your fingertips to see if it's warm enough to your liking.
Remove the tri-tip steak from the microwave once the desired temperature is reached.
While microwave reheating is quick, be cautious not to leave the tri tip in too long, as the leftover steak can become tough and rubbery if overcooked.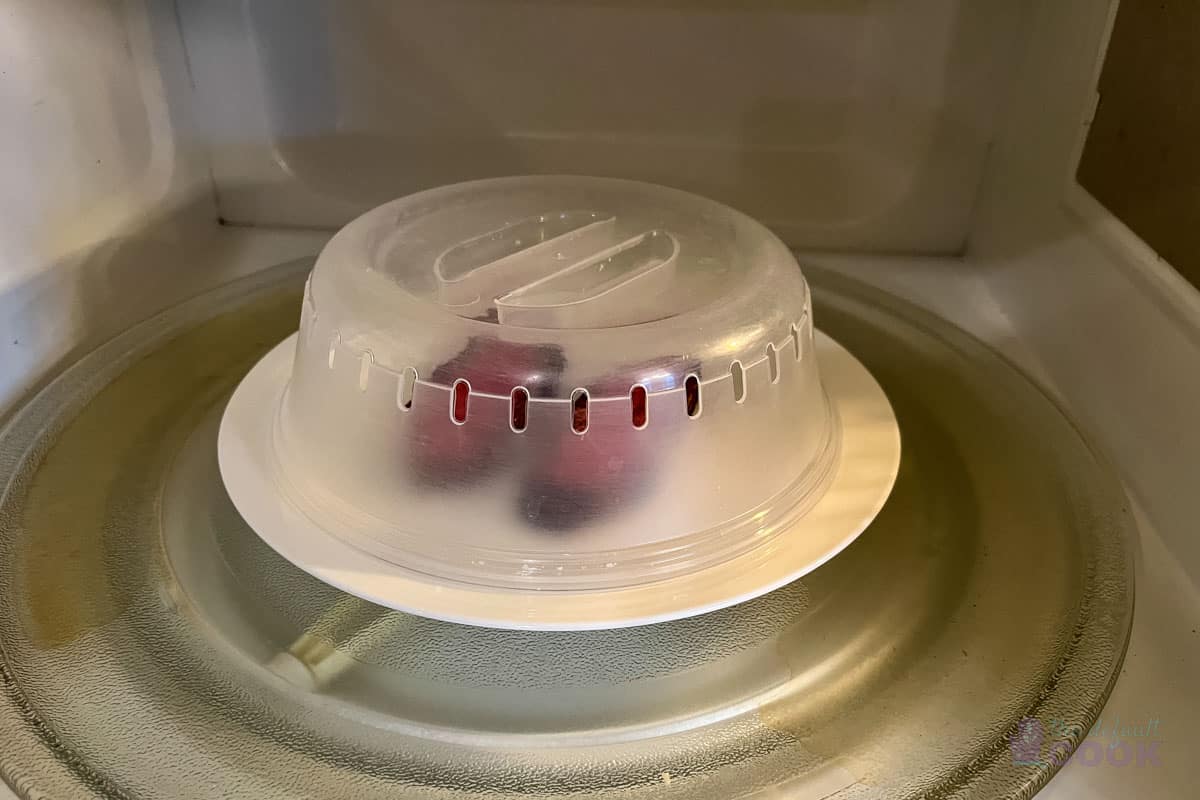 Air Fryer Method
If you have an air fryer at home, you can use it to reheat your tri tip in just a few minutes more than the microwave with much better results. To reheat in the air fryer:
Preheat your air fryer to around 375°F (190°C).
Wrap the leftover tri tip tightly in aluminum foil to prevent it from drying out and to retain its juices. You can also add some butter to the foil packet for additional moisture and richness.
Place the wrapped tri tip in the air fryer basket and cook for 3 to 5 minutes, checking after 3.
You can use a thermometer- especially if your air fryer has a probe like mine does- or the good 'ol fingertip test. Keep in mind the foil will be very hot even if the meat isn't yet, so handle it with potholders or gently open it with your thermometer probe.
Once the desired temperature is reached, carefully remove the tri tip from the air fryer and let it rest for a minute before unwrapping and serving.
Be mindful of the safety precautions while using the air fryer, ensuring that the foil is properly wrapped and weighed down by the food. While aluminum foil can be used in an air fryer, you don't want it to fly around and touch the heating element.
If you don't have any tin foil you can add a tablespoon or two of water to the bottom of your air fryer. This will create a little steam while the tri tip slices heat, and help keep them moist.
Skillet Reheating
Reheating tri tip in a skillet is a quick and simple method. If you're making a pasta sauce like this tri tip pasta does it also doesn't add any more dishes to your cleanup! This is the method I'll choose if I'm already using the skillet. To reheat in the skillet:
Heat a skillet over medium heat and add a small amount of oil or butter if there's not a sauce in the skillet already.
Place the leftover tri tip in the skillet and sear it for about 20 to 30 seconds on each side to warm it through.
Reduce the heat to low and cover the skillet with a lid and allow to cook an additional 2 to 3 minutes, until it is heated to your preference.
Once reheated, remove the tri tip from the skillet and let it rest for a minute before eating.
Reheating tri tip in a skillet allows for a quick and controlled process, ensuring that the meat is heated evenly and retains its juiciness.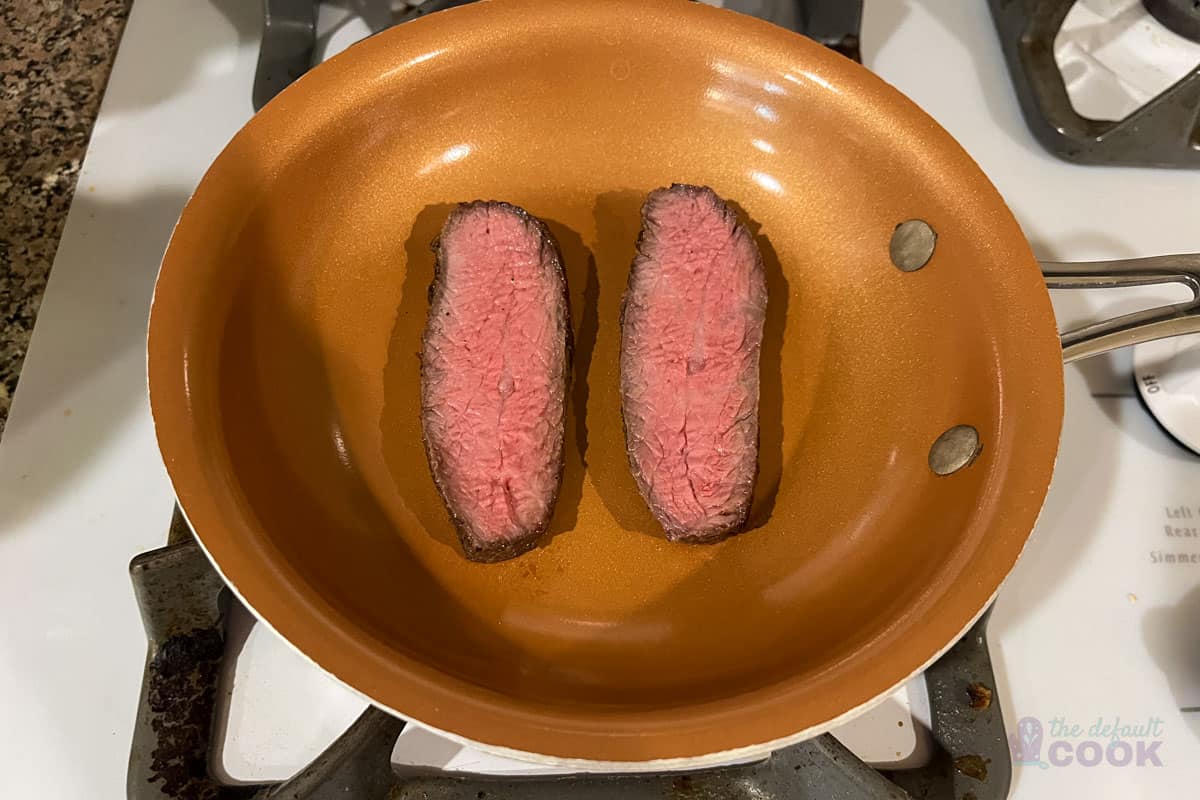 Reheating on the Grill
Grilling is a fantastic option for reheating tri tip, as it adds a smoky flavor and can help achieve a crispy exterior while keeping the meat juicy inside. To reheat on the grill:
Preheat your grill to medium-high heat, around 400°F.
Wrap the meat in aluminum foil. Place the packet on the grill off the flame, using indirect heat to warm it.
Monitor the temperature after 4 minutes- it should only take 4-7 minutes to reheat with this method.
Once reheated to your liking, remove the tri tip from the grill and let it rest for a minute before serving.
To avoid overcooking, keep a close eye on the meat while grilling. Reheating time may vary depending on the thickness of the tri tip and the heat intensity of your grill. For larger pieces you could sear the meat directly on the grill for 30 seconds on each side before moving it off the flame.
Oven Reheating Method
When it comes to reheating tri tip, the oven method is a tried-and-true option that delivers consistent results. It's essentially a slower version of the air fryer method. To reheat in the oven:
Preheat your oven to a moderate temperature, around 325°F (163°C).
Wrap the tri tip tightly in aluminum foil to prevent it from drying out. .
Place the wrapped tri tip into the preheated oven. You can either wrap it directly and place it on the oven's wire rack directly, or on a baking pan or cookie sheet.
Reheat for 5-10 minutes. Like with the air fryer, the foil and baking sheet will get hot quickly so be sure to use potholders and avoid burning yourself when checking if it's reheated to your liking.
Let rest for a minute and serve.
Remember, while reheating in the oven, there's a risk of the meat drying out. To retain moisture, consider adding a splash of broth or marinade to the foil packet. You can also put a pan with water on the lower roasting rack in the oven to create steam.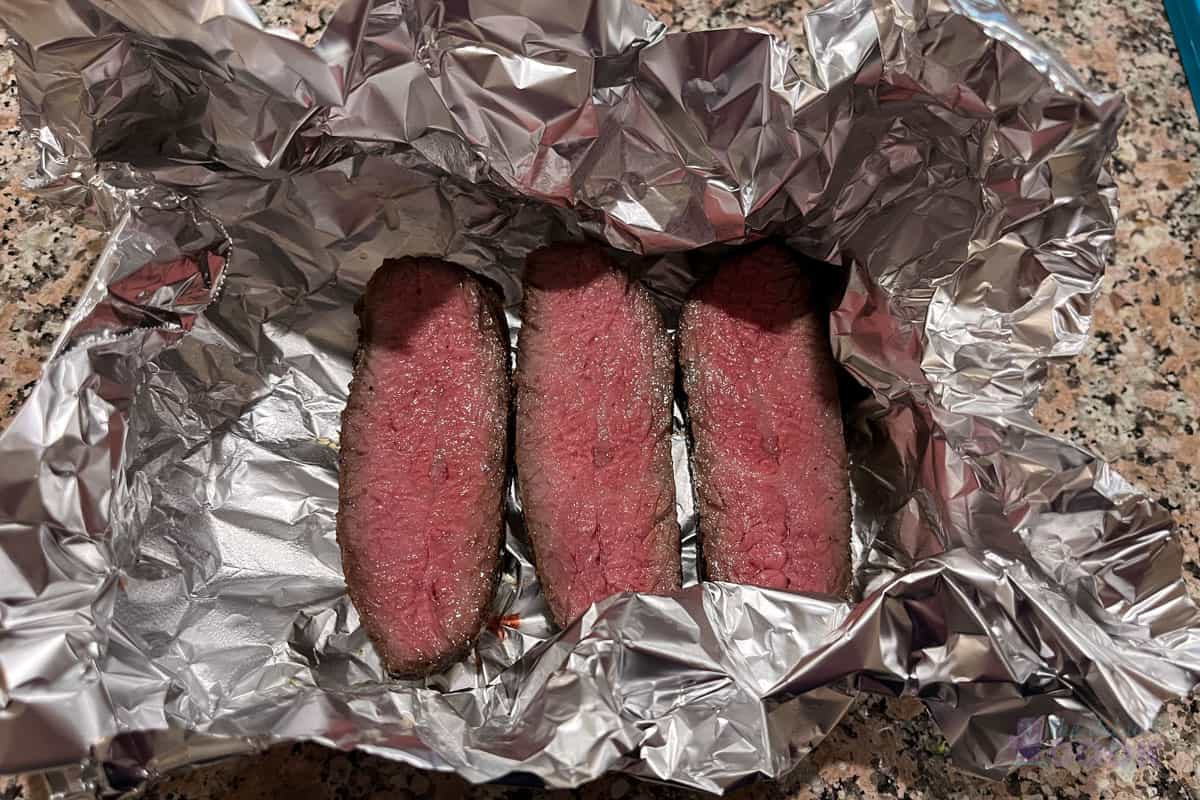 Sous Vide Reheating
Sous vide is a cooking technique that involves precise temperature control in a water bath, which makes it impossible to overcook food. It's a fantastic way to make tri tip in the first place, and reheating this way gives the best results. The water bath is a considerably lower temperature than any other reheating method. Because of this it keeps your tri tip steaks just as juicy as the day you made them, making it my preferred method.
Seal the leftover tri tip in a sous vides safe bag- either by water displacement in a freezer bag or using a vacuum sealer. For water displacement, submerge all but the zip top and squeeze out as much air as possible, as pictured above.
Submerge the sealed tri tip in the water bath in the room temperature water, and set your sous vide device to heat the water bath to your desired temperature. If you're reheating this way you probably cooked it this way too- just match the temperature you cooked it to the first time.
Submerge the sealed tri tip in the water bath and let it reheat for about 30 minutes to 1 hour.
Once the reheating time is complete, carefully remove the tri tip from the bag.
Pat the meat dry with a paper towel. Optionally you can sear it briefly on a hot skillet or grill to revitalize that flavorful crust.
With sous vide reheating, you can expect the tri tip to maintain its original texture and moisture content, resulting in a perfectly reheated and succulent piece of meat. However, while it can't be overcooked, it can be left in the temperature danger zone too long. To ensure you don't give yourself food poisoning, the meat shouldn't be under 130 degrees fahrenheit for an extended period.
Crock Pot Reheating
The crock pot, or slow cooker, is a convienient reheating process, as it allows for gentle and even heating. Follow these steps for crock pot reheating success: To reheat in your slow cooker:
Place the leftover tri tip in the crock pot and add a splash of beef broth or other flavorful liquid to help retain moisture.
Set the crock pot to low heat and cover it with the lid.
Allow the tri tip to heat slowly for 1 to 3 hours, or until it reaches the desired internal temperature. The time will depend on your tri tip thickness, as well as how warm your slow cooker runs.
Check the internal temperature using a meat thermometer, aiming for around 130°F (54°C) for medium-rare, or adjust based on your preference.
Once reheated, carefully remove the tri tip from the crock pot and let it rest for a few minutes before serving.
The crock pot method is convenient when you have a longer period of time for reheating, or are already making sides in the slow cooker. You could warm them in a foil packet the last hour like Susan does with green beans in this recipe. Then you have your entire dinner in the slow cooker!
The Bottom Line
While my favorite methods are sous vide or the skillet, experiment with these methods to find your favorite way of reheating tri tip. And remember, proper storage of leftover tri tip is crucial to maintain its freshness until reheating. Keep it refrigerated in an airtight container and consume within 3-4 days for the best flavor and quality.
Looking for a delicious meal to use your tri tip in? This tri tip sandwich is one of my favorite ways to use it without reheating, or this tri tip pasta is a great way to turn a smaller portion into a hearty dinner. If you have a lot of leftover tri-tip, go ahead and serve it with mashed potatoes or cheesy broccoli!
Happy cooking, and happy eating!