Box mac & cheese is such an easy dinner or side on those crazy busy nights, and it's made it even easier in the instant pot. Bonus, the sauce is thicker and creamier too!
If you have a little kids- or picky kids- you've probably made more boxes of mac & cheese than you can count- either as a side dish (usually with hot dogs) or as a main dish. But have you tried making it in the instant pot? It's a great option because using your pressure cooker is not only a little faster than the stove top, but it's also less hands-on since you can walk away during the cook time.
Below we'll go over the best way to make creamy delicious boxed mac & cheese in your instant pot no matter what box of pasta you have. No matter if you prefer Annie's organic, Kraft macaroni & cheese, or a store brand, I've got you covered.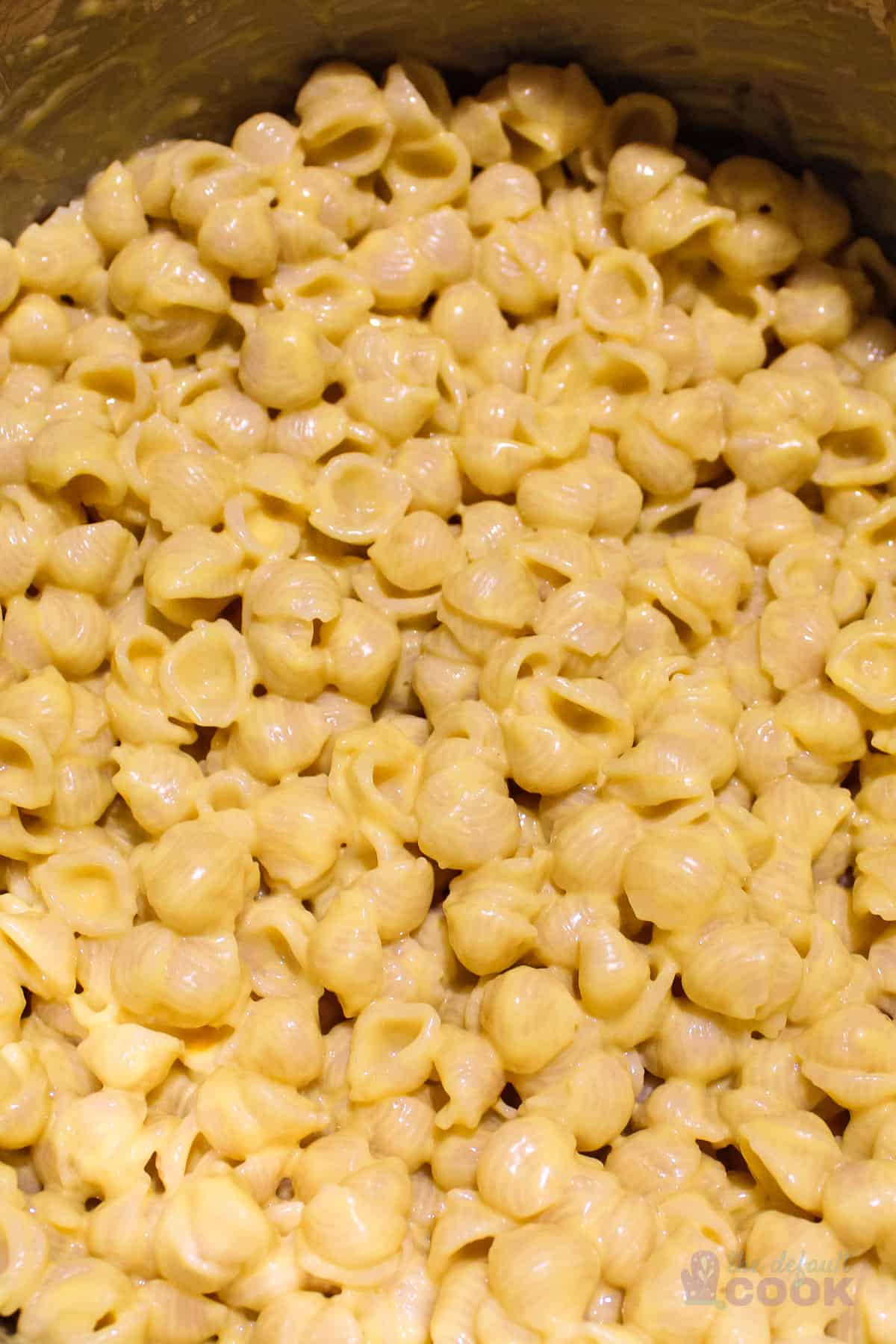 This post contains affiliate links, which means I receive a small commission, at no additional cost to you, if you make a purchase using this link.
Why you'll love making Mac in your IP:
No standing at a stove
No draining the pasta
Thicker, creamier sauce
Let's get started! Here's what you'll need: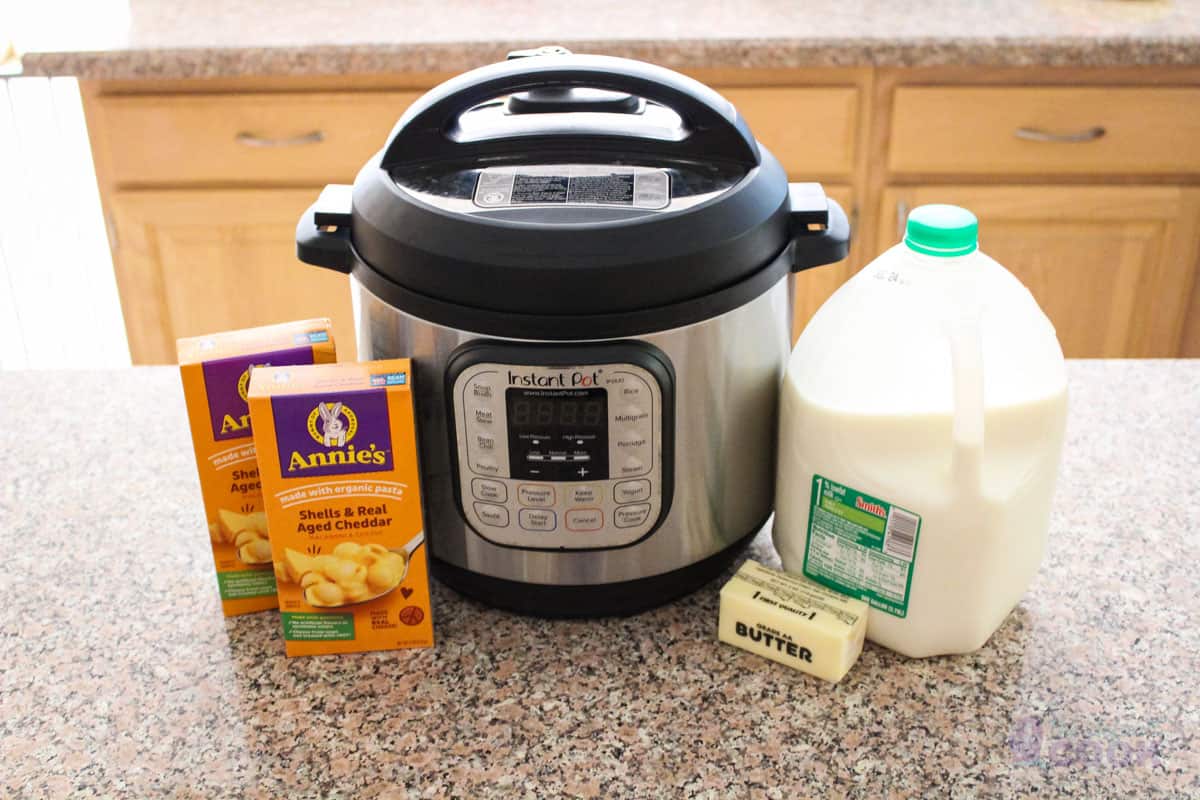 Ingredients:
Mac N Cheese box: any brand, any size, and you can make multiple boxes if you want.
Butter: I know the box says it's optional, but using butter gives you the creamiest sauce. You can also use it to grease your insert to help keep the pasta from sticking.
Milk: I use 1%, but whatever milk you usually use is fine.
Equipment:
We'll need our handy-dandy instant pot, a spatula for stirring, and a measuring cup. Oh, and a butter knife for cutting the butter.
How to Make Creamy Instant Pot Mac & Cheese:
Step 1: Preparation
The prep here is really figuring out how much water we need and our cook time for the specific box you're using- shells take a minute longer than elbow macaroni. You can also spray your instant pot insert with cooking spray or grease it with butter, though that's optional and I usually skip it.
Water Volume:
We want to use ¼ cup of water for every ounce of dry pasta in the box and I've weighed a bunch of them with my food scale so you don't have to. As a general rule I've found the dried cheese packets are just about 1 oz, so subtract 1 from the weight it stays on the box. So for Annie's 6 oz boxes, they contain 5 oz pasta and 1 oz cheese packet, and need 1 ¼ cups of water per box. Kraft's standard blue box is 7.25 oz, so about 6 oz pasta which needs 1 ½ cups per box.
Cook Time:
Elbow macaroni takes 3 minutes on high pressure. For al dente noodles use a quick release, for softer noodles allow a 1-2 minute natural release before releasing the remaining pressure.
For small shells like Annie's add 1 minute to the pressure cooking time.
Step 2: Add Water and Pasta to Instant Pot
Add your water (and optionally milk) to your insert first, then the dry pasta. Don't stir it, but gently push the noodles into the water so they're mostly submerged. When only making one box of shells, the shells may be taller than the water line- that'll be fine, just make sure they're not piled up on one another.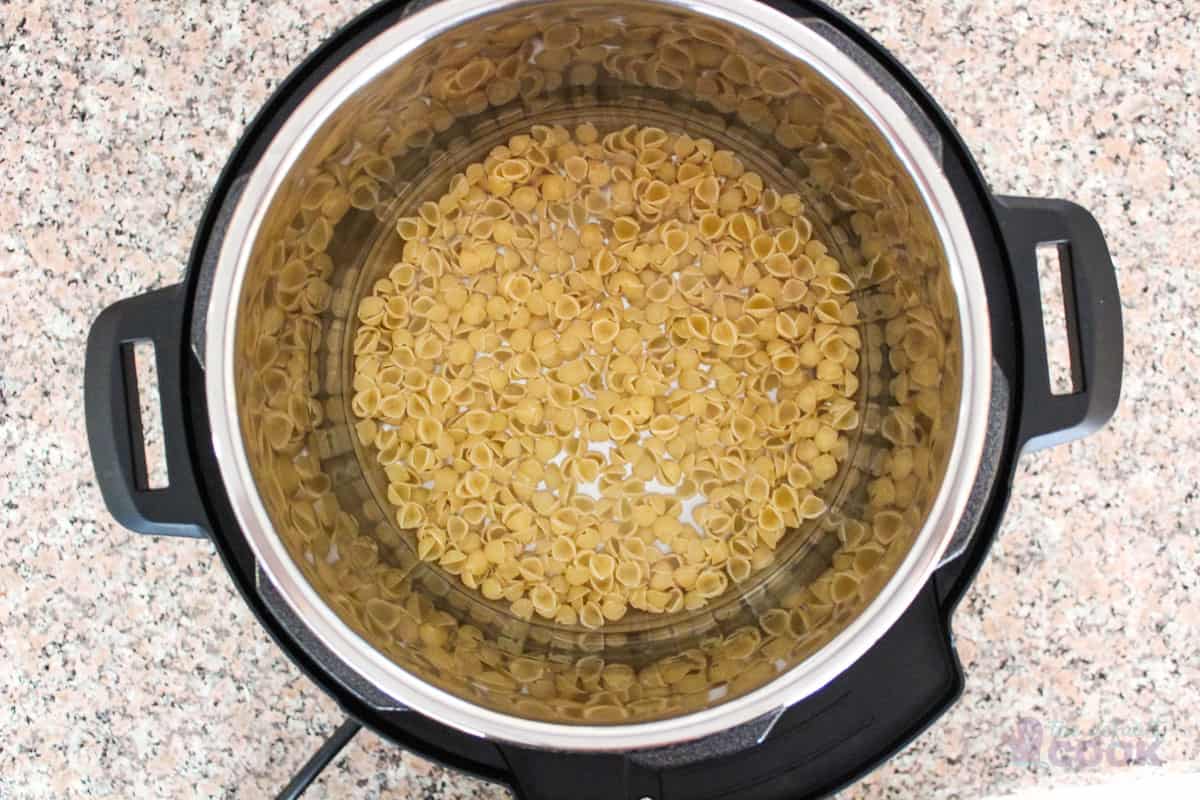 Step 3: Cook and Release
Place your lid on your electric pressure cooker, make sure the valve is in the sealing position, and set the manual high pressure cook time to 3-4 minutes depending on your noodle type. Once it beeps, either do a quick release for al dente, or for softer noodles delay for a minute or two for a partial natural pressure release before venting.
Step 4: Stir in Cheese Packet
Add the butter and cheese powder and stir until well combined. If you didn't opt to add your milk before cooking the pasta add that as well if your box of mac calls for it (most do aside from Velveeta). If you want to give it a more homemade macaroni feel you could stir in a little extra cheese- sharp cheddar cheese, mozzarella cheese, or cream cheese melt in pretty easily.
Step 5: Serve and Enjoy!
The cheese sauce will continue to thicken for a few minutes after mixing, then serve while it's still warm. Store any leftovers in an airtight container in the refrigerator for up to 5 days.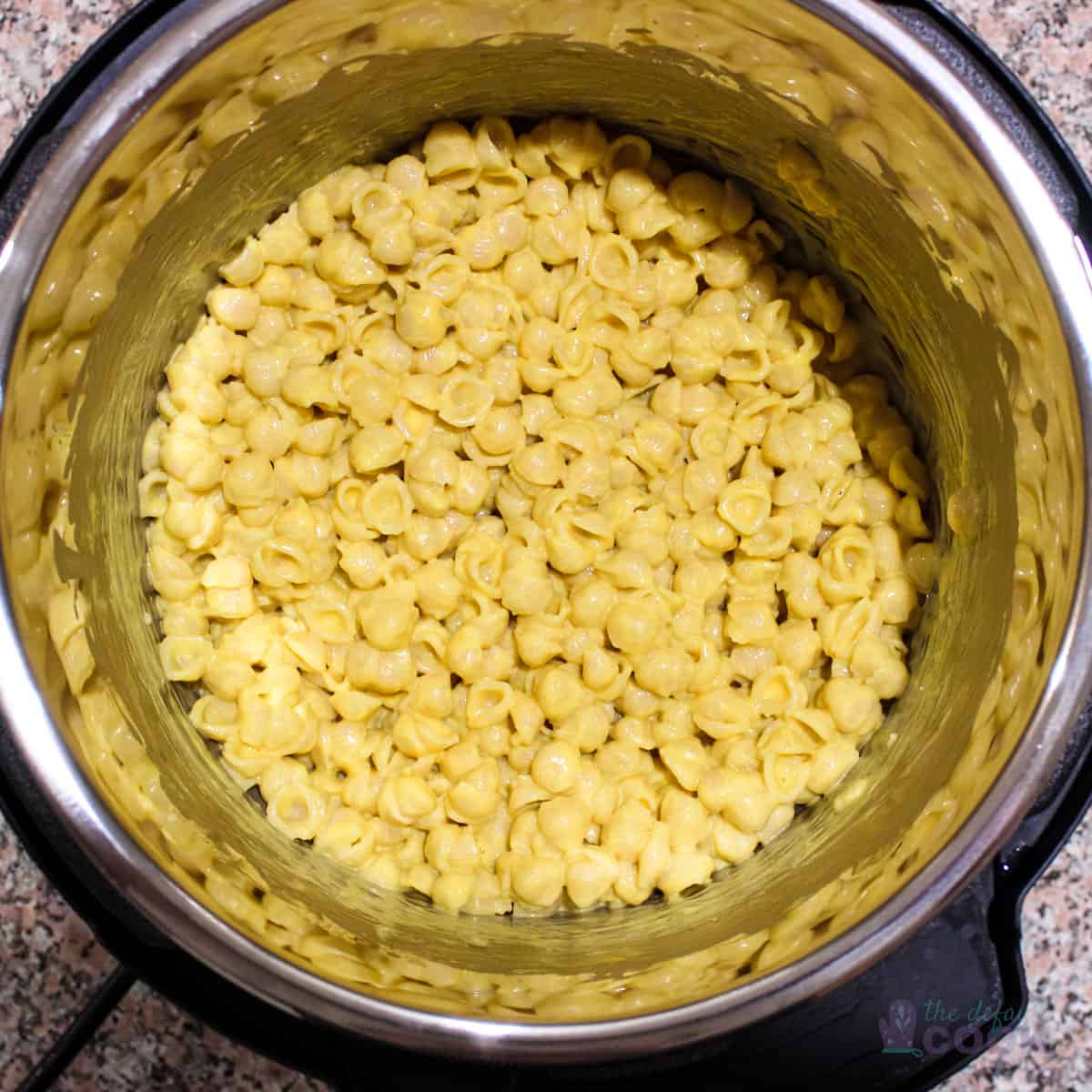 FAQ
Can I make more than one box?
Yes! I typically make two boxes, and have made up to three regular size boxes. Pasta needs more head space than other meals like a stew, so you'll want to keep the insert at or below half full, which is a bit below the max line marked on the pot. Just don't mix different varieties that need to cook for a different amount of time in the same batch.
When do you add the milk?
Since we're not draining the pasta, you can add it to the water and cook the pasta in it with the water, or you can wait until the pasta has cooked and add it then. Both ways work fine. If you want the creamiest mac possible you can use whole milk or even substitute heavy cream in its place.
Why is the sauce thicker and creamier?
One word: starch. With the traditional method you cook the pasta and then drain that starchy pasta water, while using the instant pot the pasta water absorbs into the dish.
More easy instant pot recipes you'll love:
Not a box, but this instant pot pesto chicken pasta uses jarred pesto for a super easy dinner!
This lemon butter garlic pasta can be made on the stovetop or the instant pot.
Enjoy!
📖 Recipe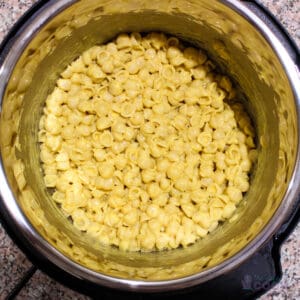 Boxed Mac & Cheese Instant Pot Recipe
The classic easy meal made even easier- try your favorite box in the instant pot and skip standing in front of the stove while the pasta cooks.
Ingredients
1

box

macaroni and cheese

2

tablespoon

butter

¼

cup

milk

1.25

cup

water
Instructions
Remove cheese packet from box. Add water to instant pot insert (1.25 cups for a 6 oz box like Annie's, 1.5 cups for a 7.25 oz box like Kraft) and pour pasta in. Push pasta into water if need to create an even layer, but do not stir.

Close pressure cooker and set valve to sealing. Turn on high pressure for 3 minutes (elbows) or 4 minutes (shells). Quick release pressure for al dente noodles, allow 1-2 minutes for a natural release for a softer bite.

Add the cheese powder, milk, and butter to the pasta and stir until well combined. Serve warm.
Podcast
Notes
Water needed is ¼ cup per oz of dry pasta.
Milk and butter amounts may vary with the box- ingredients here are for a 6 oz box of Annie's shells.
Milk can be added to the water before cooking the pasta, or with the cheese powder after.
Nutrition
Calories:
307
kcal
Carbohydrates:
33
g
Protein:
9
g
Fat:
16
g
Saturated Fat:
5
g
Polyunsaturated Fat:
0.3
g
Monounsaturated Fat:
2
g
Trans Fat:
0.3
g
Cholesterol:
23
mg
Sodium:
591
mg
Potassium:
167
mg
Sugar:
1
g
Vitamin A:
266
IU
Calcium:
126
mg
Iron:
1
mg
Nutrition information is provided as a courtesy and is an estimate. It is recommended to use your preferred calculator with the actual ingredients you use for optimal accuracy.