This delicious pizza is quick, easy, and bursting with flavor! Made with just 5 ingredients it's great for a busy weeknight dinner or a fun pizza party with friends.
Is there any more perfectly delicious food than pizza? It's a lot of people's favorite food for good reason! It can take longer to make fresh dough than we have to spend in the kitchen though, so sometimes I grab premade at the grocery. With store-bought pizza dough, jarred bruschetta, and fresh mozzarella, we can have a delicious meal on the table in no time. When it's done, drizzle on some balsamic glaze and top with fresh basil leaves for a burst of flavor.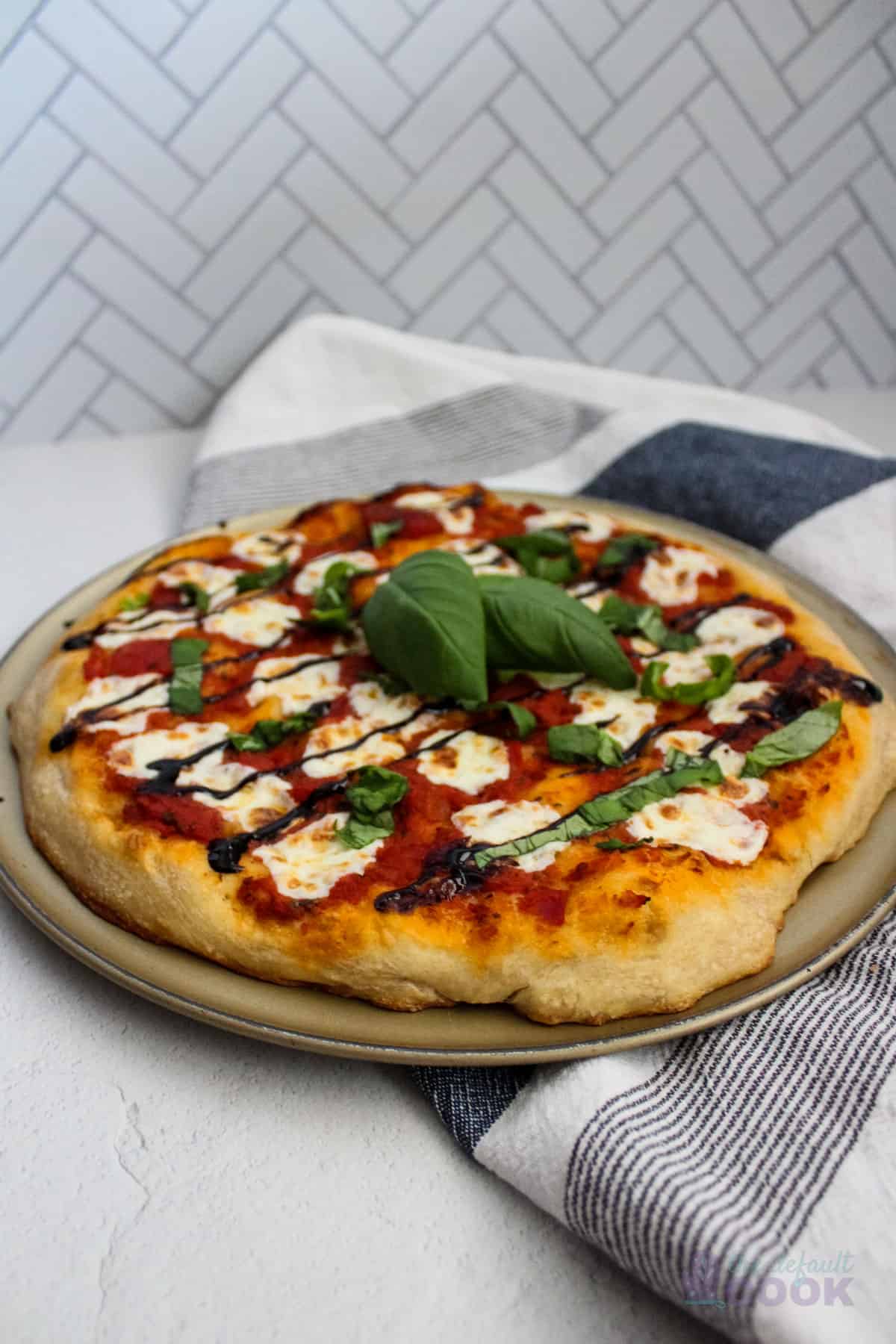 This post contains affiliate links, which means I receive a small commission, at no additional cost to you, if you make a purchase using this link.
Why you'll love this recipe:
Simple- using store bought dough, jarred bruschetta, and premade balsamic glaze keeps our ingredient list nice and short- just 5 items.
Quick- Getting this in the oven only takes about 5 minutes, perfect for busy days!
Flavorful- the fresh mozzarella paired with bruschetta and balsamic gives a mouthful of different but complimentary flavors.
Let's get started! Here's what you'll need: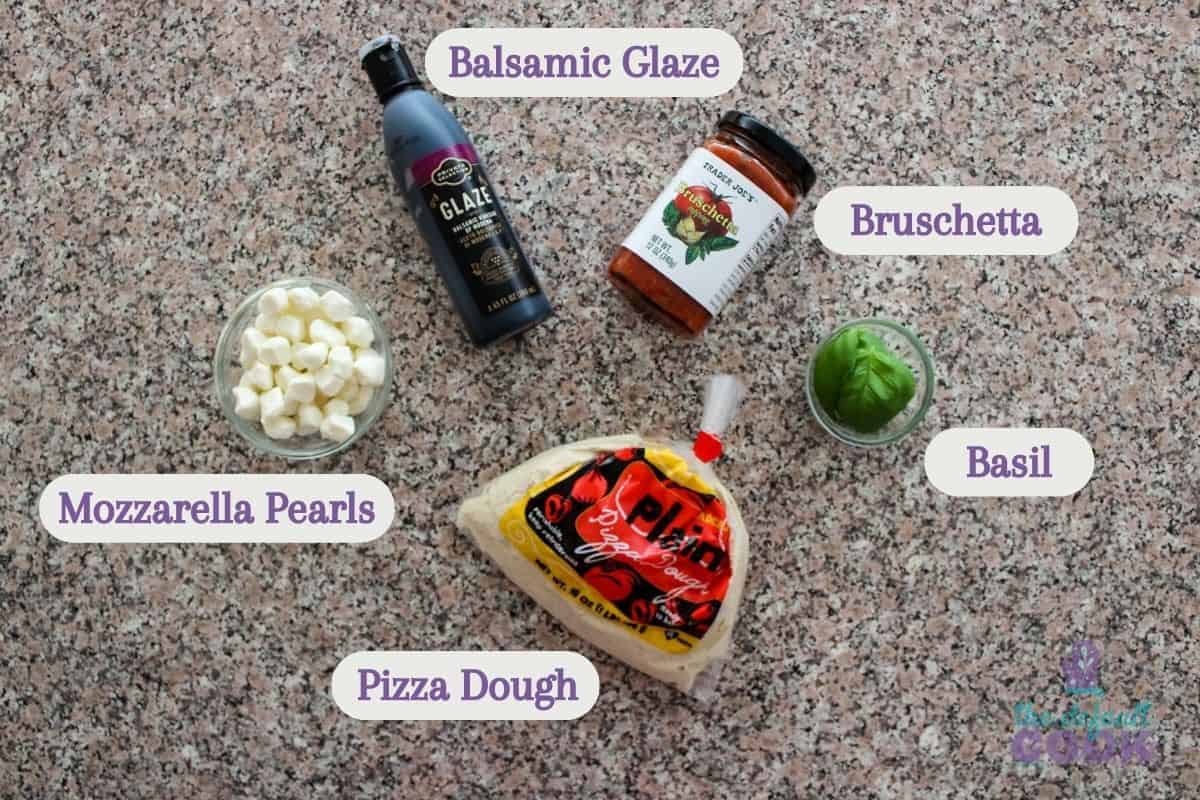 Ingredients:
Pizza Dough- I reach for the plain Trader Joe's, but your favorite will work fine. Keep in mind different doughs may have slightly different cook times.
Bruschetta- You can of course use homemade if you have it, but I'm using Trader Joe's. If that's not available to you look for a brand where tomatoes are the first ingredient- some jarred bruschetta toppings are very heavy on the oil.
Mozzarella Cheese- I like to buy these mozzarella pearls because they're nice and small to spread around, but you can use slices or cut up larger balls if you prefer.
Balsamic Glaze- I'm a fan of premade, because while the glaze isn't particularly hard to make, it involves boiling balsamic vinegar. My eyeballs are so not a fan of that.
Fresh Basil- Using fresh herbs really gives the best flavor, so I highly recommend that if you can. If not, dried basil will do in a pinch.
Cooking Oil- This is optional and depends on your pizza pan. Mine has been around awhile and isn't very nonstick anymore, so I grease the pan with some avocado oil.
Equipment:
We don't need a lot for this one, heck I didn't even use a rolling pin (although you can). You will need a pizza pan or pizza stone, a knife or pizza cutter, and a cutting board. I also recommend a spoon to get the bruschetta out of the jar and spread it around.
How to make this shortcut homemade pizza:
Step 1: Roll out dough & preheat oven
If you want to grease your pan, go ahead and spread some oil around on it. Preheat your oven to 475 F, and add the dough to the pan. I find the easiest way to do this is to turn the bag fully inside out and plop it right on the baking sheet. Then use your fingers or a rolling pin to spread it out to the general shape of your pizza pan.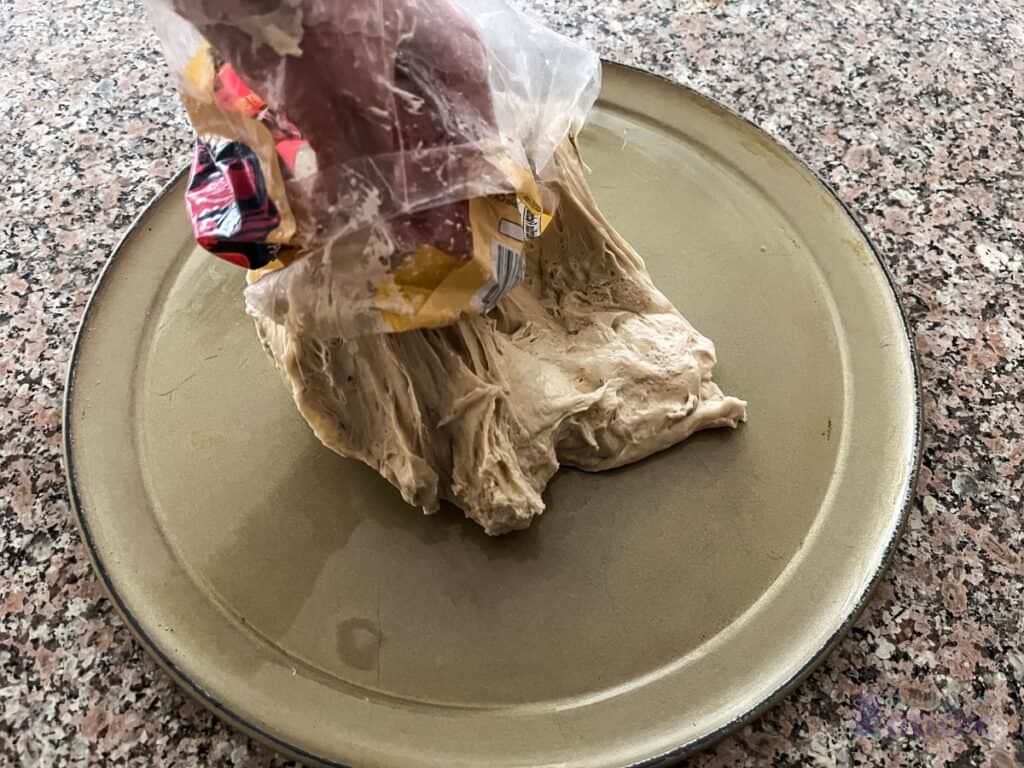 Step 2: Add bruschetta mixture & mozzarella
Spread about 5 oz of the tomato mixture onto your pizza base, leaving a half inch or so around the outside for the crust. We want the dough to be pretty well covered but the tomato chunks to be spread out a bit. Then add about 4 oz of mozzarella pearls between the tomato chunks, distributing them evenly.
Step 3: Bake & Broil
Pop your pizza in the 475 degree oven and bake for 8-11 minutes, until the crust starts to get just lightly golden on the bottom edge. Thicker doughs may take longer- this is a 12" pizza pan with one pound of dough. This is a good time to rinse and cut your basil too.
Once the pizza crust is slightly golden, turn the oven up to broil and heat for a minute or so- until the mozzarella cheese starts to bubble and brown. Keep a close eye on this step- you don't want to burn it! Below is how it looked right before I pulled it out of the oven.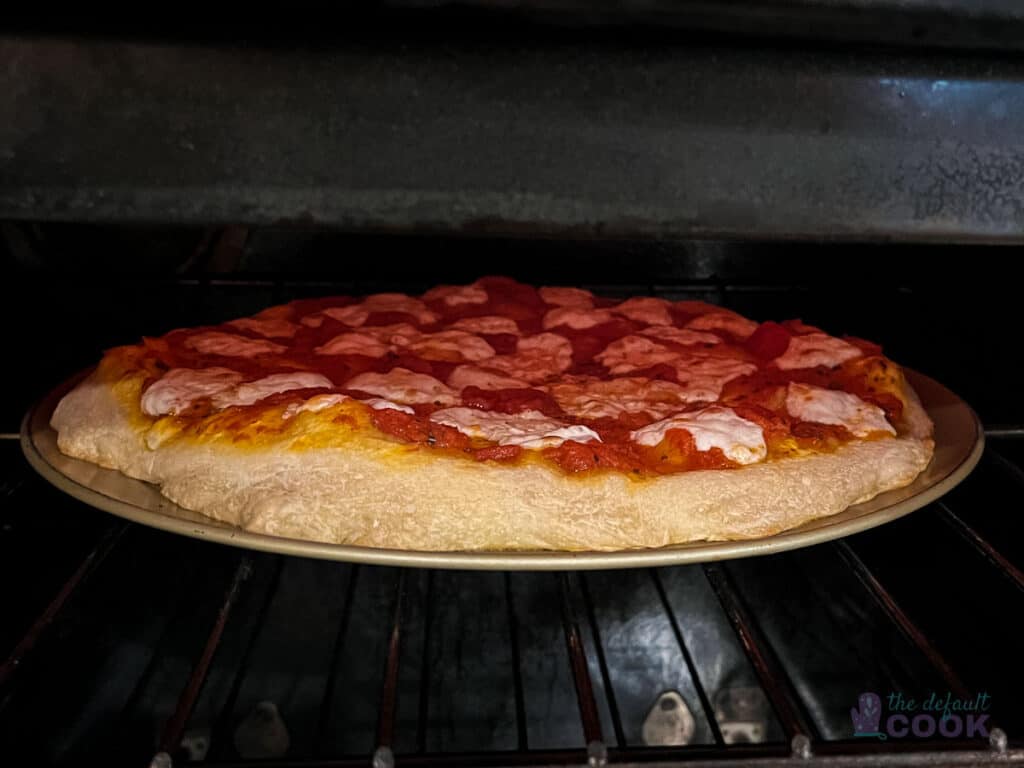 Step 4: Garnish & Serve
Pull the pizza out of the oven and drizzle about a tablespoon of balsamic glaze over the top. Then add your basil, slice your pizza and enjoy!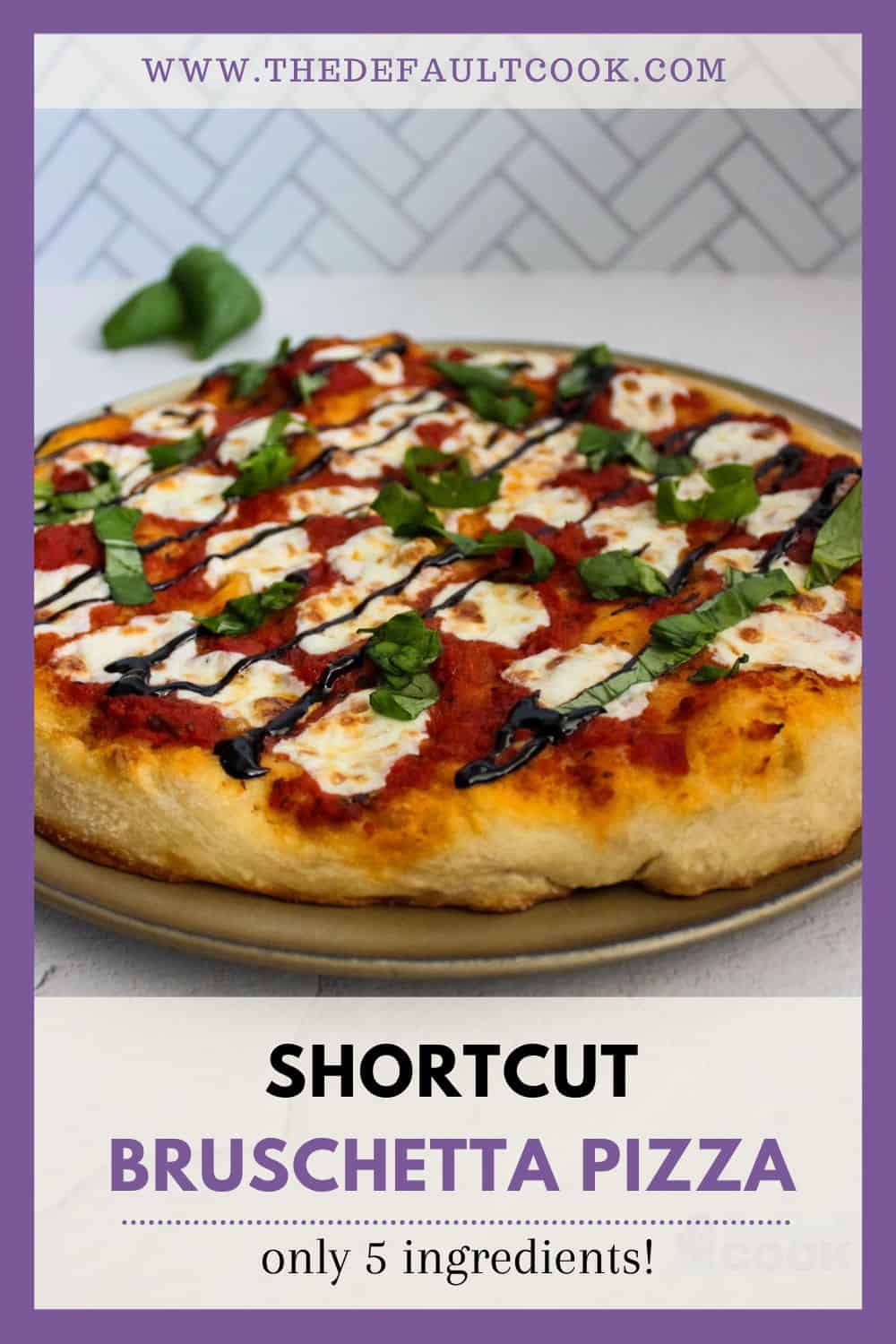 FAQs
What else can I add to this?
If you want to bulk this pizza up you can either add more herbs like roasted garlic, a vegetable like caramelized red onions, or a protein like chicken breast. It's very customizable, but those are popular options!
What is bruschetta?
Bruschetta generally refers to a toasted piece of bread that's drizzled with olive oil, and topped with fresh tomatoes. It usually includes garlic, either added to the bread before the tomatoes, or with the tomato mixture. Sometimes additional toppings are added, like cheese or diced red onions. In this pizza, the dough acts as our bread, and then we add a tomato topping and go from there.
Can I make my own bruschetta topping?
Sure thing! Dice up some tomatoes (any kind from cherry tomatoes to roma tomatoes are fine), and combine tomatoes in a small bowl with some garlic powder, onion powder, salt, pepper, vinegar, and olive oil to taste. Stir and use them in place of the jarred topping.
More easy recipes you may like:
Looking for more Italian recipes? These stuffed mushrooms are a delicious hearty appetizer.
Want to stick with the tomatoes, cheese, and balsamic? Baked Feta Pasta is a great choice.
Need an even faster dinner? Try this pesto chicken pasta!
Enjoy!
I hope you make this on your next pizza night- be that a Friday night or a random Tuesday- and love it! If you do be sure to come back and leave a star review.
📖 Recipe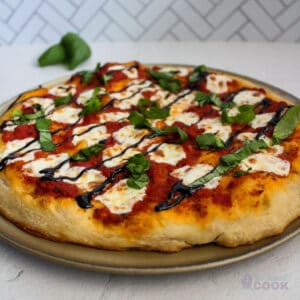 Bruschetta Pizza Recipe
This 5 ingredient shortcut homemade pizza uses store bought crust to come together within 20 minutes- faster than delivery!
Ingredients
1

lb

pizza dough

I used Trader Joe's

5

oz

bruschetta

I used Trader Joe's

4

oz

fresh mozzarella

pearl sized

1

tablespoon

balsamic glaze

.1

oz

fresh basil

1

teaspoon

avocado oil

optional, for greasing pan
Instructions
Grease your pizza pan and add dough, stretching it to fit the general shape of your pan. Preheat your oven to 475 F.

Top dough with bruschetta, leaving a half-inch or so around the outside empty for crust.

Sprinkle mozzarella pearls on top of bruschetta.

Bake for 9-11 minutes, then broil for 30-60 seconds to get brown bubbly spots on the cheese. Cut, serve, and enjoy!
Podcast
Notes
If using larger mozzarella pieces cut or slice them so you can distribute them evenly around the pizza.
To make this a bruschetta chicken pizza, add pieces of rotisserie chicken or chicken breast before adding the cheese.
Nutrition
Calories:
437
kcal
Carbohydrates:
62
g
Protein:
16
g
Fat:
14
g
Saturated Fat:
6
g
Polyunsaturated Fat:
1
g
Monounsaturated Fat:
3
g
Cholesterol:
25
mg
Sodium:
1323
mg
Potassium:
24
mg
Fiber:
3
g
Sugar:
11
g
Vitamin A:
458
IU
Vitamin C:
1
mg
Calcium:
179
mg
Iron:
4
mg
Nutrition information is provided as a courtesy and is an estimate. It is recommended to use your preferred calculator with the actual ingredients you use for optimal accuracy.