In the morning not much is better than a warm croissant, with crispy bacon and melted cheese oozing over a fluffy scrambled egg.
Breakfast is the most important meal of the day, and what better way to start it off than with a delicious, homemade breakfast sandwich? These classic bacon, egg, and melty cheese croissant sandwiches starts with bakery section croissants to keep it low-fuss, and the combination of buttery, savory flavors is a delicious way to get the day started. Plus, it's easy to make with just a few simple ingredients, and leftovers freeze well for those busy weekday mornings!
This post contains affiliate links, which means I receive a small commission, at no additional cost to you, if you make a purchase using this link.
Why you'll love this recipe:
Quick and easy: With already baked croissants and leftover bacon, this breakfast sandwich comes together in just a few minutes. Perfect for busy mornings!
Customizable: Don't have cheddar cheese? No problem! You can use any type of cheese you have on hand or prefer, such as Swiss, pepper jack, or even feta.
Perfectly portioned: These croissant breakfast sandwiches are the perfect size for a satisfying breakfast, without being too heavy.
Great for meal prep: You can easily make a batch of these breakfast sandwiches ahead of time and reheat them in the microwave or toaster oven for a quick and satisfying breakfast on the go.
Family-friendly: Kids and adults alike will love the classic combination of bacon, egg, and cheese on a buttery croissant.
Let's get started! Here's what you'll need:
Ingredients:
Croissants (already baked): You can use any type of croissant you prefer. I'm using "mini" croissants that are still the size of my hand, and about half the size of the larger croissants my store sells. For large croissant sandwiches I would double the eggs and bacon on each.
Cheddar cheese: Sliced cheese goes wonderfully on this sandwich. Cheddar is classic, but you can use American cheese, slather on some cream cheese, or whatever you have on hand.
Leftover bacon: Cooked bacon adds a crispy, savory element to this breakfast sandwich. If you don't have any bacon, you can use cooked sausage, ham, or leave it out for a vegetarian option. There's also no shame in using the pre-cooked stuff, or sprinkling on bacon bits!
Eggs: It wouldn't be an egg sandwich without the eggs! If you don't like scrambled you can use a fried egg instead.
Milk: Fluffy eggs require some liquid- milk is my preference, but you can use a non-dairy if you prefer, or water in a pinch.
Salt and black pepper: To season the scrambled eggs to your liking.
Equipment:
You'll need a skillet and spatula to scramble the eggs- I like to use a nonstick one with a lid (or a lid from another pot) to help steam the tops and cook them further before flipping. You'll also want a bowl and fork for making the egg mixture, along with a knife and cutting board to assemble the sandwiches, and a baking sheet for toasting the sandwiches once they're put together.
If you need to fry your bacon, you can do so in the skillet you're making the eggs in, or you can put them on the baking sheet and cook them in the oven. We do batches in the oven on parchment paper which is an easy way to cook them evenly without standing at the stove.
How to make this delicious breakfast:
Step 1: Scramble the eggs
Whisk ¼ cup of milk with 4 whole eggs in a small bowl along with salt and pepper to taste. Turn your burner to medium heat and add the egg mixture to the large skillet.
You can scramble however you usually do, but to keep them as one piece so they don't fall out of the sandwich, I add a lid to the top and let them steam themselves a bit. If there is still a fair amount of liquid before you go to flip you can scrape it with the spatula towards the ends. Once the top is mostly solid use your spatula to cut the giant egg patty into quarters and flip each quarter one at a time.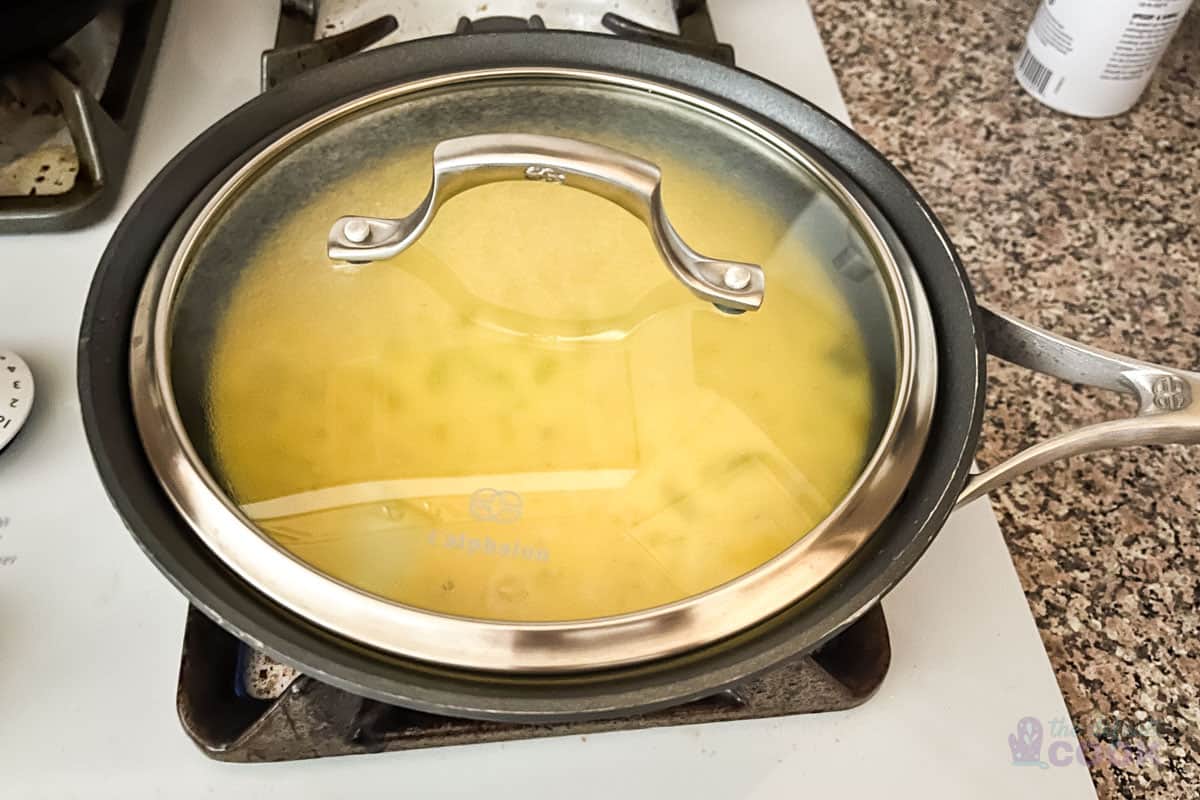 Another easy way to get scrambled eggs as one sandwich-friendly piece is to make sheet pan scrambled eggs- sheets need more than 4, but you can just do them in your skillet as long as it's oven safe. Add the scrambled eggs to the pan and instead of cooking them on the burner pop the skillet in the oven at 350 for about 15 minutes. Leave the lid off as they will poof up a bit in the oven.
Step 2: Slice and assemble
First things first, go ahead and preheat your oven to 350 so it'll be ready to go- or leave it there if you baked your eggs. Then, using a serrated or bread knife, slice your flaky croissants horizontally like a bagel. To the bottom half of the croissant add your egg, a slice of cheese, and place bacon either on top of the cheese or between the egg and cheese.
If you're making these ahead for later you can keep them in the fridge in an airtight container for a few days, or wrap them in aluminum foil and freeze in a zip top bag for up to 3 months.
Step 3: Bake and enjoy
Place your assembled sandwiches onto a sheet pan, and bake for 5 minutes. This will lightly toast your croissant and give you that delicious melty cheddar cheese that helps hold everything together. Then enjoy!
From frozen, bake for 20-30 minutes still wrapped in the aluminum foil to thaw and heat. Alternatively, you can unwrap them from the foil and wrap in a paper towel, and heat 1 minute to start and then in 15 second increments until warmed through. If you heat them in the microwave you can certainly enjoy them just like that, but I prefer to pop them back into the foil and toss them in the air fryer for about 3 minutes to crisp the croissant back up a smidge.
FAQ:
Can I toast them up in my air fryer instead?
Of course! If not preheated cook them at 325 for 4 minutes, or lower to 3 minutes if you're starting with a preheated air fryer.  If you're reheating them from frozen then it will take about 15-20 minutes.
I ran out of croissants! What else can I use?
Not to worry- english muffins, bagels, and even regular bread make great sandwiches. You can even wrap up the ingredients inside crescent rolls and make a breakfast version of these sandwiches.
Can I add other ingredients to these easy breakfast sandwiches?
Absolutely! You can add sliced avocado or tomatoes for some freshness, or hot sauce or Sriracha for some heat. These are best added right before heating or serving though, avocado in particular will brown if you're making these ahead for the week.
What should I serve these with this egg and cheese breakfast croissant?
As a carb lover I'm a fan of having these with breakfast potatoes or hash browns, and a few additional slices of bacon. Orange juice or a smoothie would be great alongside this too.
Looking for more breakfast recipes?
Try these easy peach cobbler cinnamon rolls for a tasty weekend treat, or banana bread muffins for an on-the-go option.
I hope you love these delicious bacon egg and cheese croissant breakfast sandwiches!
If you do, be sure to come back and leave a star review!
📖 Recipe
Bacon Egg Cheese Croissant Breakfast Sandwich
These classic breakfast sandwiches are easy to make and are perfect for on-the-go breakfasts when made ahead.
Ingredients
4

ea

croissants

bakery

4

ea

eggs

4

slices

bacon

optional

¼

cup

milk

4

slices

cheddar cheese

¼

teaspoon

sea salt

¼

teaspoon

black pepper
Instructions
Crack 4 eggs into a bowl and add the milk, along with salt and pepper to taste. Whisk mixture and cook scrambled eggs over medium heat, portioning into 4 segments.

Slice croissants in half to create a top and bottom of each. Layer on 1 scrambled egg, 1 slice of cheese, and optionally 1 slice bacon. If freezing for later, wrap in aluminum foil and label, then put in a zip-top bag and put in the freezer. Otherwise, preheat oven to 350 F.

Transfer assembled croissant to a baking sheet. Bake croissant sandwich for 5 minutes, until pastry is lightly toasted and cheese has melted. Serve hot.
Podcast
Notes
For reheating frozen croissants, either heat in the oven still wrapped in foil at 350 for 20-30 minutes, or replace foil with a paper towel and heat in the microwave in 30 second increments, flipping between.
Nutrition
Calories:
465
kcal
Carbohydrates:
28
g
Protein:
17
g
Fat:
31
g
Saturated Fat:
15
g
Polyunsaturated Fat:
3
g
Monounsaturated Fat:
10
g
Trans Fat:
0.05
g
Cholesterol:
235
mg
Sodium:
689
mg
Potassium:
209
mg
Fiber:
2
g
Sugar:
7
g
Vitamin A:
866
IU
Vitamin C:
0.1
mg
Calcium:
186
mg
Iron:
2
mg
Nutrition information is provided as a courtesy and is an estimate. It is recommended to use your preferred calculator with the actual ingredients you use for optimal accuracy.