For an indulgent weekend breakfast that still lets you sleep in, add oreo cookies and cream to refrigerated cinnamon rolls. The best part? They're ready in under half an hour!
As much as I love the classic cinnamon roll, there's something extra decadent about dressing them up and giving them a homemade flair with minimal effort. I really enjoyed making these peach cobbler cinnamon rolls, and as my mind wandered to other possible variations I kept coming back to the concept of oreo cookie cinnamon rolls. This easy recipe makes it simple to get these sweet cookies and cream cinnamon rolls on your table in no time.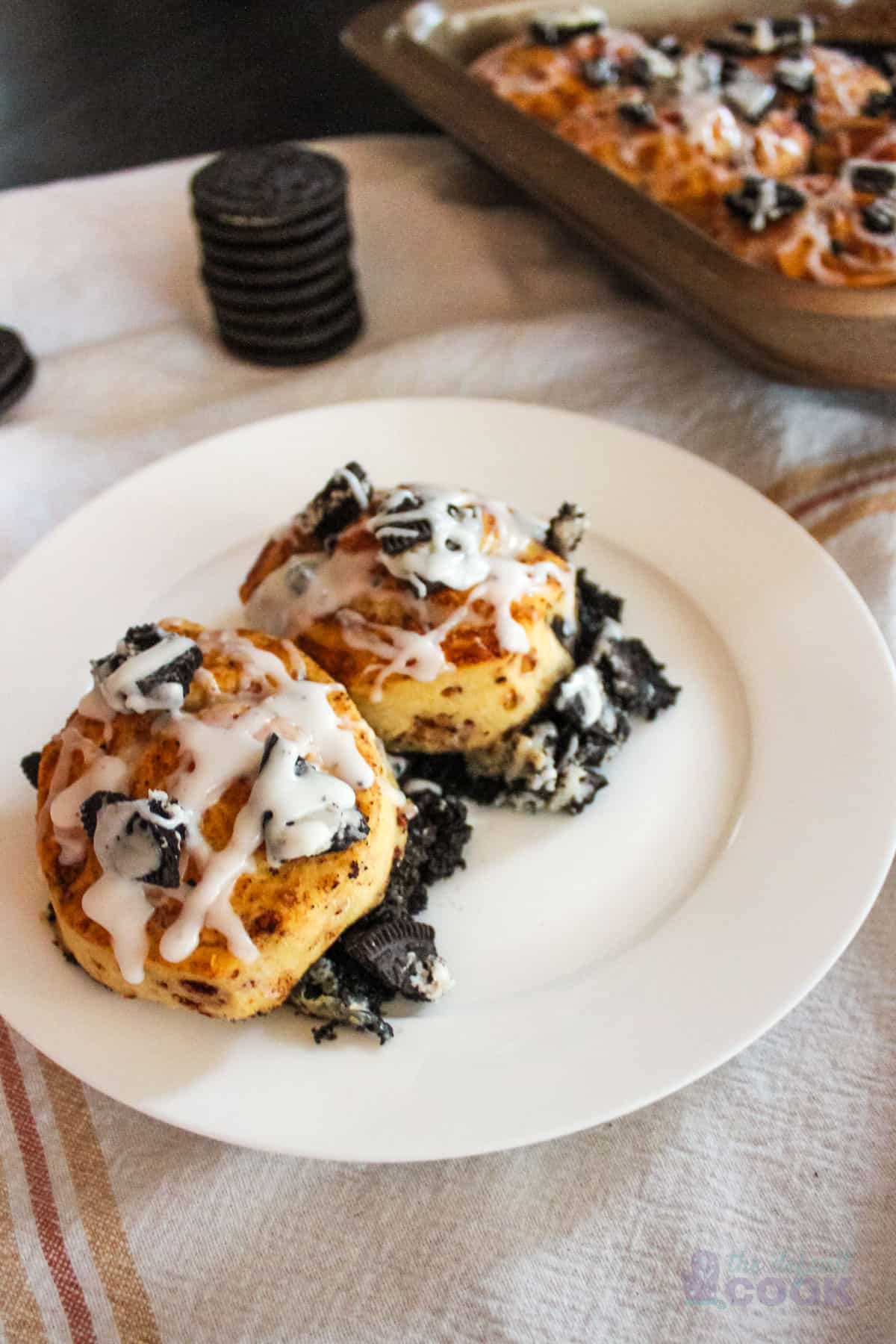 This post contains affiliate links, which means I receive a small commission, at no additional cost to you, if you make a purchase using this link.
Why you'll love this recipe:
Made for oreo lovers- a layer below the cinnamon roll dough, crushed oreos between them, and topped with oreo crumbs, you'll find cookie pieces in every bite of these oreo rolls.
Minimal ingredients- there's no need for melted butter, all purpose flour, or even brown sugar. Homemade cinnamon rolls are delish, don't get me wrong, but they're not exactly low-prep.
Minimal equipment- If you've spent some time here with me, you know I hate doing dishes. Small bowl, large bowl, this needs NO bowls.
Let's get started! Here's what you'll need: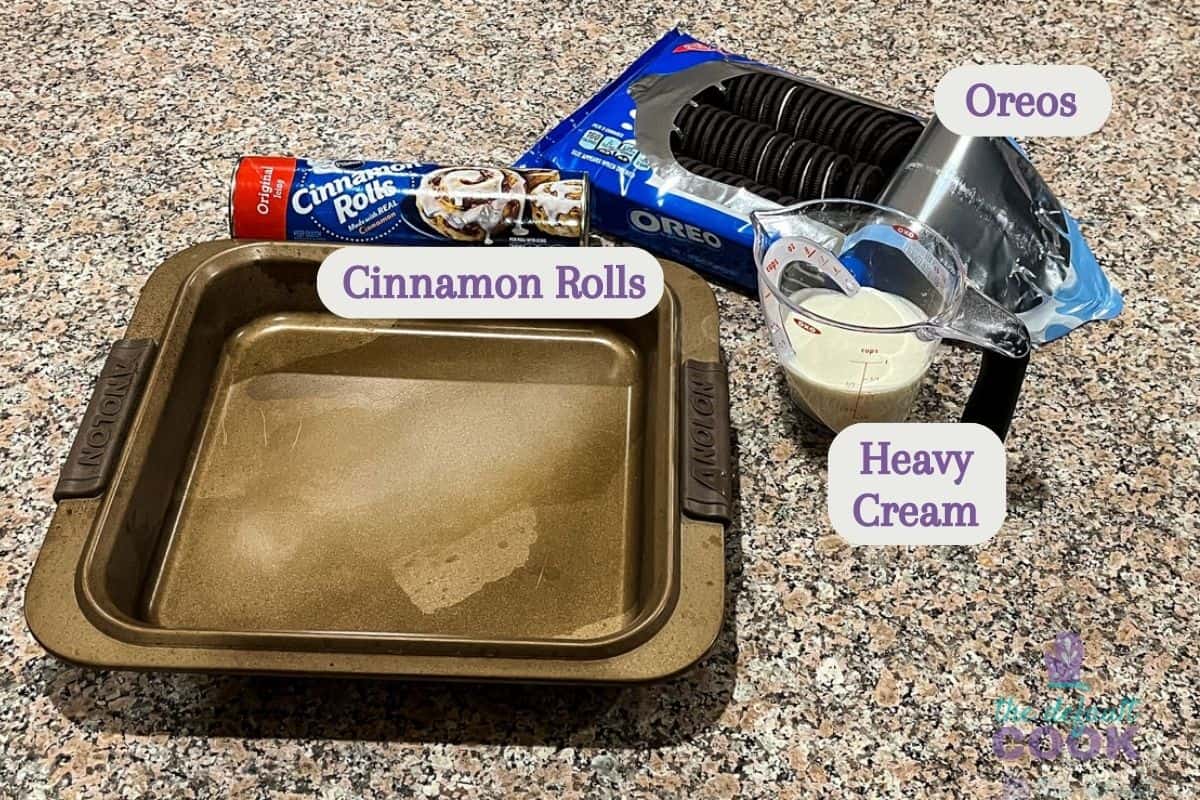 Ingredients:
Oreos - it wouldn't be an oreo cinnamon roll recipe without well, Oreos. You can of course substitute whatever brand chocolate sandwich cookies you have though.
Cinnamon rolls- You'll want a package with 8 rolls. I used Pillsbury with original icing, but the variety with cream cheese icing is another great choice.
Heavy cream- This adds moisture to the rolls and bottom layer of oreos as everything bakes for a bottom crust of warm, gooey cookies.
Equipment:
All you really need for this is an 8x8 or 9x9 pan and a measuring cup. We'll also be crushing some oreos, so you might find something heavy to help you with that useful.
How to make your oreo cookie lover cinnamon rolls:
Step 1: Create bottom layer
First, preheat your oven to 350 so it'll be ready when your rolls are. Add your ½ cup of heavy cream to the bottom of the baking dish. It should just coat the dish, reaching the corners but it won't be a deep layer. If it doesn't reach the corners go ahead and add just a touch more. Then take 8 oreos and twist them apart and lay them down in the cream. Try to distribute the oreo filling pretty evenly. It doesn't need to be perfect but we don't want all of the oreo centers on one side of the baking pan.
Step 2: Add cinnamon rolls
Pop open your refrigerated cinnamon buns and place rolls over the bottom layer in a 3-2-3 configuration. Set aside the frosting from the package so it comes to room temperature- ideally in a warm place but not somewhere hot enough that the container might melt.
Step 3: Top and bake
Take another 3 oreos and crush them and fill in the crevices with those. You can just break them up with your hands, or by placing them between some plastic wrap and smashing them with a rolling pin or wooden spoon.
Then bake at 350 F for 15-20 minutes, until the top of the dough is golden brown. In my nonstick pan these took 18 minutes.
Step 4: Finish and serve
Garnish with 3 additional crushed oreos and the icing, then serve while still warm for best results. Store any leftovers in an airtight container in the refrigerator.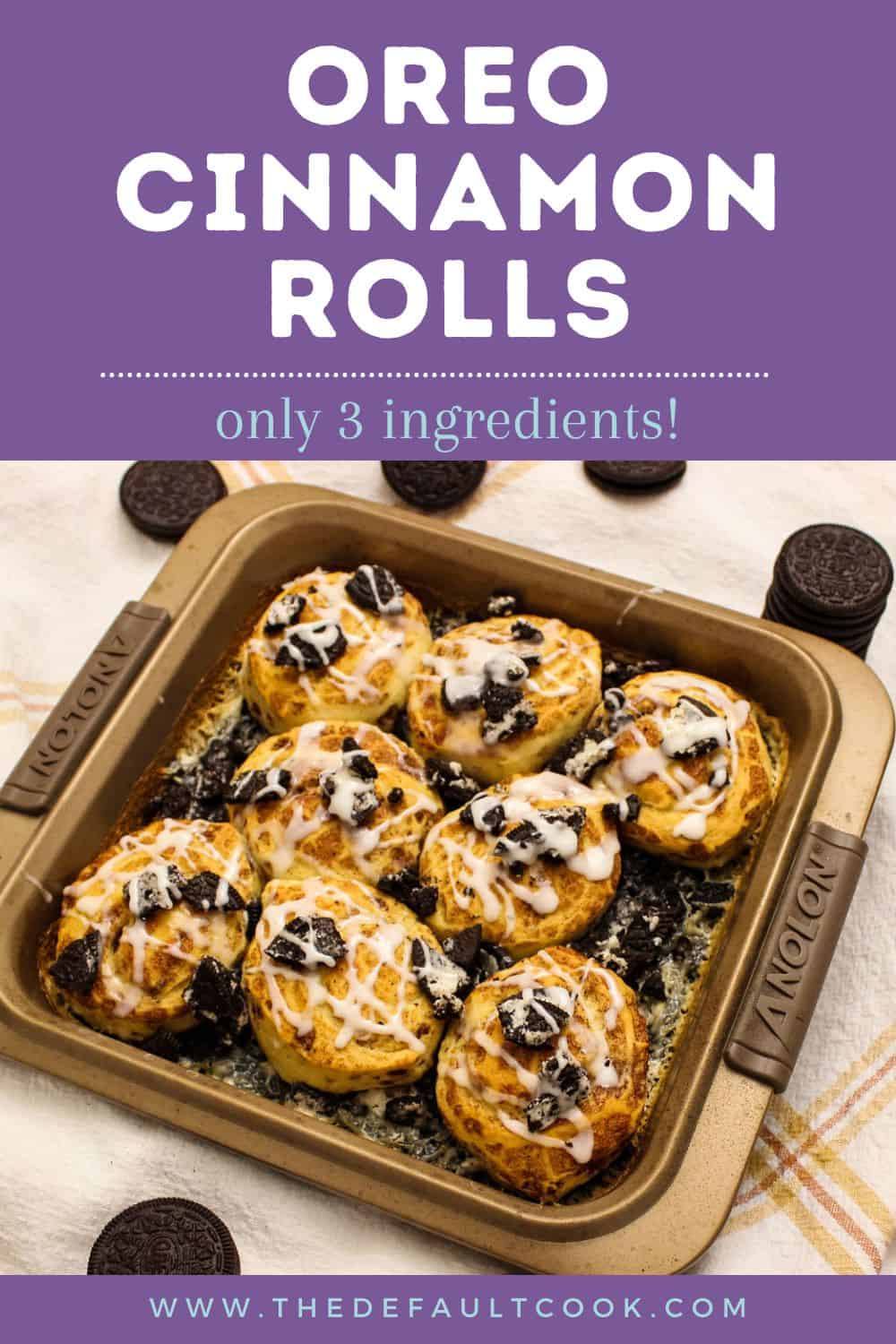 FAQs
Can I use cream cheese?
Yes! If you want a true cream cheese frosting, just mix what came with your rolls with cream cheese at a 1:1 ratio. This adds a fourth ingredient, but can be done while the dish bakes so it doesn't push back your brunch time any. If you want to be extra fancy you can even add a drop or two of vanilla extract to make it a vanilla glaze.
I don't have an 8x8 pan, what else can I use?
If you don't have a square pan you could use a round cake pan instead, though your cook time might be a bit longer as the dish will be more crowded.
Isn't this basically dessert?
I mean, kind of. If you really want to make it dessert, try serving it with vanilla or cookies and cream ice cream.
More easy recipes you may like:
If you're looking for another dressed up cinnamon roll dish be sure to check out these peach cobbler cinnamon rolls.
For a slightly less indulgent but delicious breakfast, give these banana muffins a try.
If you'd rather have something to dress up toast, try this no peel apple butter.
Enjoy!
Let me know how you liked them below, and if you loved these cookies and cream rolls I'd be tickled for you to leave a 5 star review!
📖 Recipe
Easy Oreo Cinnamon Rolls
The best oreo cinnamon rolls are ones you'll actually make- this simple recipe is just 3 ingredients and ready in under half an hour.
Ingredients
1

package

Cinnamon rolls

14

ea

Oreos

½

cup

heavy cream
Instructions
Heat oven to 350 and pour heavy cream on bottom of 8x8 pan. Separate 8 cookies and arrange filling side up in the pan.

Open refrigerated cinnamon rolls and place dough on top of cookies and cream layer in a 3-2-3 configurartion.

Crush 6 oreos and distrubute half of them on the tops of and between the sweet rolls, then bake for 15-20 minutes.

Garnish with remaining crushed oreos and the glaze that came with the rolls. Enjoy warm!
Podcast
Nutrition
Calories:
437
kcal
Carbohydrates:
49
g
Protein:
5
g
Fat:
25
g
Saturated Fat:
13
g
Polyunsaturated Fat:
1
g
Monounsaturated Fat:
3
g
Trans Fat:
1
g
Cholesterol:
34
mg
Sodium:
682
mg
Potassium:
36
mg
Fiber:
0.1
g
Sugar:
22
g
Vitamin A:
437
IU
Vitamin C:
0.2
mg
Calcium:
20
mg
Iron:
2
mg
Nutrition information is provided as a courtesy and is an estimate. It is recommended to use your preferred calculator with the actual ingredients you use for optimal accuracy.