Discover perfectly cooked pork tenderloin! Tenderloin is a very lean cut of meat, and it's easy to end up with dried-out pork, but that won't happen to you using sous vide.
Get ready to savor the simple but incredible tenderness and flavors of sous vide pork tenderloin. This cooking method takes this lean cut of pork and transforms it into a delicious and easy-to-make meal. This step-by-step guide is perfect for all levels of cooks, from beginners to experienced home chefs, ensuring you'll be cooking this dish like a pro in no time.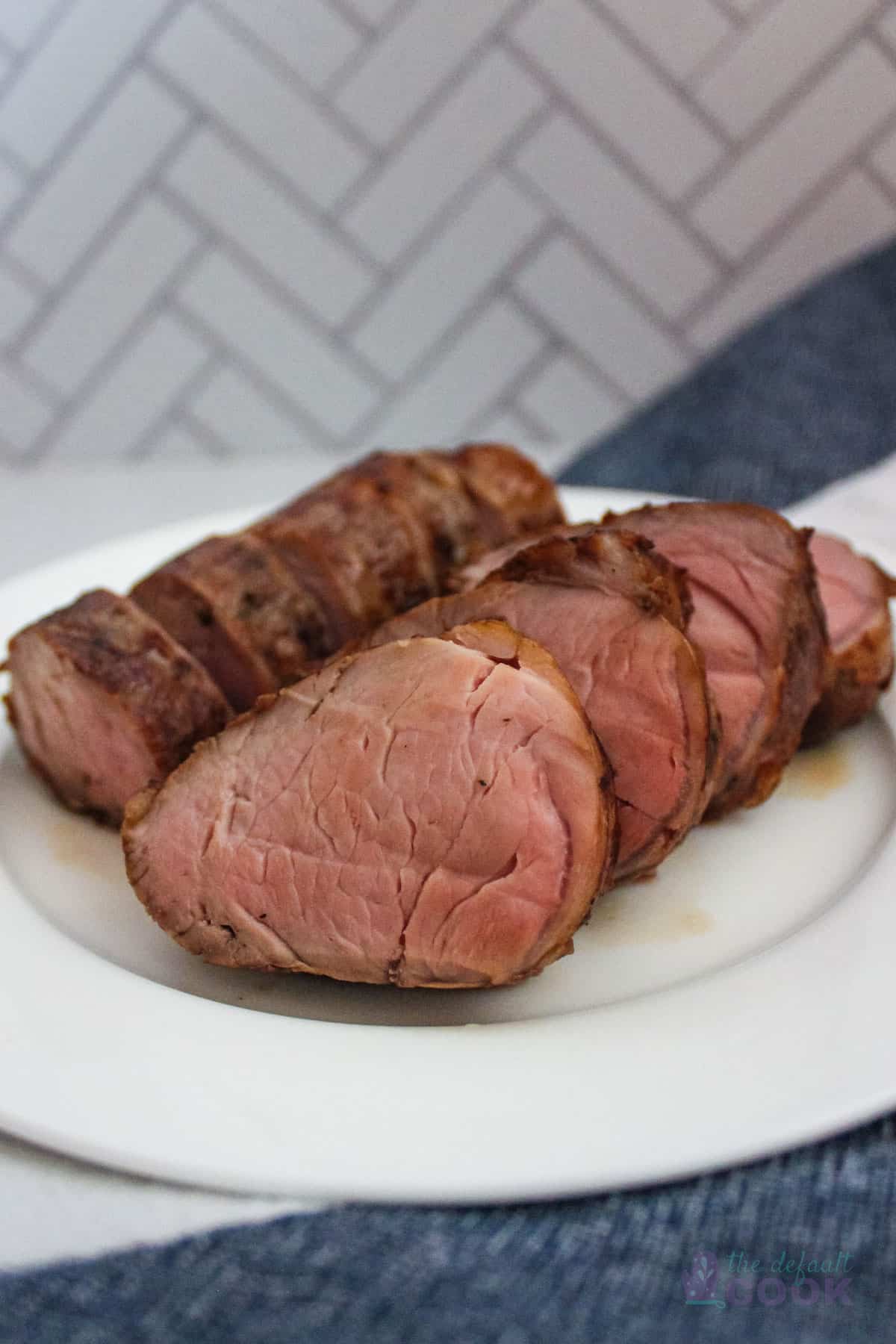 This post may contain affiliate links, which means I receive a small commission, at no additional cost to you, if you make a purchase using this link.
What is Sous Vide?
Sous vide, a unique cooking technique with French origins, literally means "under vacuum." It involves sealing your food in a bag and then cooking it in a water bath that is controlled to a very precise temperature. Don't worry though, you don't need a vacuum sealer!
The result? Impeccably cooked dishes every time. Compared to traditional cooking methods, sous vide offers a remarkable level of control over your cooking, ensuring even doneness, the preservation of nutrients, and an exceptional level of tenderness.
This method is particularly favored by chefs and foodies for its precision and consistency, but there's no need to be intimidated. Sous vide cooking is incredibly straightforward, making it an excellent choice for newer cooks.
Why You'll Love This Sous Vide Pork Loin Roast:
Tender and Succulent: With the sous vide method, your pork tenderloin is consistently cooked to perfection, resulting in a tender, succulent, and flavorful outcome every time.
Reliable Consistency: Say goodbye to the woes of overcooking or unevenly cooked pork. Sous vide cooking ensures consistent and reliable results, taking the guesswork out of the equation.
Healthier and Nutritious: By sealing and cooking the pork in its own juices, sous vide cooking preserves nutrients better than traditional methods, making your meal not only delicious but also nutritionally rich.
Effortless Cooking: Once the initial preparation is complete, the sous vide machine handles the rest, allowing you to focus on other tasks. It's the ideal solution for those hectic weeknight dinners when time and effort are at a premium.
Let's Get Started! Here's What You'll Need: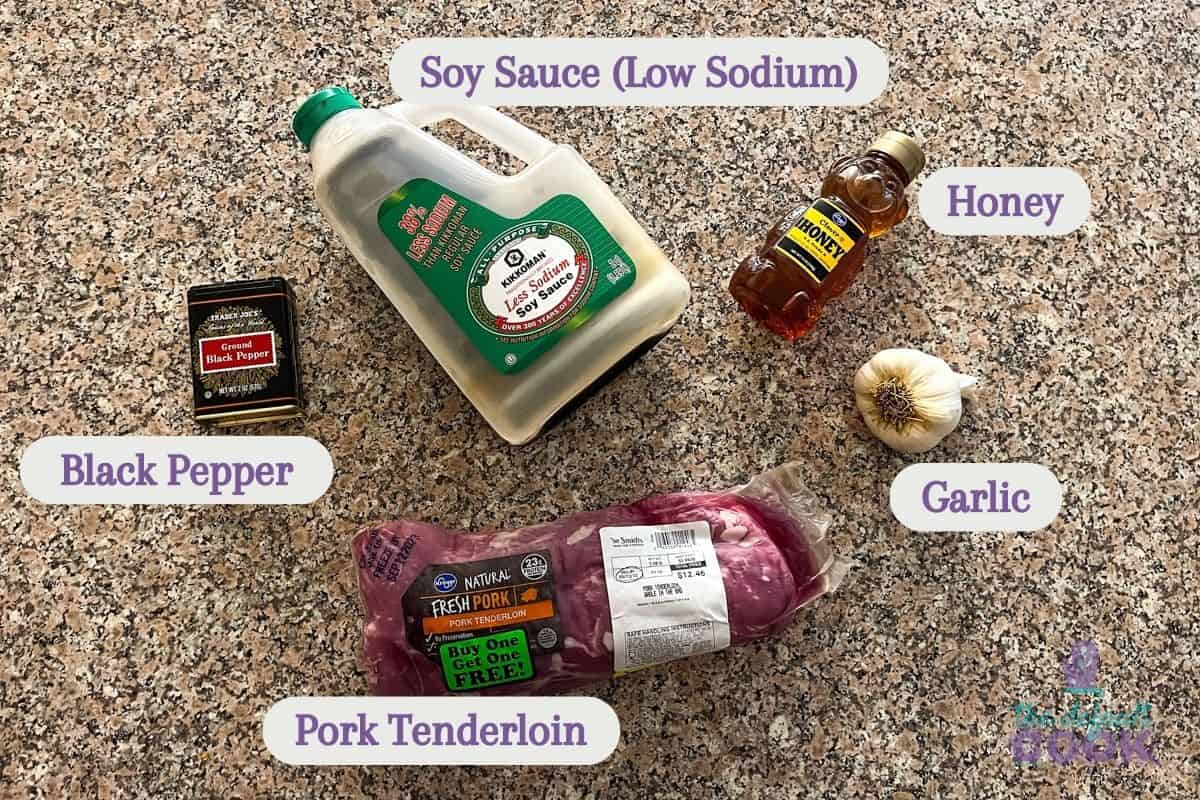 Ingredients:
Pork Tenderloin: The star of the show, a lean and tender cut of pork that's perfect for sous vide cooking.
Low Sodium Soy Sauce: Opt for low-sodium soy sauce to control the saltiness, since it's the main component of the marinade.
Garlic Cloves: Freshly crushed garlic cloves are my preference in this dish, but you can used pre-minced garlic or garlic paste if you prefer.
Honey: The natural sweetness of honey balances the flavors perfectly. You can also substitute with brown sugar or maple syrup if you prefer.
Black Pepper: A pinch of black pepper adds a subtle hint of heat and depth to the dish, enhancing the overall flavor.
Equipment:
Don't be daunted by this list; while it's not exactly short you probably have all of it in your kitchen.
Sous Vide Machine: The cornerstone of this recipe, the sous vide machine ensures precise temperature control for your pork tenderloin.
Large Pot or Sous Vide Container: This will serve as the water bath vessel, where your pork tenderloin, securely sealed in the bag, will be immersed. The sous vide machine attaches to the side of the pot or container. (Sometimes this set with a container goes on sale for less than the sous vide device by itself)
Gallon Zip Top Bag: A versatile bag that will hold your pork tenderloin and garlic soy marinade during the sous vide cooking process. It doubles as your marinade bag, so ensure a secure seal to avoid any leaks.
Chip Clip or Sous Vide Magnets: Use a chip clip to keep the bag in place during cooking, preventing it from floating around. If you want to go the extra mile, sous vide magnets can also do the job.
Pan or Skillet: After the sous vide process, you'll use this to sear the pork tenderloin, creating that delightful caramelized exterior. Alternatively, if you prefer, you can achieve the sear on a hot grill.
Tongs: Essential for turning the pork tenderloin as it browns in the pan or skillet.
Paper Towels: These come in handy for patting the pork tenderloin dry before searing, ensuring a perfect sear every time.
Knife: For piercing the tenderloin to let the marinade penetrate it better.
How to Make This Sous Vide Pork Tenderloin Recipe:
Step 1: Make the Marinade
Grab your soy sauce, honey, black pepper, and garlic and mix it in a small bowl or graduated measuring cup. For whole garlic cloves either slice them in half or crush them with the flat side of a knife blade. This helps to get more flavor out of them.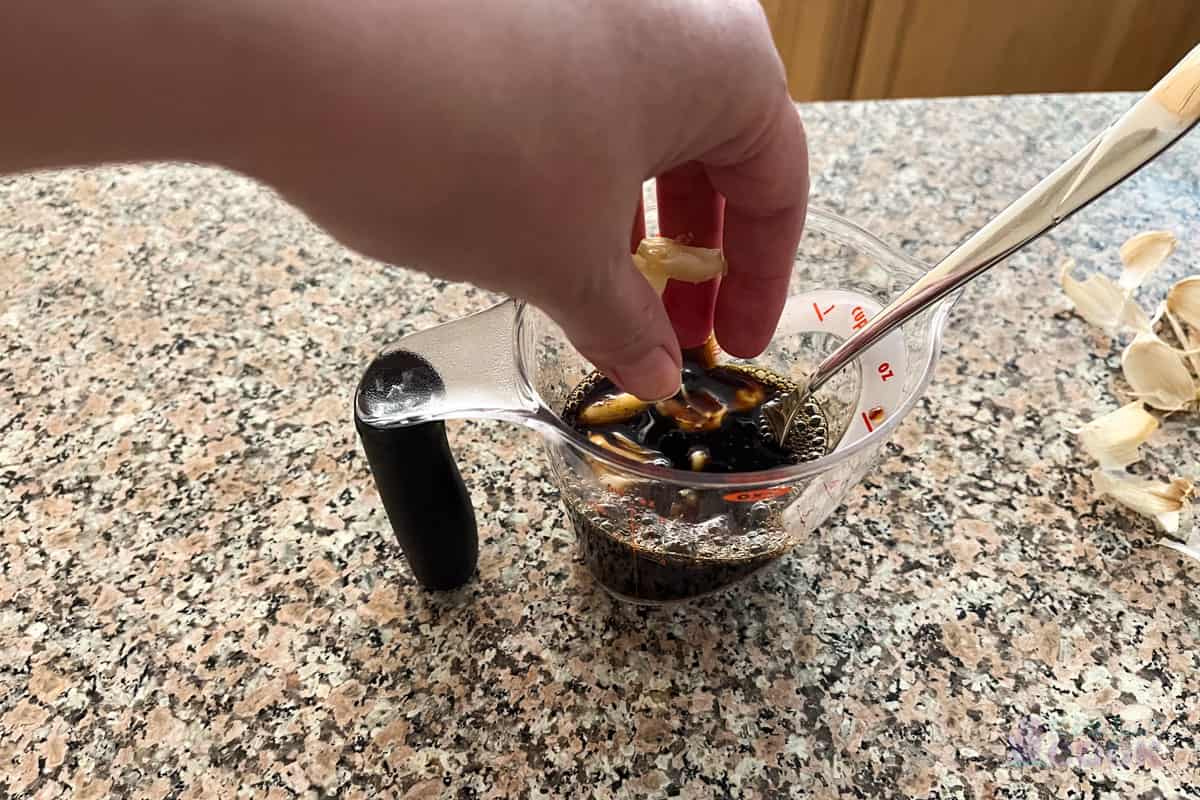 Tip: if you're using a graduated measuring cup it's easier to eyeball the honey by adding it first. Two tablespoons is ⅛ of a cup, so you can fill it to that mark or halfway to the ¼ cup mark and then add your soy sauce. That way you don't have sticky honey clinging to your measuring spoon. If you're using a bowl, I'd add the honey last and use the tablespoon to stir so most of it comes off in the marinade.
Step 2: Marinate the pork
Grab your knife and open the pork tenderloin package. The package here had two tenderloins, if yours does too you can either cook both or freeze the second one in a gallon size freezer bag to cook another day. Optionally, you can pierce the tenderloin with a fork or knife to let the marinade flavor get further into the meat.
After you do (or don't) do that, add it to the ziplock bag along with the marinade, and let rest in the fridge for at least half an hour.
Step 3: Cook in Sous Vide
After marinating, place your seasoned pork in your pot or sous vide container while keeping the zip-top portion out of the water. Slowly close it with the meat submerged, pushing air out towards the top as you go. It's okay if there's a little bit of air at the top, just make sure that the tenderloin stays fully under the water, and clip the top of the bag to the side.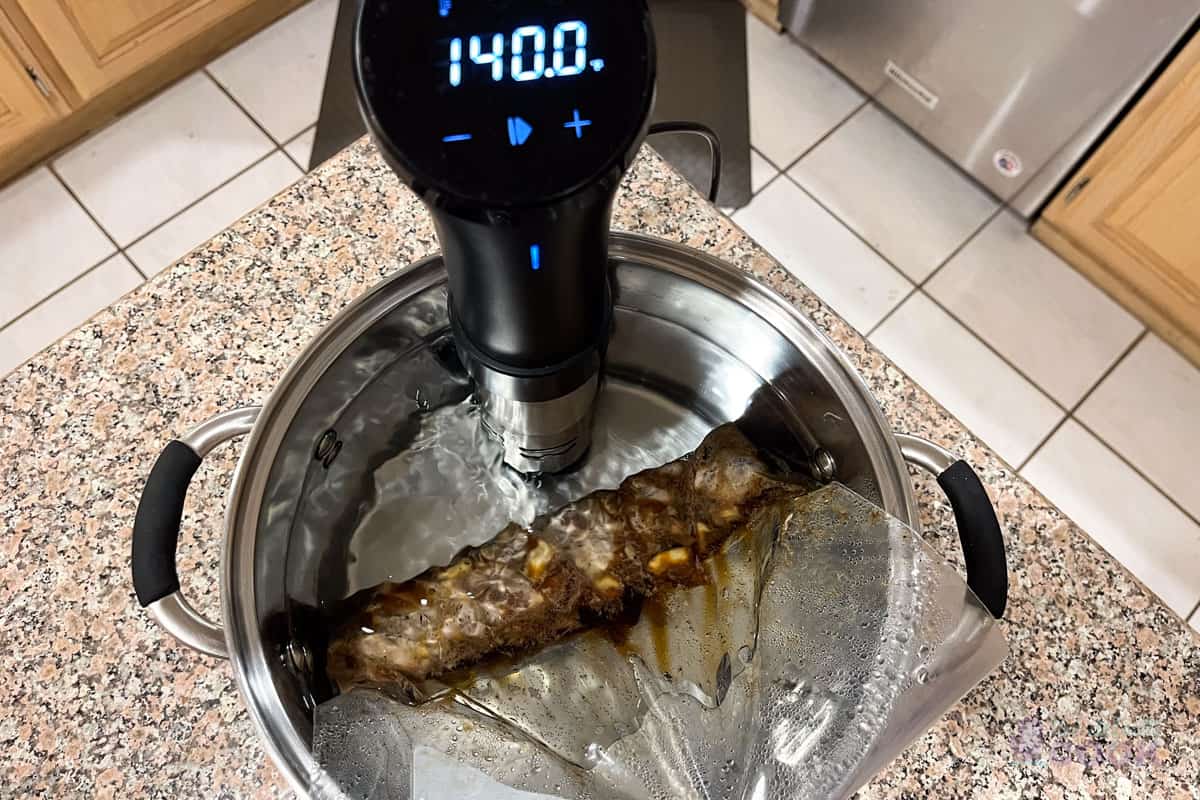 Turn your immersion circulator to 140 degrees F, and cook for at least one hour. Our minimum cooking time starts once the sous vide water bath reaches the set temperature, not when we turn it on.
Step 4: Dry & Sear
After cooking in the sous vide bath, our final step is to give the flavorful pork roast a quick sear. Remove the pork from the sous vide bag and pat it dry with a paper towel. Heat a skillet with some oil over medium-high heat. Once the oil is hot, sear for 30-60 seconds on each side.
Optionally, you can make a pan sauce with the liquid from the sous vide bag. Simply discard any garlic chunks and heat over medium heat for a few minutes to thicken slightly.
Step 5: Slice and Enjoy!
Allow the sous vide pork roast to rest for about 5 minutes after searing, then slice to your desired thickness and enjoy!
FAQs
Can I use my vacuum sealer instead of a zip-top bag?
Yes, you can certainly use a vacuum sealer for this recipe. Vacuum sealers provide a more airtight seal compared to zip-top bags. However, when using a vacuum sealer for marinating, be aware that it can sometimes suction the marinade away from the food. If you have experience with sealing marinated foods in vacuum seal bags, it can be a great choice. The zip-top bag method is just a simpler and more beginner-friendly option.
Is 140°F Safe for Pork Tenderloin?
Cooking pork tenderloin to 140°F is safe, given that it is held at this temperature for a sufficient duration. The safety of sous vide cooking depends on both time and temperature. While the commonly recommended safe temperature for pork is 145°F for instant bacteria destruction, maintaining a lower temperature of 140°F for a longer period achieves the same result. This extended cooking time is crucial when using the sous vide method at lower temperatures.
Can I Substitute Boneless Pork Loin for Pork Tenderloin?
Absolutely! However, you'll want to either slice your roast to make it sous vide pork chops, or increase the cooking time to 2-3 hours depending on size. This is because pork loin roasts are larger than pork tenderloin, so it'll take more time to get the meat up to it's target temperature. If you cut your pork loin into 1 to 2 inch thick pork chops, make sure they're in one layer so you can keep the cook time the same.
Do I have to use a marinade?
Nope! This specific recipe does, but you can just use the cooking method with a dry rub, your favorite seasonings, or fresh herbs. If you want to use a vacuum-sealed bag a rub will be easier to seal, while with the water displacement method I find it easier with some liquid in the bag.
Can I Cook the Pork Tenderloin from Frozen?
Yes, you can cook marinated, frozen pork tenderloin using the sous vide method. Just add an extra hour to your cooking time, making it a minimum of 2 hours. This extended cooking time ensures that the pork tenderloin is thoroughly cooked, even when starting from frozen.
More Sous Vide Recipes you might like:
If you're newer to sous vide cooking, one of the things it's most used for is a perfect medium-rare steak. Looking for another soy-based marinade? This sous vide chicken teriyaki is incredibly tender.
Enjoy!
I hope you love this sous vide pork loin recipe! If you do be sure to come back and leave a star rating. You can also tag me on socials, I love to see your kitchen creations!
📖 Recipe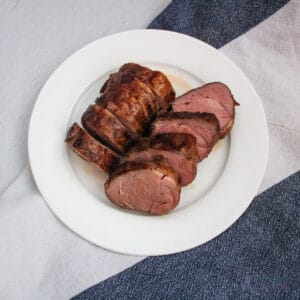 Sous Vide Pork Tenderloin
This incredibly tender pork tenderloin is delicious enough for entertaining guests, but easy enough for a weeknight dinner!
Ingredients
1

lb

pork tenderloin

approx

⅓

cup

low sodium soy sauce

2

tablespoon

honey

¼

teaspoon

black pepper

4

cloves

fresh garlic

crushed

1

tablespoon

oil

optional, any neutral oil like canola oil or olive oil
Instructions
Mix the honey, black pepper, and low sodium soy sauce. Crush garlic and add it to the marinade.

Add marinade and pork to a zip-top bag and allow to rest in the fridge for 30 minutes or more. Optionally, first pierce the pork with a knife or fork.

Remove air from the bag using the water displacement method, and cook in your sous vide bath at 140 for at least 1 hour, up to 4 hours.

Sear (with optional oil unless using nonstick) in a hot pan for 30-60 seconds per side. Rest 5-10 minutes and slice for serving.
Notes
Many grocery stores sell 2 packs of pork tenderloins. You can easily double the marinade and split it between two bags and freeze one to cook at a later time. To cook from frozen add 1 hour to the minimum cooking time.
Nutrition
Serving:
150
g
Calories:
226
kcal
Carbohydrates:
10.9
g
Protein:
31.8
g
Fat:
5.8
g
Saturated Fat:
1.6
g
Polyunsaturated Fat:
1.6
g
Monounsaturated Fat:
1.9
g
Cholesterol:
83
mg
Sodium:
823
mg
Potassium:
571
mg
Fiber:
0.3
g
Sugar:
8.8
g
Calcium:
20
mg
Iron:
1.7
mg
Nutrition information is provided as a courtesy and is an estimate. It is recommended to use your preferred calculator with the actual ingredients you use for optimal accuracy.