Salty, chewy pretzel buns aren't just for burgers- they're a delicious way to upgrade your usual sandwich.
This easy turkey and cheese sandwich takes your standard lunch up a notch with soft pretzel bread and tangy honey mustard dressing. With just a few simple ingredients, you can create a satisfying sandwich packed with flavor. The salty, chewy pretzel bun provides a perfect base for simple but delicious turkey and cheese sandwiches.
Disclosure: This post may contain affiliate links, which means I receive a small commission, at no additional cost to you, if you make a purchase using this link.
Why You'll Love This Pretzel Bun Sandwich:
Fast: Assembly takes just 5 minutes with simple ingredients.
Delicious: Savory turkey and melty cheese paired with sweet honey mustard.
Customizable: Add bacon, tomato, onion, pickles etc to suit your tastes.
Easy: Use leftover turkey or grab ingredients on your next grocery trip.
Portable: Makes a perfect packable lunch or dinner on-the-go.
Let's Get Started! Here's What You'll Need: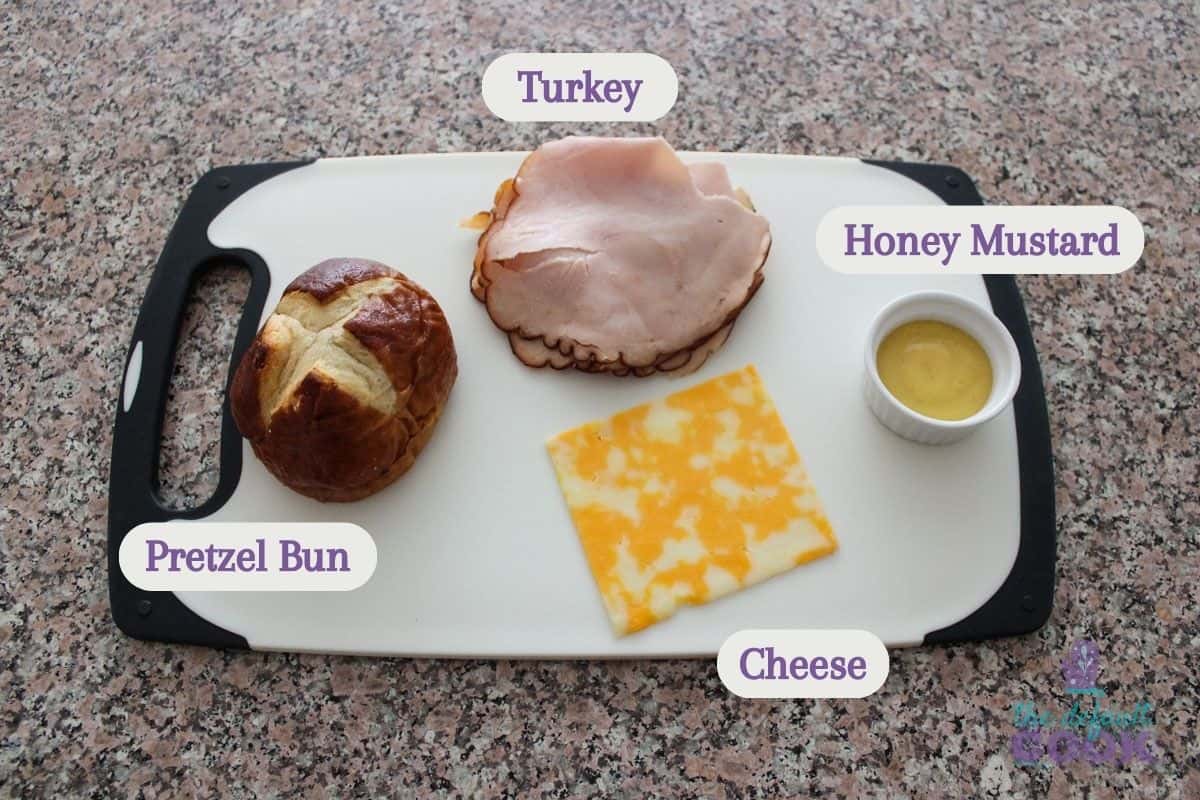 Ingredients:
Pretzel buns- My store sells a 4 pack in the bakery section, or if I'm lucky, the bakery markdown in the back of the store. The bun size is often labeled for burgers, but if you want to serve these as appetizers hawaiian pretzel rolls are slider sized- perfect for football season.
Sliced turkey- Turkey is my go-to for weekday sandwiches, but you can easily switch it out for your favorite, or what you have on hand. Any cold cuts, chicken breasts, or that baked ham after Christmas or Easter will do nicely.
Sliced cheese- I'm using colby here, but I've made this with sharp cheddar cheese, provolone, and swiss cheese.
Honey mustard dressing- to keep this easy I'm using store bought, you can always mix some dijon mustard with some honey. You can also substitute regular mustard, mayo, or whatever sauce you prefer.
Equipment:
If your soft pretzels are not pre-cut (or not cut well) you may need a knife to slice the rolls. You can optionally warm the whole sandwich, in which case I recommend using a small oven safe dish to make sure nothing spills out in your oven. If you're just toasting the bread you can skip that and toast directly on the rack. It's also great as a cold sandwich, especially if you're packing it for a school or work lunch. In that case you'll want some cling wrap or an airtight container to pack it in.
How to Make Your Pretzel Sandiwch:
Step 1: Slice & Spread
If uncut, slice your soft pretzel rolls horizontally. Go ahead and spread your honey mustard on the bottom bun. You can use the top bun if you prefer, but with the pretzel shape the top of the bun is more likely to fall over, so it's easiest to stack everything on the bottom one.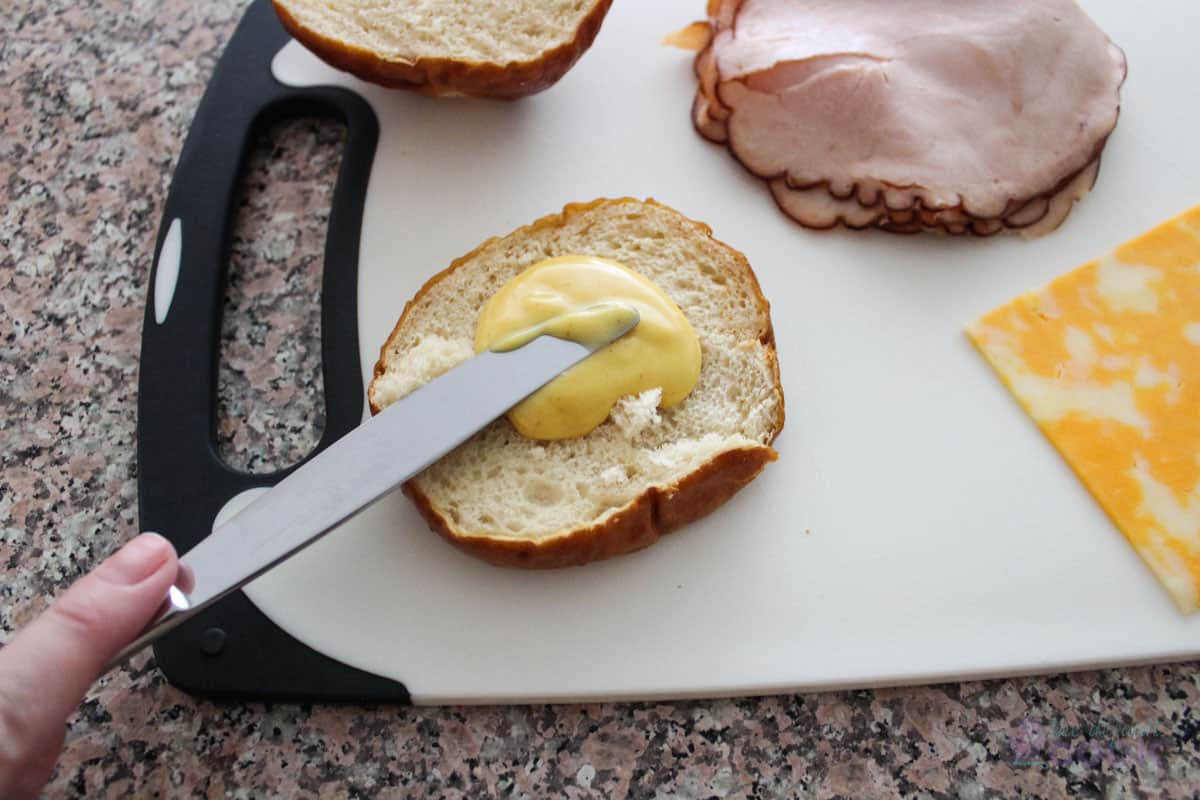 Step 2: Assemble & Enjoy
Next, layer your turkey onto the bottom bun, and top your turkey with your slice of cheese. Place the top half of the roll on top, and enjoy! Optionally, once assembled you can place the entire sandwich on a baking sheet and pop it in a 300 degree preheated oven for 6-8 minutes to warm it and lightly toast the bread.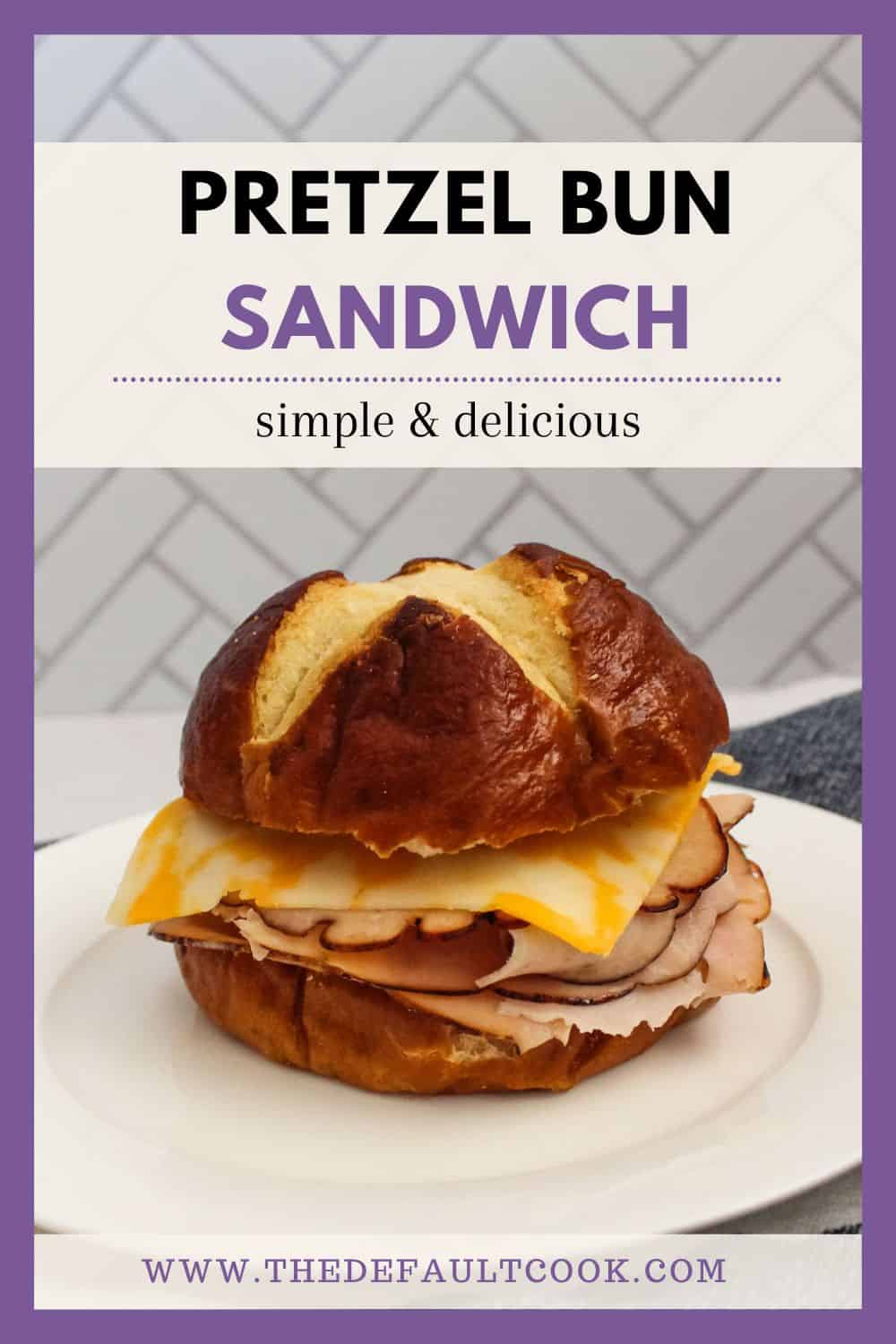 FAQs
Where do you find soft pretzel rolls?
They're usually in the bakery section of a grocery store, though you may find them in the bread aisle. If you're lucky, you can sometimes find them with bread markdowns. My store keeps those on a shelf in the back of the store, between the milk case and where employees enter the back storage area.
What else can I use pretzel rolls for?
Since they're usually labeled as burger buns, you can of course use them for your favorite burgers. They also make fantastic breakfast sandwiches- just switch out the meat for some soft scrambled eggs!
What makes pretzel bread different from regular bread?
The biggest difference between regular rolls and soft pretzel rolls, is a baking soda bath. After shaping rolls, pretzel dough gets boiled in water with baking soda for about 30 seconds before baking. That step is responsible for the golden brown crust and distinct pretzel flavor, be it for buns, traditional soft pretzels, or small soft pretzel bites. Another difference is that many pretzel recipes will call for brown sugar instead of granulated, but if you only have regular sugar you can still make pretzels.
Need more simple recipes for lunch?
Try this honey mustard chicken wrap, or these easy crescent roll sandwiches.
I hope this sandwich helps mix up your day to day lunch! If you enjoy it be sure to come back and leave a star rating.
📖 Recipe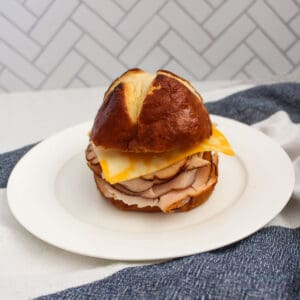 Pretzel Bun Sandwich
Upgrade your usual sandwich to a pretzel bun for a delicious and tasty lunch.
Ingredients
1

ea

Pretzel bun

3

oz

turkey breast

deli sliced

.75

oz

cheese slice

1

tablespoon

honey mustard dressing
Instructions
Slice rolls if not pre-cut. Optionally, lightly toast the pretzel bun.

Add honey mustard directly to the bread and spread. Stack turkey and cheese on the bun and enjoy!
Notes
For a warm sandwich, assemble before toasting and warm in the oven for 5-10 minutes at 300 degrees.
Nutrition
Calories:
478
kcal
Carbohydrates:
62
g
Protein:
33
g
Fat:
11
g
Saturated Fat:
5
g
Polyunsaturated Fat:
1
g
Monounsaturated Fat:
2
g
Trans Fat:
0.01
g
Cholesterol:
61
mg
Sodium:
2593
mg
Potassium:
235
mg
Sugar:
5
g
Vitamin A:
204
IU
Vitamin C:
8
mg
Calcium:
173
mg
Iron:
21
mg
Nutrition information is provided as a courtesy and is an estimate. It is recommended to use your preferred calculator with the actual ingredients you use for optimal accuracy.