There are plenty of reasons you may want to clean your toddlers shoes. Kids are messy, but that doesn't mean their shoes have to look grungy! Shoes tend to get dirty quickly, especially when kids are running around outside. I know I was especially hard on shoes as a kid, and my son seems to have inherited that trait from me.
I also like to get second-hand shoes and clothing when I can for my kids. They outgrow things so fast in the baby and toddler stages, and buying used saves our family some money, as well as being better for the environment. I wash anything I buy used before wearing, and shoes are no exception.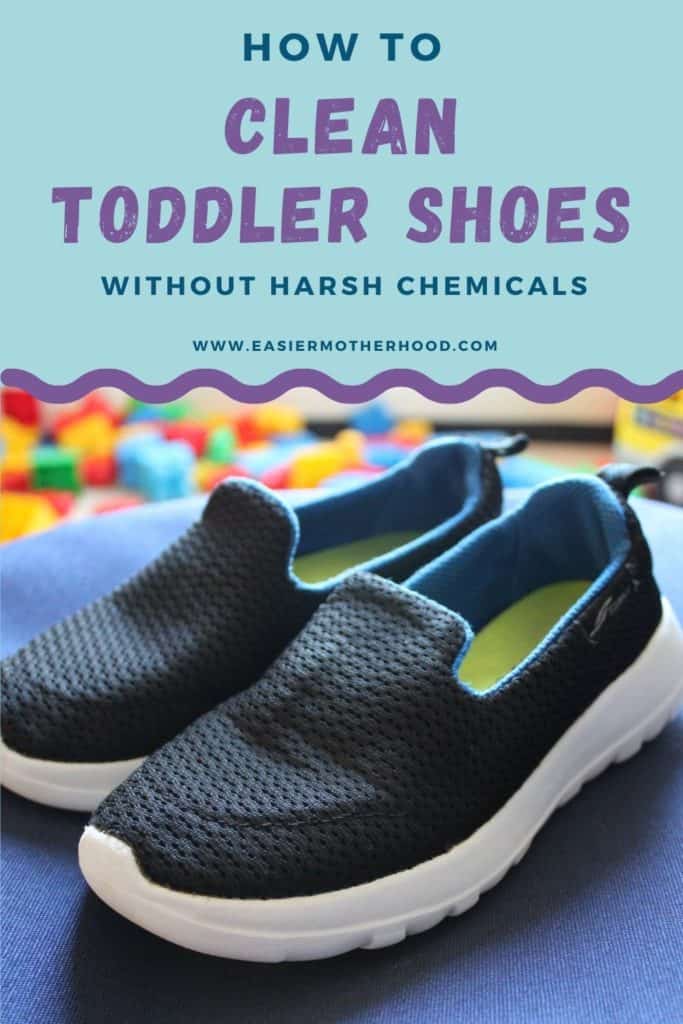 The shoes pictured here are Skechers I picked up at our local consignment sale for $3. They were in pretty good shape, but stained- it looked to me like the previous owner had worn them to Red Rock National Park. Which, by the way, is a beautiful place if you ever find yourself out this way!
This post contains affiliate links, which means I receive a small commission, at no additional cost to you, if you make a purchase using this link.
What Do You Need to Clean Toddler Shoes?
It's easier than you think to clean toddler shoes. While some methods use bleach, I don't like to use harsh chemicals on things my kids handle if I can help it. Plus, bleach is problematic if you're not dealing with white shoes, and I'd rather have a go-to method that can be used to clean any of my toddlers shoes.
A thorough shoe cleaning will require dish soap, baking soda, a sponge, and an old toothbrush. You can also use laundry soap or detergent in place of dish soap- the key is you want to use a mild cleanser.
I have used this method for canvas, flip-flops, sneakers, velcro close, and slip-ons like pictured here. Do note that I have not tried this with leather or suede shoes and so would not recommend it for those.  I would also skip the baking soda if the shoes are delicate- those cute little red dance shoes? Skip the abrasive. Tennis shoes? Go for it. Or don't. This is your stuff, you decide how clean it needs to be.
How to Properly Wash Toddler Shoes Using Dish Soap & Baking Soda
Initial wash
The first step is to fill a bucket or your laundry sink with some warm water high enough cover the soles of the shoes. Include some dish soap or laundry soap in the bucket or sink, and soak the shoes in this solution for about 5 minutes or so. This will loosen up any dirt on the shoe's surface making it easier to clean off using your sponge. Then apply a dime size amount of dish soap directly to your sponge, and scrub the shoes, starting with the soles. You can also use your cleaning toothbrush to get in the little crevices.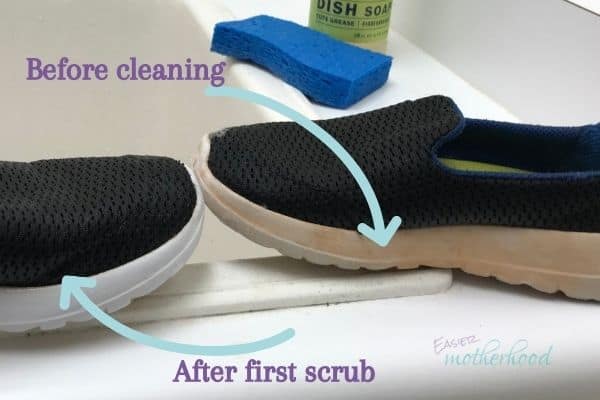 Detail wash
Next, rinse the shoes off as this will have taken a good chunk of the dirt off. In fact, you may be satisfied with the results here. You can see in the above image that the first scrub made a big difference.  Honestly, if I hadn't been photographing them to put on the internet, I might have stopped here myself!
If you'd like them a bit cleaner, go ahead and apply another dime size bit of soap to your sponge, and sprinkle a bit of baking soda on there as well. Then scrub again. The baking soda provides some grit and abrasiveness to help remove more stubborn dirt. And again, if you're cleaning more sensitive shoes where the baking soda may scratch the actual shoe material, you should skip it.
Drying
Once you have finished that, rinse your shoes off completely with water. Shake them out or bang the soles together to get off excess water before blot drying them with a towel. Then let them dry out on their own in your house, garage, or placing them outside, out of direct sunlight.
Why air dry?
High heat (either the dryer or direct sunlight) can warp shoes or affect the glue or materials, so it's best to air dry. If the shoes don't maintain their shape well on their own when wet (looking at you, converse), you can put a towel or paper in them to do that while they dry.
How often should you clean kids shoes?
If you buy them used, I'd recommend washing before wearing. I know I'm diligent about doing so. Beyond that, it depends.
Honestly, everyone has different tolerances for what they consider dirty enough to spend their time cleaning. I've read elsewhere that you should do it every 2 weeks, but LOL.  I'm lucky to clean my toilets every 2 weeks, I'm never going to clean shoes that often.
We also don't wear shoes inside the house, so I'm not worried about dirt and germs from the bottoms of shoes being all over our house. Realistically as a family that leaves them at the door, I clean them maybe twice a year.  The way that plays out is when I see a pair that really needs it, I'll give most of the ones we use often a good scrub.  If you wear shoes indoors, you may want clean them more often.
How often do you clean your kids' shoes?