Wondering if it's safe to dispose of citrus peels in your garbage disposal? You've come to the right place! Discover the pros and cons, potential issues, and alternative uses for citrus peels to make an informed decision.
Want the short version? In moderation, cut orange peels and lemon peels can be tossed into the garbage disposal without causing any major problems. However, it's important not to go overboard. Also, it's a good idea to send them down with some ice cubes, which help dislodge bits from the blades.
Managing kitchen waste is certainly easier with the help of a garbage disposal. But let's face it, many people are unsure about what can and cannot go down that whirring machine. Can your orange, lime, and lemon peels be safely disposed of in the garbage disposal? Are lemon peels good for cleaning your garbage disposal? We'll dive into those questions, so you can be armed with the knowledge to make an informed decision. We'll also cover additional foods you should avoid putting down the disposal, like eggshells, and other ways to clean your disposal.
No time to read now? Pin it for later!
Pros of Putting Citrus Peels in the Garbage Disposal
There are a few advantages to utilizing your garbage disposal for citrus rinds:
Natural Deodorizer: Citrus peels can help eliminate unpleasant odors in the garbage disposal, leaving a fresh and citrusy scent behind.
Cleaning Agent: The acidity of citrus peels can aid in cleaning the disposal blades, removing residue, and keeping them fresh.
Aromatic Fragrance: There are natural oils in lime peels, lemon rinds, and orange peels, and putting them through the garbage disposal can infuse your kitchen with a pleasant smell.
Cons and Potential Issues
While citrus peels offer benefits, it's important to consider the potential drawbacks and issues:
Clogging and Drainage: Citrus peels are fibrous and can contribute to clogs or hinder drainage in the garbage disposal and plumbing system.
Damage to Blades: The tough texture of citrus peels can potentially damage the blades of the disposal over time.
Citrus Residue and Remnants: The resiude and remnants from citrus peels can accumulate in the disposal, leading to buildup and potential maintenance issues.
Alternative Uses for Citrus Peels
Instead of putting lemon peels in the garbage disposal, consider these alternative methods of utilization:
Composting: Citrus peels are an excellent addition to compost piles, as they break down and enrich the soil. Most of the foods like vegetable peels that aren't disposal friendly make great additions to your compost pile.
Homemade Cleaners: Create a natural citrus-scented cleaning solution by infusing vinegar with citrus peels.
Zesting and Flavoring: Use a zester or grater on your citrus peels and use the zest as a flavor boost. It's delicious in recipes like pancakes!
Best Practices for Citrus Peels in the Garbage Disposal
To ensure effective and safe use of your garbage disposal, follow these best practices:
Cut Citrus Peels into Small Pieces: Cutting your spent citrus fruits into small, manageable pieces to reduces the risk of clogs or blade damage. Don't use whole lemons, cut them into quarters or smaller.
Add Ice Cubes: Ice is a natural cleaner for disposals, because cutting through solid water helps clear the blades of the garbage disposal from debris. 
Run Water Before, During, and After Disposal: Maintain a smooth flow by running cold water before and while running your disposal. Run hot water after disposing of citrus peels or any food waste.
Regular Cleaning and Maintenance: Implement routine cleaning and maintenance practices to keep your garbage disposal in optimal condition, such as using ice cubes or cleaning solutions specifically designed for disposals. Always unplug the disposal before retrieving anything out of it.
Foods to Avoid Putting Down the Kitchen Sink
Garbage disposals aren't meant for everything! In general, any food that gets compacted easily can clog your kitchen sink, and some will hurt your disposal too.
These are some of the items you should avoid putting down your disposal:
Vegetable peels- Potato peels might be the worst thing you can put down your sink because they create a thick paste when ground up. That is terrible first at the disposal, and then again in the drain line.
Fibrous vegetables like celery- The long fibers of these peels can get wrapped around the garbage disposal blades. They're also bulky enough to cause issues further down the line if they make it past the disposal.
Non-citrus fruit skins like banana peels- Like fibrous veggies, these can cause a big problem at both the disposal and beyond.
Fruit pits and Corn husks- These items are hard and sometimes bulky, and should just be thrown away.
Papery items- Onion skins or garlic bulb skins tend to get stuck in the disposal trap.
Bones & shells- Even small bones are hard on the blades, and once ground tend to pack into small spaces rather than flushing out. This includes both seafood shells and egg shells.
Coffee grounds- These tend to pass through the disposal without issue, but get stuck further down the drain line. Anything that packs down like sand is bad for your pipes.
Greasy foods- always pour grease into a seperate container rather than your sink drain. An empty spaghetti sauce jar or similar is great for bacon grease or other drippings.
And of course, never put non-food items down the disposal. That might sound obvious, but common kitchen items like twist ties, rubber bands from produce, and bits of sponges are easy to have slip down there.
Other Ways to Clean the Garbage Disposal
Aside from here are 3 things you probably have in your kitchen that are great for cleaning or deodorizing your sink.
Ice- Recommended by most disposal manufacturers, ice helps keep the blades clean by dislodging tiny food particles out of the crevices they get stuck in. Doing this regularly will help prevent bad odors in the first place.
White Vinegar- A natural deodorizer, a cup of vinegar put down the disposal on occasion will help with any lingering smells. For double duty, freeze vinegar in some ice cube trays and run vinegar ice cubes through your disposal!
Baking Soda- Another natural deodorizer, letting some baking soda sit in your disposal before washing it down will help get rid of smells. However, baking soda and vinegar neutralize one another, so don't use both at the same time. While the reaction makes for a cool looking science experiment, it's not particularly effective for cleaning.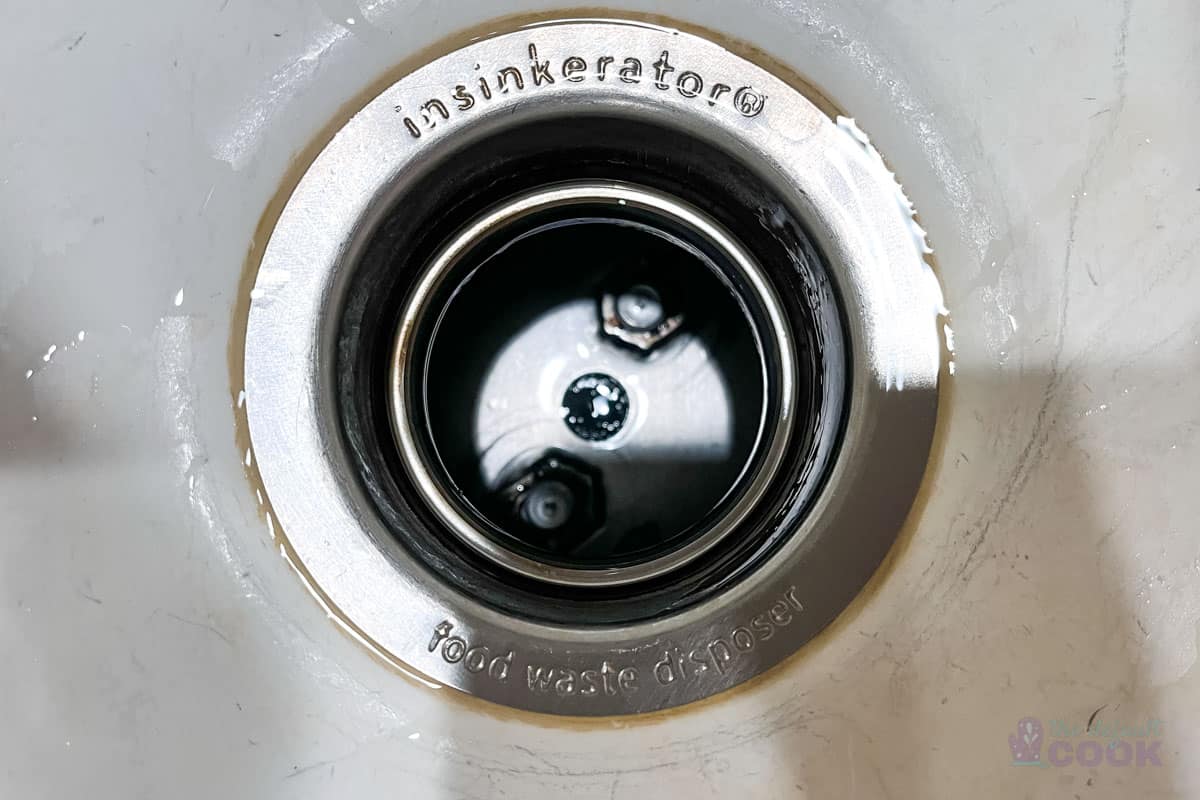 The Bottom Line
When it comes to putting citrus peels in the garbage disposal, it's essential to weigh the pros and cons. While citrus peels can provide a fresh scent and help clean the disposal, they also pose potential risks such as clogging and blade damage. Only use one fruit, and cut it into quarters or smaller first.
By following best practices and maintaining your garbage disposal, you can ensure its longevity and efficient operation. Ultimately, the decision rests on your personal preferences and circumstances.