That gorgeous baby dresser in the store looks so nice in a Pinterest-perfect nursery
This post contains affiliate links, which means I receive a small commission, at no additional cost to you, if you make a purchase using this link.
I thought about buying one.  Walking around the (now defunct) baby superstore when I was pregnant with my first, it was so tempting to get all this new furniture for a room.  It all looked so pretty and cohesive and even had a changing area built in.
I couldn't shake the feeling that the changing area was a short-term perk that cost a pretty penny though.  So ultimately I settled on a pack n play with a changing area built in for downstairs, along with a nice changing pad to go on top of the dresser we already had in our guest room.
And thank goodness!
Once baby boy arrived, I discovered that I didn't change his diaper in his nursery all that often.  We room-shared when he was a newborn so changed him in our room, and after he was in his room wasn't needing regular overnight changes.  Then during the day, we were primarily downstairs.  I also discovered that I didn't often dress him in his room.  I tended to leave him in his sleeper through at least his first nap, and put him in a fresh one in the evening before going upstairs.  Plus, blowouts!  Those always seemed to happen more during the day, especially with my second when daytime meant I had to wrangle a toddler while dealing with the cleanup.
So I created a clothes organizer for baby clothes that worked for that reality, and I hope it works for yours too.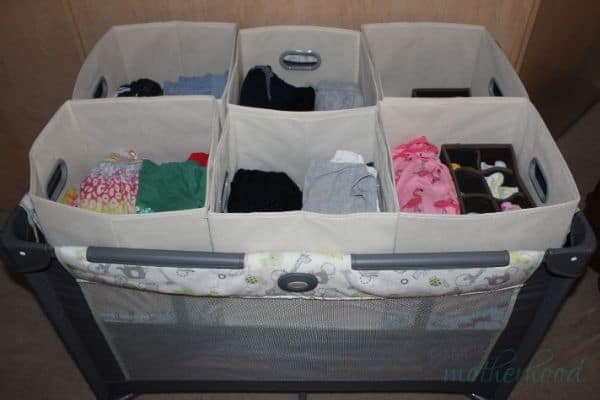 You can see I have these organized as the back row being my son, and the front my daughter.  Both have tops in the left bin, pants in the middle, and pajamas and socks in the right.  I nest in another organizer for socks because I find myself digging for them otherwise.
When baby is younger (and lighter), you can use 4 bins instead of 6 to keep the changing area available to you.  I found that space under the changing area to be a great spot to keep extra blankets and diapers.  If you have one child and find six bins to be a bit much for one child, remember more than just clothes can go into these.  I have another set of them, some of which we use for toy storage.
How to Create a Clothes Organizer for Baby (and/or Toddler) Clothing
First, grab your trusty pack n play.  If it has a bassinet feature, that makes everything easier to reach.  I use the bassinet inset, but have placed them in the bottom before- and if your child is tall and likes to strew their clothes about the room that may be easier for you!
Then, get a few fabric bins.  Mine are 12"x12"x12" and six fit really well since they are fabric and have a little give to squeeze.  That's important, particularly at the corners of the bassinet.  Many in stores are 10 or 11 inches and would easily fit, but will have some more wiggle space.
I also recommend nesting in smaller organizers for socks.  This set came with both the ones I'm using for the kids, along with two more I'm using in my closet, and they fit perfectly in the fabric bins I use.
So how well does this clothes organizer actually work?
Honestly, I moved the dresser in my son's room back to a guest room, and I never got one for my daughter.  I rotate out what is in the clothes organizer above as they outgrow it.  Things they've outgrown (or hand-me-downs they don't fit in yet) live in their closets in storage bins.
Eventually they'll need a chest or dresser, but right now I plan to skip "baby furniture" altogether, with the exception of a crib.  Once they're a bit older I intend to furnish their rooms with things that should last until they're adults.  Even though I'm never going to be ready for that!
And yes, the bins get a little messy at times.  I find that it only takes me about 5 minutes to get it back in order, and since it's in the living room where the kids and I are already spending most of our time I am actually able to keep up with it.  The bathrooms on the other hand?  Can't watch the kids from there, so I'm going to plead the 5th on the state of those.
Will this clothes organizer work for you?
I certainly hope so!  I understand that there are some parents who spend a lot of time in their little one's nursery and value having the traditional dresser, or actually keep up with hanging things back up in their little one's closet.
This organizer is probably going to work best for moms who fit in one of these categories:
Spend most of their time on a different floor than baby's room.
Lack the space for a traditional dresser in baby's room.
Do not have a separate room or nursery for baby.
Have a baby who likes to empty the drawers of their actual dresser- this is harder for them to reach!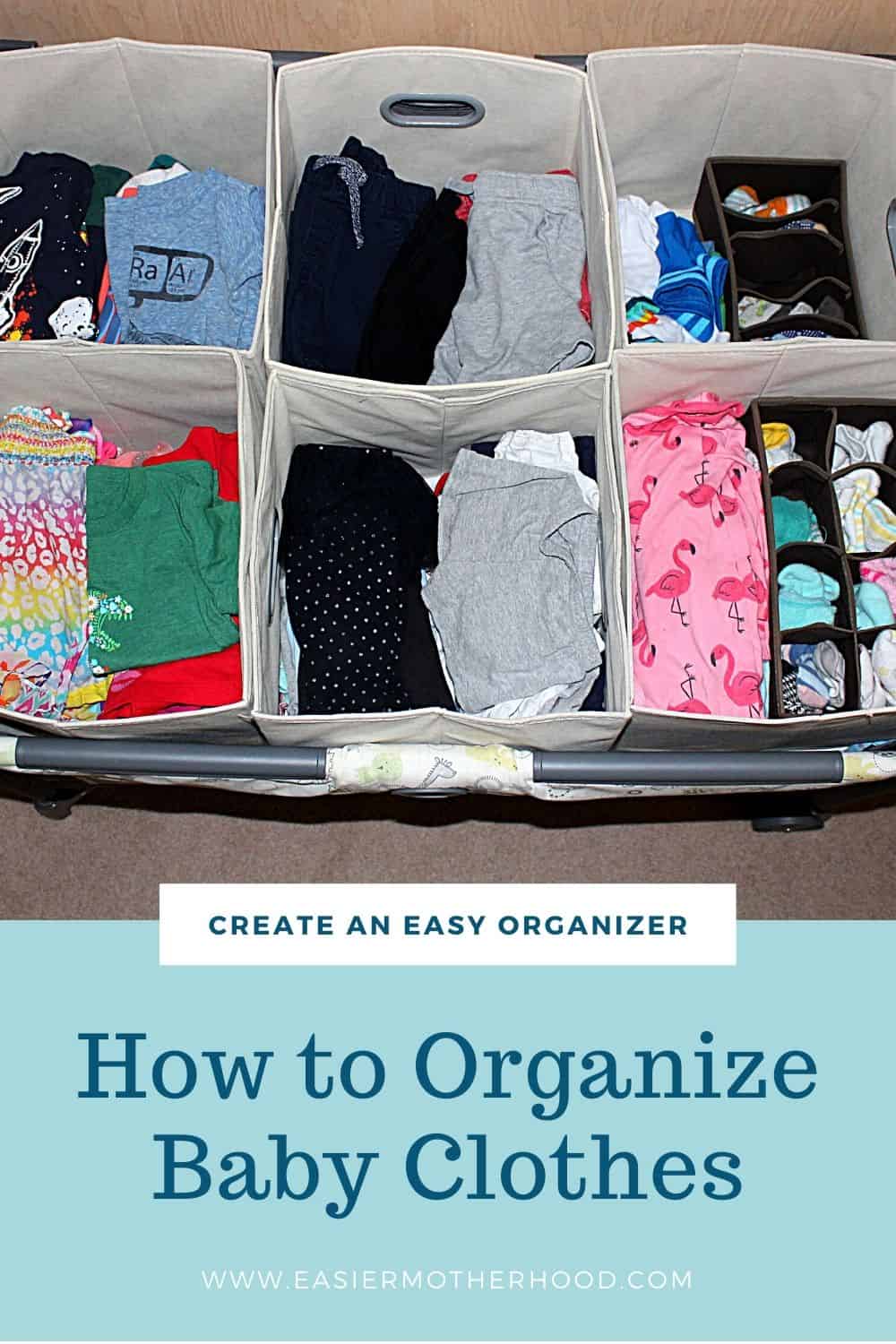 What nursery or baby item did you skip or realize you didn't need?