Finger paint is a sensory activity that most kids love
Finger painting is a wonderful, albeit messy (though I have tips about that!) activity.  Feeling the paint on their hands makes for a sensory based experience, that also teaches them about color, shape, and spatial relationships.  I love all sensory play, since it allows a child to explore their world through their senses, touching and feeling.  It also allows them to work on their motor skills, and learn through play.
The thing about finger paint is that when our littles are little, their fingers tend to go in their mouths.  And while most finger paints are non-toxic, I know I feel a lot better using ones that I know are full on edible for my younger toddler.  And yes, writing out toddler was painful, in my head she's still just a baby!
While some of the homemade paint recipes out there aren't overly cumbersome, they generally involve boiling something, which can feel overwhelming when we already have so much on our plates.  One more thing to do, as if our lists weren't long enough.  So what's a mom to do?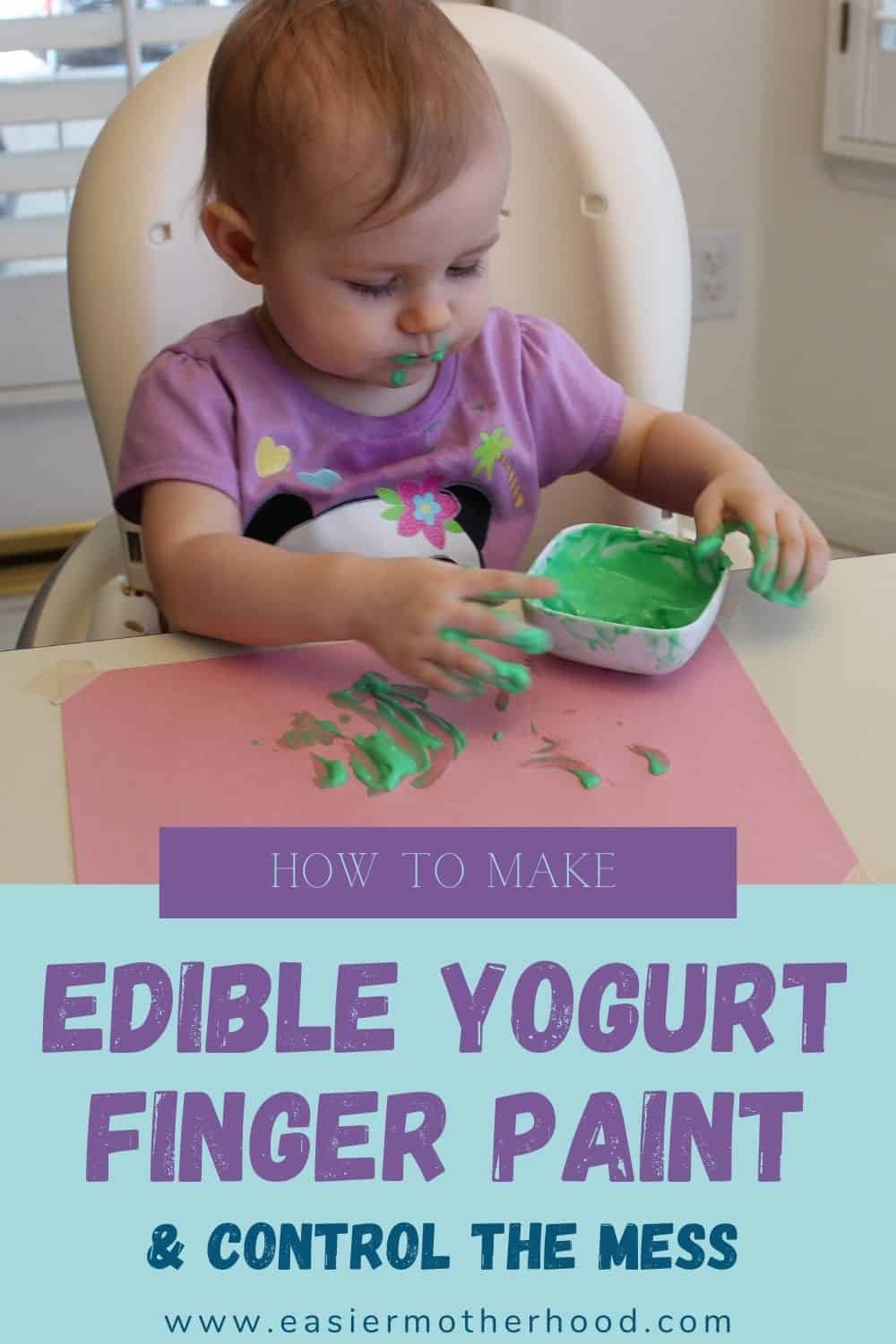 This post contains affiliate links, which means I receive a small commission, at no additional cost to you, if you make a purchase using this link.
How to make your own edible yogurt finger paint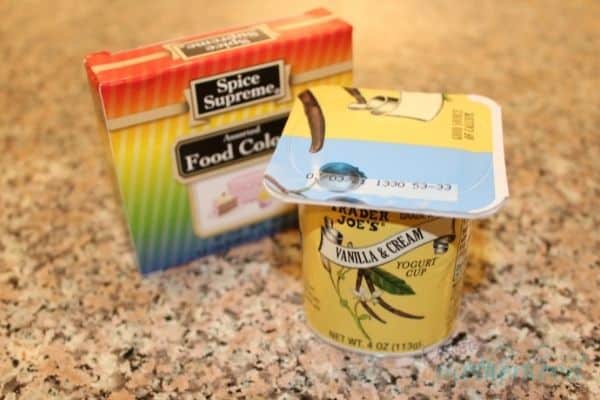 Get some yogurt out of the fridge.  Then, add a few drops of food coloring.  I used 4 drops- I intentionally put in 3, then a 4th snuck in.  DONE!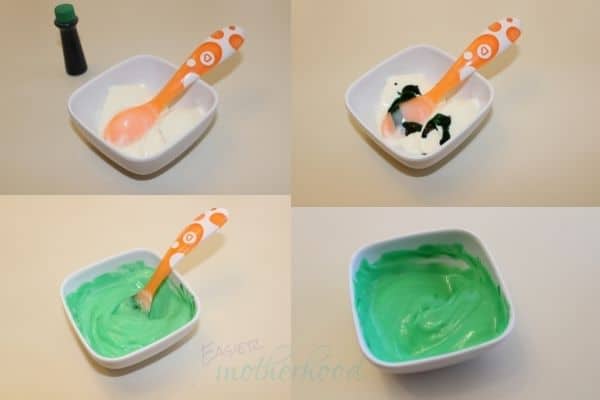 "Oh, come on Anne.  There has to be more to it than that."
Well, you do have to stir the food coloring into the yogurt to mix it.  But it's that simple.  That said, any finger painting activity can be a messy endeavor- evidence below!  Let's talk about ways to make clean up easier, shall we?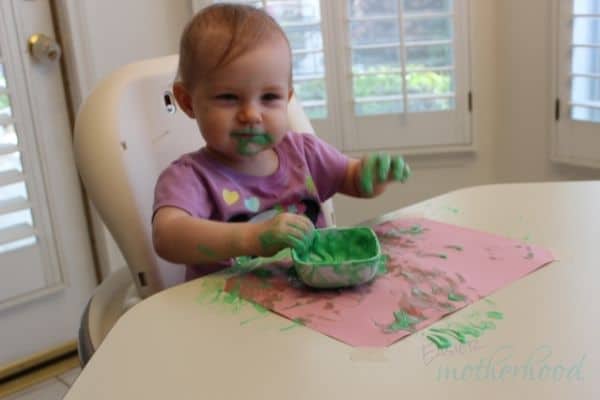 Tip #1: Clothing Optional
Kids are messy.  Smocks are great, but in the privacy of your own home it's just as easy to keep them in a diaper.  Plus hey, less laundry!  Mine is wearing stuff because I knew I'd be posting the photos online, if you're in the same boat I recommend either a smock/large bib OR a shirt like my daughter's.  The panda on her shirt is vinyl so *most* of the shirt wipes right up.  After wiping her up that outfit went straight to the wash pile.
Tip #2: Strap them in (and the paper down), put them in the bath, or take them outside
High chairs are GREAT for containing messy babies or toddlers, and containing the mess to your kitchen area.  The bath or shower is the perfect place for this activity- they can paint on the walls and floor of the tub, and you can wash it away easy-peasy!  I also like the backyard, since you don't need to worry about getting every little bit cleaned up.
At a table, I recommend taping the paper down with little ones, which keeps the whole thing from ending up upside down on your floor.
Tip #3: Present the finger paint differently than you present yogurt
When I'm feeding my daughter yogurt for breakfast (or lunch) I give it to her in a reusable pouch.  For this activity she got it in a small plastic bowl, and you'll notice I did NOT give her the spoon I used to mix it.  This is because I don't want her to think that any time she gets yogurt means she has edible yogurt finger paint.  Eating time and craft time are separate.
Another change I made was that she typically eats with the high chair tray attached, but for play I remove it and push her to the table.  So for her, the tray = eating, and the table = playing.
Your changes don't need to be the same as mine, but to save future headaches I recommend making the distinction between eating and playing as clear as possible.
Tip #4: Make sure the edible yogurt finger paint is well mixed
Some food coloring has more staining power than others.  While the finished product wiped off my daughter easily (and came out in the wash with no special treatment), a bit of straight food coloring got on my finger before mixing, and that stained my skin for most of the day.  By the time the kids were in bed it was gone from handwashing throughout the day, but it certainly took a number of washes to remove.
Tip #5: Use a wet rag to clean up your child, or a diaper wipe
I just used a kitchen rag to clean up my daughter, though it did take a few rinses to get everything!  Baby wipes are also great for cleaning up.  Here's my daughter after clean up- you can see a little of the edible paint on her shirt, but that's about it.  Plus I think it's safe to say she enjoyed her painting time!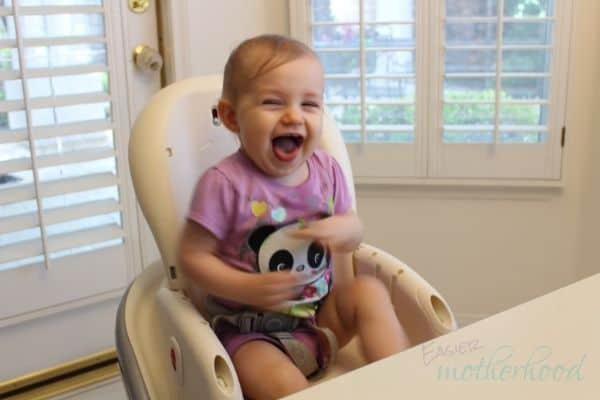 How does edible yogurt finger paint differ from store bought paint?
The biggest thing is that your child can full on eat it, and (assuming no dairy allergies) it's completely fine.  Healthy even!  My pediatrician specifically recommends yogurt as a calcium boosting food.
Of course, there are some drawbacks.  Mostly shelf life and longevity.  My Crayola finger paints I grabbed at Target can hang out almost indefinitely and still be good to use next time, whereas this yogurt finger paint needs to go back in the fridge and be used within a few days.  Also, if you want to keep a painting forever*, yogurt based paint is not the medium for you.  It doesn't fully dry, and would get pretty gross left out for any significant length of time.  However, you can photograph their artwork and keep the picture forever**!
*as in, until they move out and you can't bring yourself to throw it away and give it to them so they can "have things from their childhood" and toss it themselves (RIP my middle school pottery)
**as in, for the rest of your life
What are the other benefits of sensory play?
Overall, sensory play encourages kids to explore and investigate.  This works to help build pathways and connections in their brains, which is part of why it's considered so great for child development.  It also creates an environment where they are inclined to focus fully on their play, which in turn can foster their ability to focus in more distracting environments.
Sensory play like finger painting also helps little ones build their motor skills.  Any sensory play will provide practice with their gross motor skills, and some will also support fine motor skill development.
What are some other easy ideas for sensory play?
You might also like this Easy Sensory Bin with Oats or this Bathtime for toys.
Sharing is caring, pinning this post or sharing it on Facebook is much appreciated.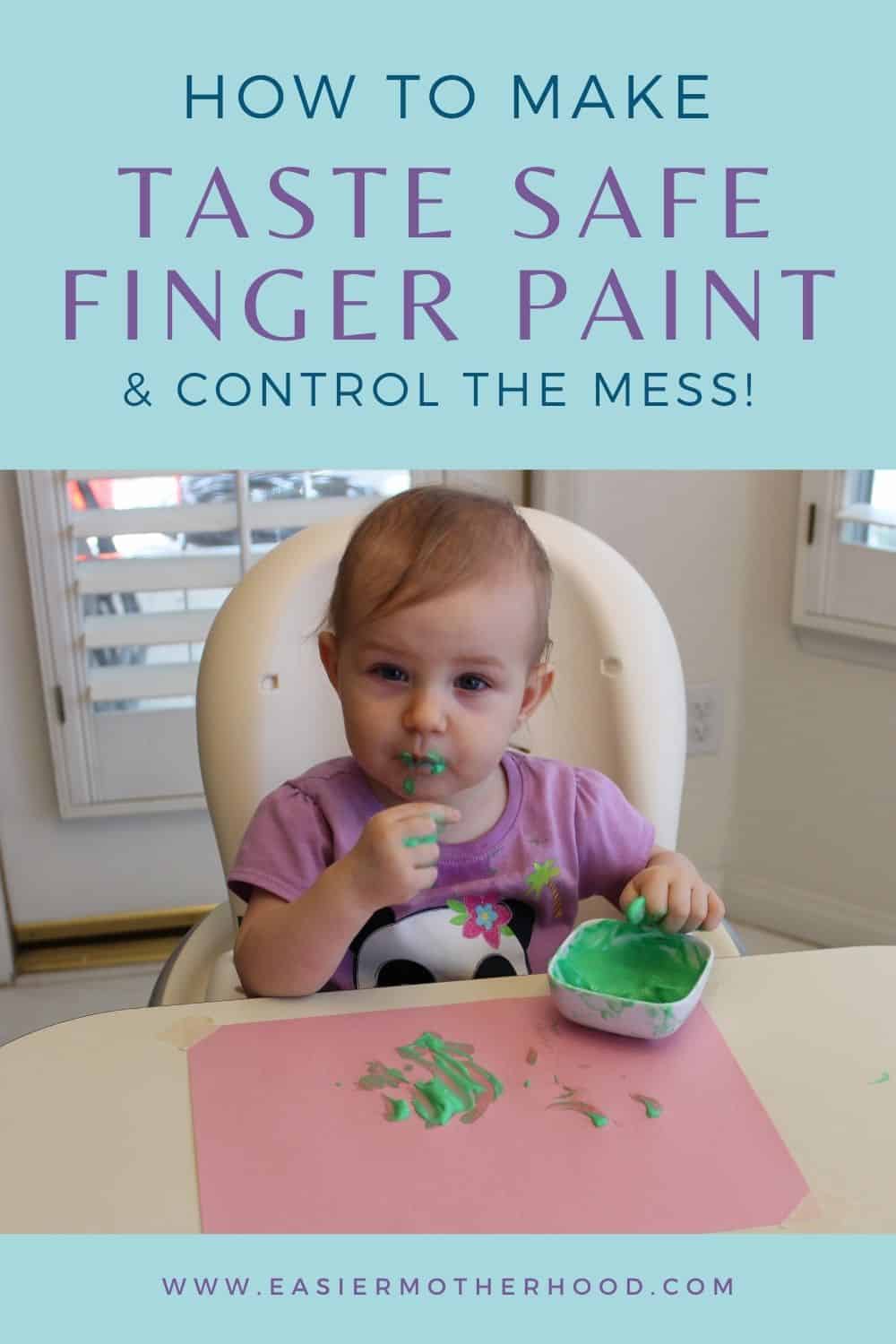 I hope your child enjoys this edible yogurt finger paint- let me know their favorite color below!