This indulgent breakfast casserole is deceptively easy with just 6 ingredients. With just a few minutes of prep we'll transform pre-made cinnamon roll dough into a decadent treat that no one else has to know used shortcuts.
There are two decidedly different ways to make peach cobbler cinnamon rolls. The first is what we're doing here- making the traditional cinnamon roll the star, but cobbler-ifying it. Yes, I know that's not a word. The point is, these are first and foremost, cinnamon rolls.
The second is what I would have called Cinnamon Roll Peach Cobbler, where you take peach cobbler, and use cinnamon rolls as part of the cobbler crust on top of the peach mixture, but the dish is decidedly a cobbler. That would also be delicious, but it's not what we're doing today. Maybe next weekend.
So if what you're searching for is a true peach cobbler recipe- well, still pin this for later, because as a cobbler fan this will be glorious the next time you're craving cinnamon rolls- but this isn't it. But if you're looking for an easy way to dress up store-bought cinnamon rolls with some delightful peach cobbler topping, then keep scrolling, because I've got you.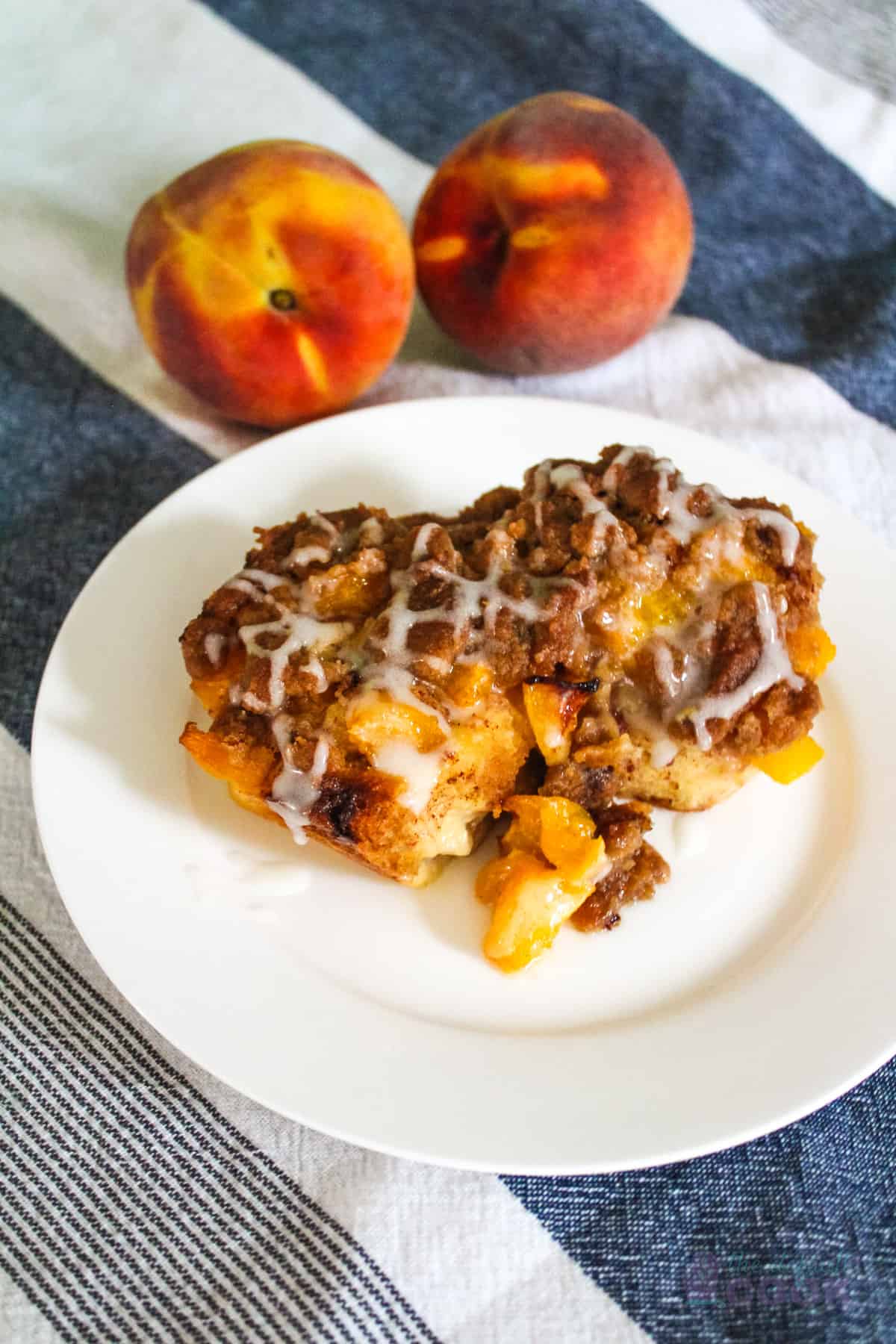 This post contains affiliate links, which means I receive a small commission, at no additional cost to you, if you make a purchase using this link.
Why you'll love this recipe:
The perfect combination of fluffy cinnamon rolls and delicious peach cobbler.
Just 6 ingredients- no active dry yeast dough, no lemon juice, no fresh peaches (though you can sub those as long as they're juicy peaches), not even vanilla extract!
Minimal equipment- no stand mixer, no dough hook attachment, no rolling pin- we are not making a big mess today.
Let's get started! Here's what you'll need: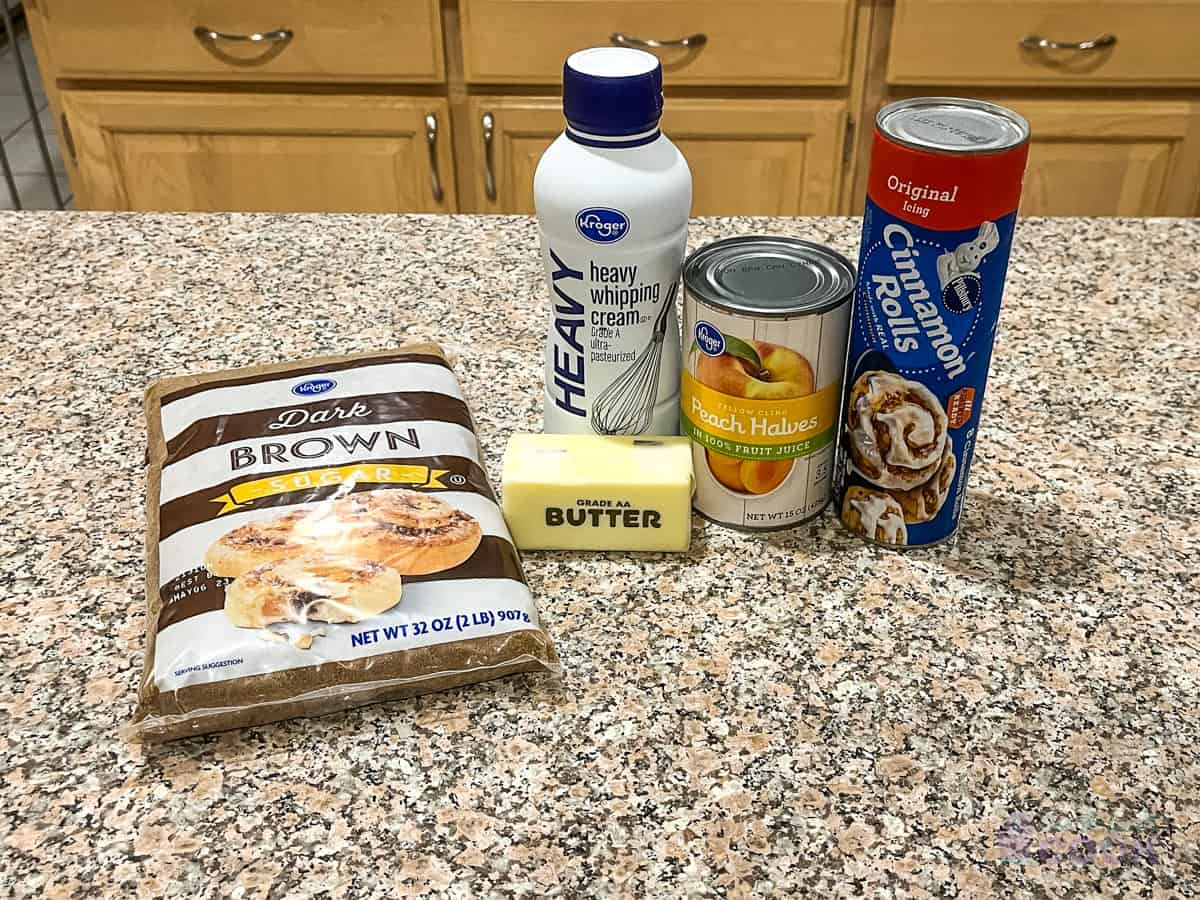 Ingredients:
Cinnamon Rolls- you knew this was coming, I'm lazy and don't make them from scratch.
Peaches- it's important that these are packed in juice, because we're going to use some of it.
Heavy Cream- is a game changer in terms of giving our refrigerator section cinnamon rolls a little homemade oompf.
Butter- I used salted, if you use unsalted butter I would add a pinch of salt to your crumble. No need to get it out early, we'll want it cold- room temperature butter doesn't create crumbles well.
Brown Sugar- Can't have a cobbler crumble without it.
Flour- ditto the brown sugar. I actually forgot to include this in the ingredients photo, but not the crumble, because otherwise our cobbler topping would be just creamed butter and sugar.
Equipment:
You'll need a small bowl to mix the cobbler topping in, a casserole pan (mine was a 2.75 quart baking dish), a measuring cup, and probably a can opener. If your canned peaches aren't the diced kind- I could only find halves packed in juice at my store- you'll also want a knife and cutting board.
How to make this breakfast treat:
Step 1: Prepare the base
Preheat your oven to 350 F, then open the peaches and measure out ¼ cup of peach juice. Add the juice to ¼ cup heavy whipping cream and stir them together. If you're using nonstick cooking spray go ahead and coat your oven safe dish, then pour in your cream-juice mixture.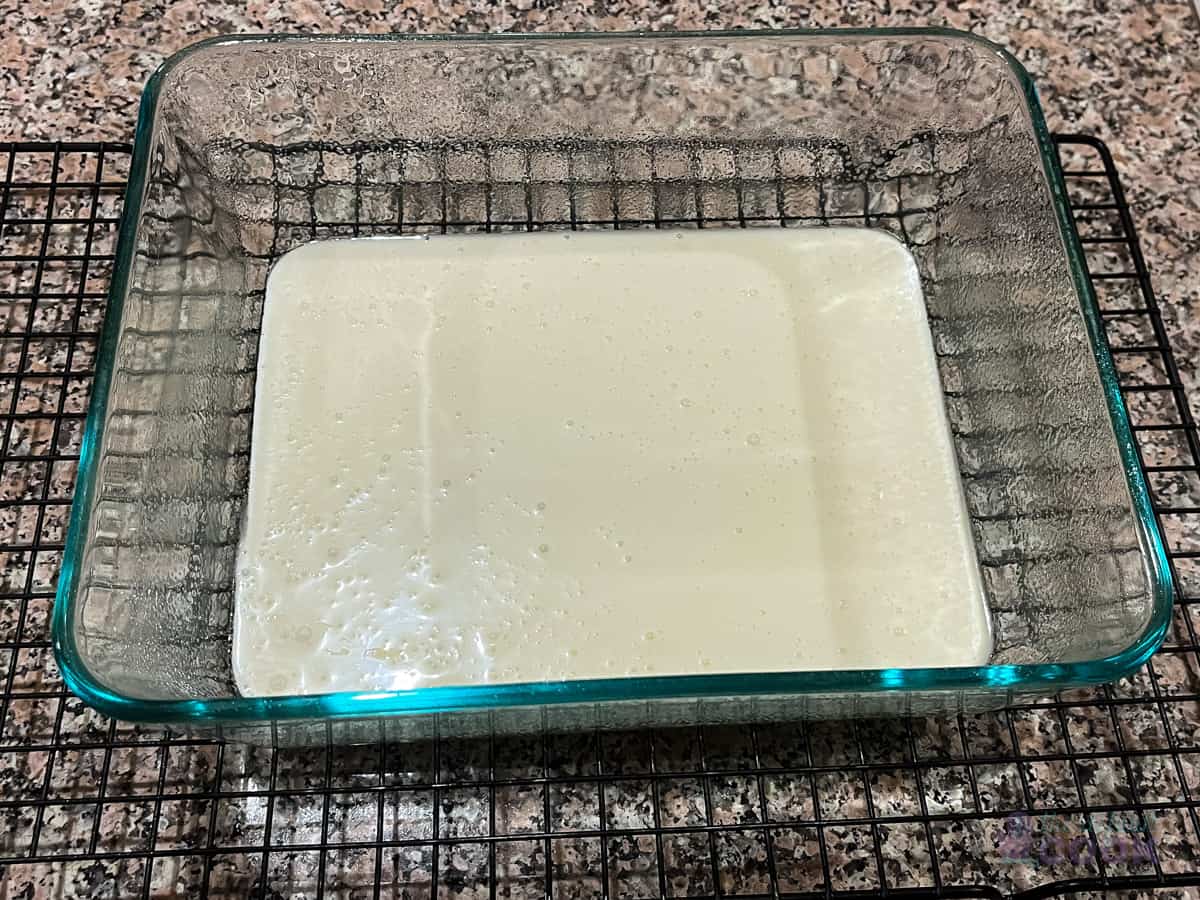 Step 2: Add the rolls and peaches
Open your cinnamon rolls and place them in the pan. If the peaches aren't already diced, chop them into small pieces. Sprinkle them on top of and in between the cinnamon roll dough.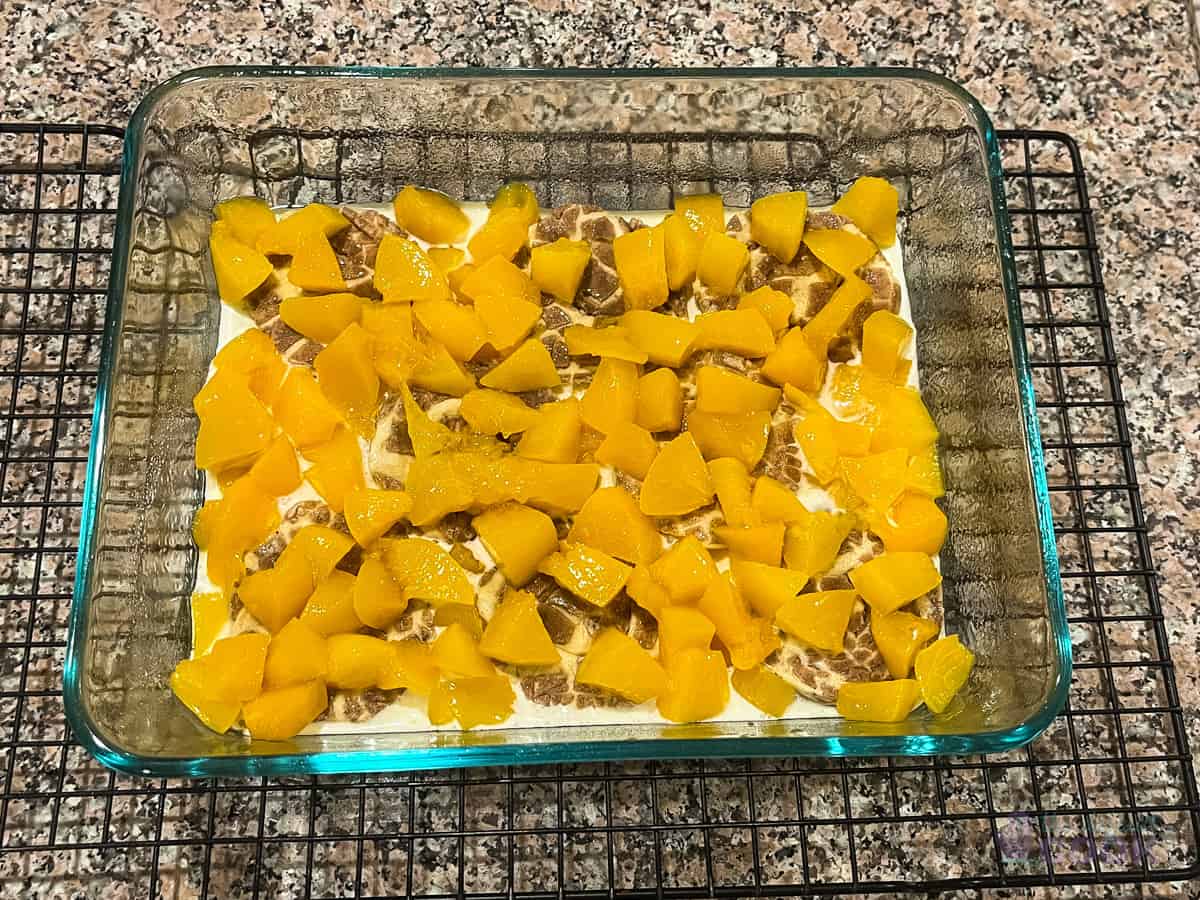 Step 3: Make your cobbler topping
Mix together your cold butter, flour, and brown sugar. You can use your hands or a fork- stop when you can't see individual ingredients anymore, but while it's still crumbly. Spread your flour mixture out over the top of your cinnamon roll base.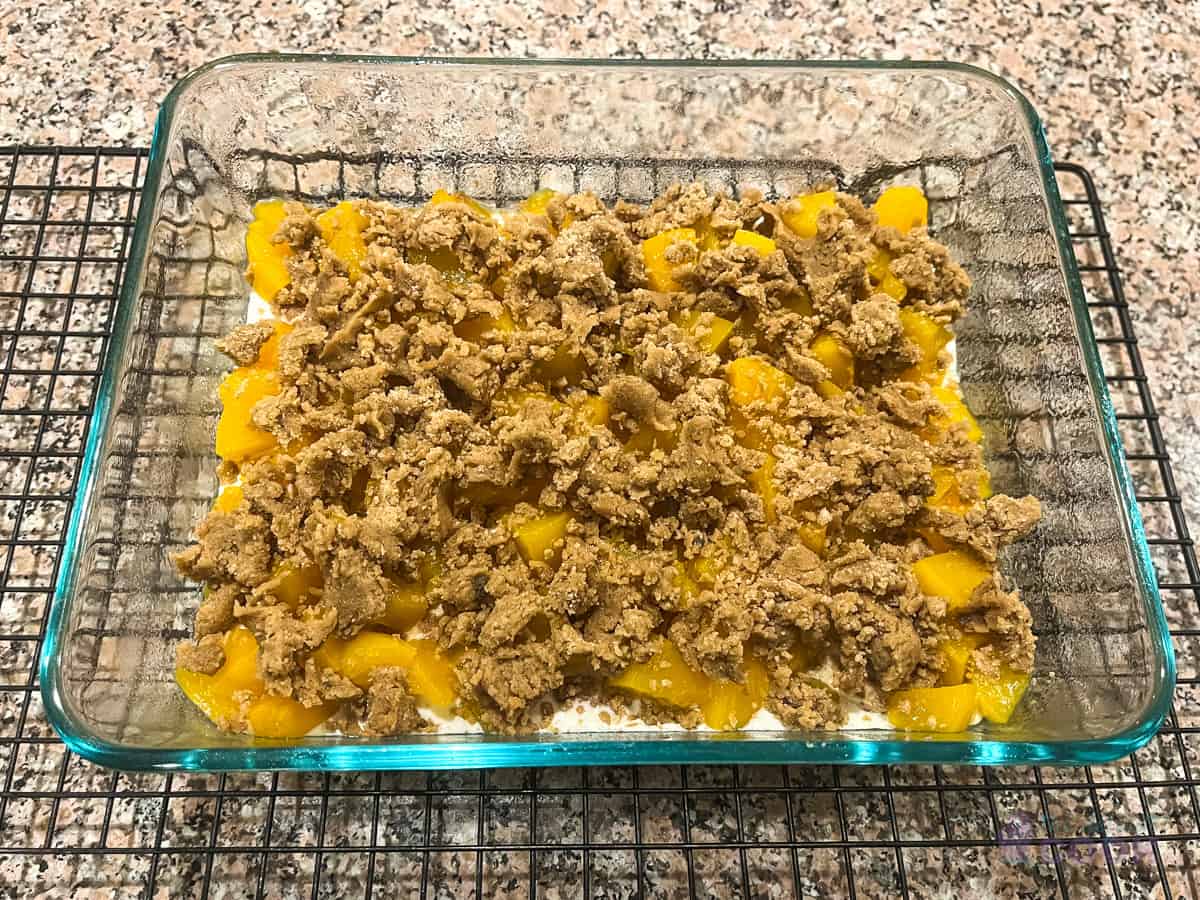 Step 4: Bake
Place on a middle rack in your preheated oven and bake for 45 minutes. The top should be a light golden brown, but if you prefer a crispier cobbler top you can broil the dish for a few seconds to a minute at the end.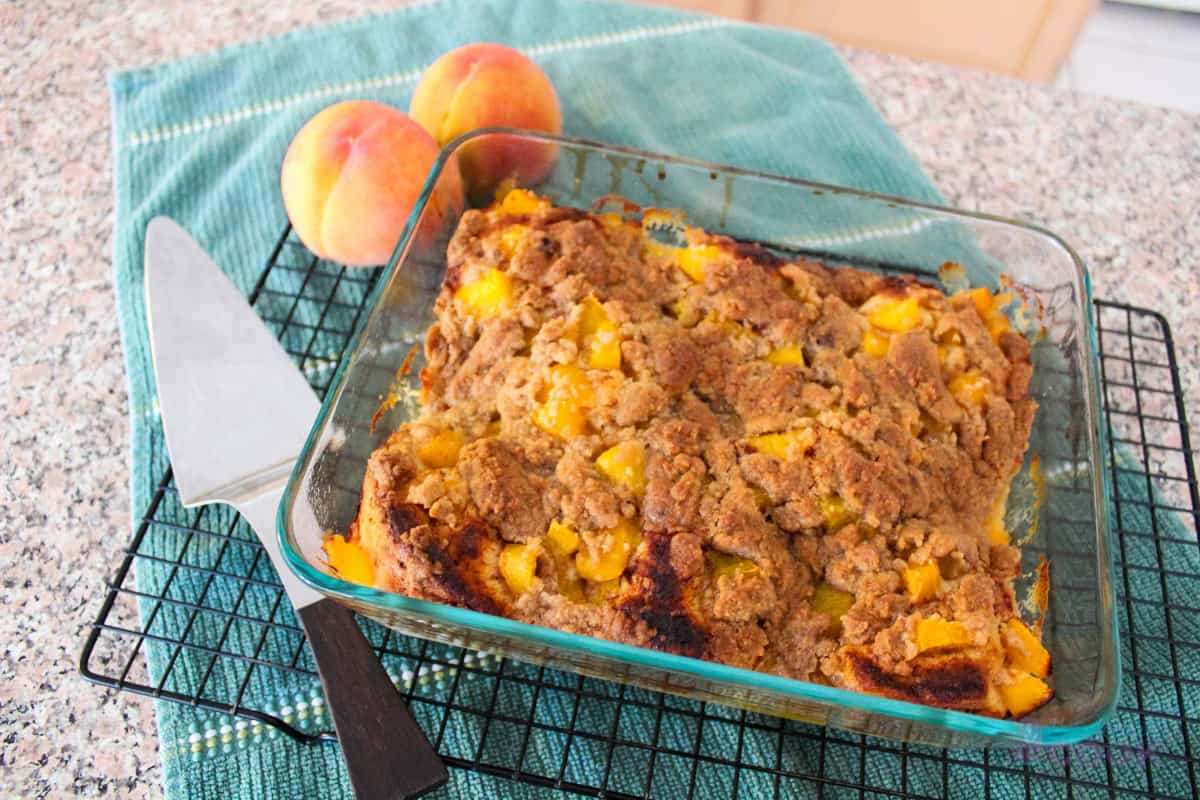 Step 5: Top and Serve
Drizzle the cinnamon roll icing that came with the rolls on top, and enjoy! Leftovers- if you have any- should be stored in an airtight container in the refrigerator up to 3-5 days.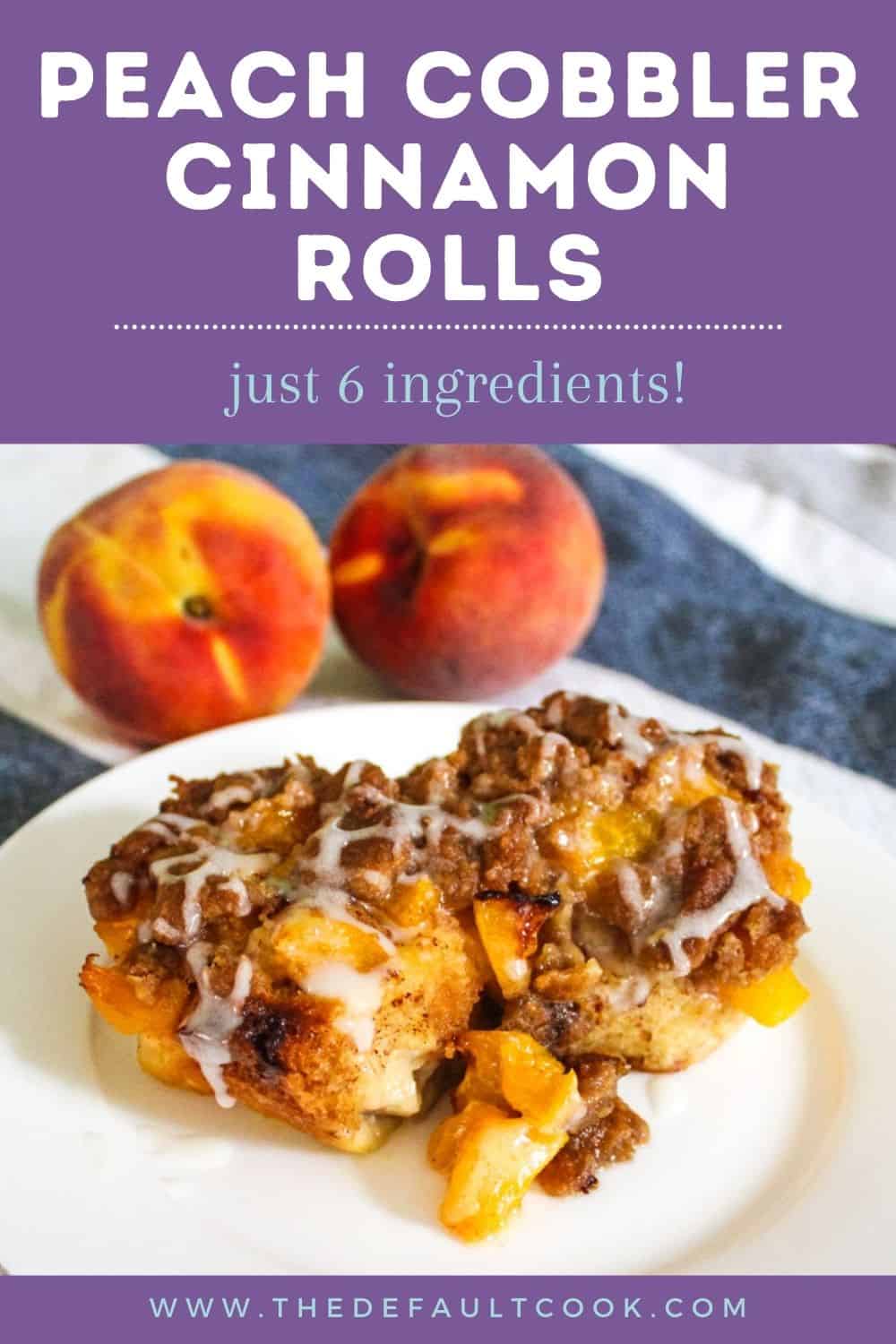 FAQs
Can I use fresh peaches instead?
Yes, the only thing is you'll want to blend and strain ½ to 1 peach to get some peach juice for the base. Alternatively, you can increase the heavy cream to ½ cup instead.
Can I use fresh cinnamon rolls?
If you like to make homemade cinnamon rolls you can absolutely use those in this instead. If you want to amp up the cinnamon flavor you could also add a teaspoon ground cinnamon to the crumble topping with either dough type.
Do I need to cover it with aluminum foil?
Nope! That's common for traditional peach cobbler because the cobbler bakes for so long. This cinnamon roll version is in the oven less than an hour, so there's no need. If your casserole dish is a dutch oven, go ahead and leave the lid off for baking.
Can I make this in an air fryer?
Maybe. If you have an oven style one, then absolutely- just reduce the heat to 325 and the bake time by about 10 minutes. If you have a basket style like I do it's not likely to fit, but you could cut the recipe in half.
More easy recipes you may like
After indulging in these cinnamon rolls on a weekend, you may want a healthy grab and go breakfast for the week- try these oatmeal bars, or even these breakfast "cookies" that are really more like baked oatmeal bites in the shape of a cookie.
Enjoy!
Let me know how you liked them below, and if you had them for breakfast or served them as dessert with a scoop of vanilla ice cream.
📖 Recipe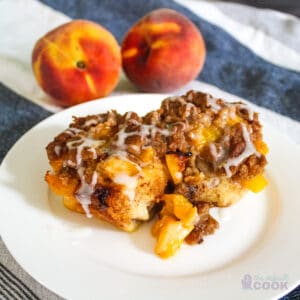 Peach Cobbler Cinnamon Rolls
This shortcut cinnamon roll recipe takes store bought cinnamon rolls and adds a delcious cobbler topping for a sweet breakfast or dessert.
Ingredients
1

package

cinnamon rolls

8 pack

15

oz

peaches, in juice

¼

cup

heavy cream

4

tablespoon

butter

½

cup

flour

¼

cup

brown sugar
Instructions
Open peaches and measure out ¼ cup peach juice from can. Combine juice with heavy cream, mix and add to a greased baking pan.

Place cinnamon rolls in pan and top with diced peaches.

In a medium bowl combine flour, sugar, and cold butter. Mix with hands or fork until combined and crumbly. Spread topping across pan evenly.

Bake rolls at 350 degrees F for 45 minutes.

Top with the icing that came with the cinnamon rolls and enjoy!
Podcast
Notes
For a crispier crumble topping, broil the last minute or so of baking.
Nutrition
Calories:
267
kcal
Carbohydrates:
42
g
Protein:
4
g
Fat:
10
g
Saturated Fat:
5
g
Polyunsaturated Fat:
0.2
g
Monounsaturated Fat:
1
g
Trans Fat:
0.5
g
Cholesterol:
9
mg
Sodium:
349
mg
Potassium:
100
mg
Fiber:
1
g
Sugar:
22
g
Vitamin A:
295
IU
Vitamin C:
2
mg
Calcium:
23
mg
Iron:
1
mg
Nutrition information is provided as a courtesy and is an estimate. It is recommended to use your preferred calculator with the actual ingredients you use for optimal accuracy.